In 2015, editor Ellie Pyle moved from Marvel Comics to DC Vertigo. And, on her first book Coffin Hill, she introduced the "recap page". Common to Marvel Comics since the '90s, the "Story So Far" device helped keep unnecessary exposition out of the story pages which would look clumsy when collected. DC Comics did not use recap pages — basically because Marvel did them. Pyle was congratulated internally on bringing the recap pages to DC…
But not for long. Despite it being greenlit, voices higher up at the publisher were rather displeased when they saw it. Pyle was left in no uncertain terms that she should never do this ever again… and next issue, there was no recap page to be seen. Pyle is currently Senior Comics Editor and at Riot Games, creating League of Legends comic book tales.
In 2011, Dan DiDio said:
"My goal is never to have recap pages, but I understand the people's desire. I always call the recap page lazy writing, because I always felt that it always gave someone an easy way to do an essay about what's going on in the book, rather than what's going on in the storytelling. So I think we'd rather try to find a way to make our stories as dramatic as possible, so we don't have to rely on things like that."
There have been a very few exceptions. Superman: Doomed used website pages as semi-recaps.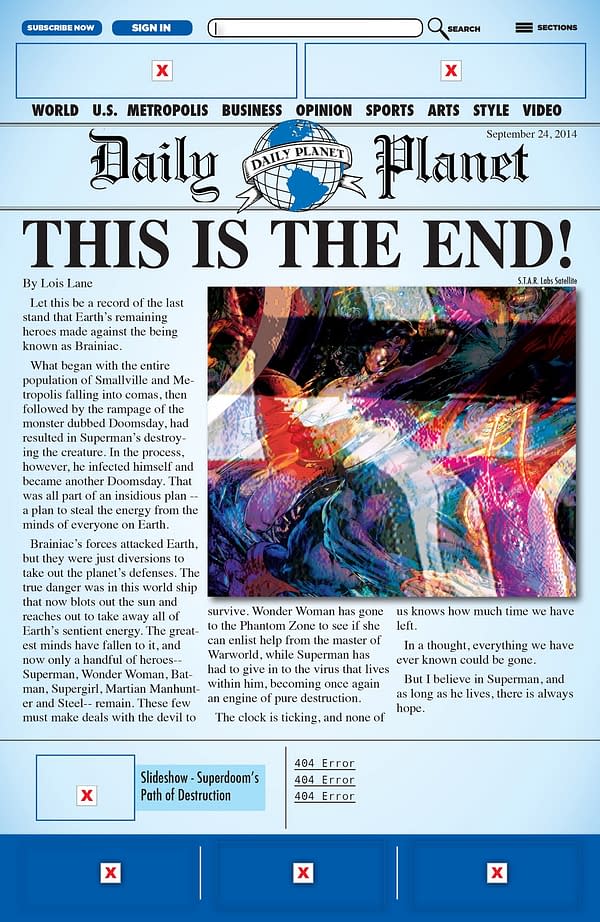 But someone is going where Pyle was prevented. And it shows how much leeway he has with the company now. Because Bleeding Cool has confirmed that Action Comics #1001 will have a recap page that will summarise the concept of Superman and recent plot twists in Man of Steel #1.
If it lasts for a second issue, you'll know that Brian Michael Bendis, fresh from Marvel, and used to writing with recap pages for decades, got his way. And if Bendis is allowed — will other creators and editors be able to do likewise?
Will DC Comics finally get a recap story page for all their comic books? It's more a possibility now than ever before.
ACTION COMICS #1001
(W) Brian Michael Bendis (A/CA) Patrick Gleason
Acclaimed writer Brian Michael Bendis' new chapter for the Man of Steel and the world of tomorrow begins here! The devastating repercussions from the Man of Steel miniseries still reverberate as Metropolis enters a new age! The Daily Planet teeters on the brink of disaster! A new criminal element has made its way onto the streets of Superman's hometown! The longest- running superhero comic of all time explodes off the page with art by fan-favorite Patrick Gleason.In Shops: Jul 25, 2018
SRP: $3.99
Enjoyed this article? Share it!