Both Pretty Deadly #1 And Velvet #1 Sell Out Of Their 57,000 Print Runs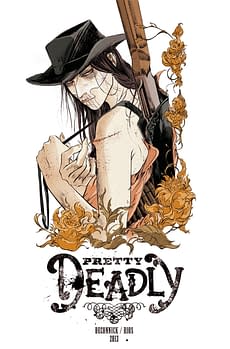 Two Image Comics launches for today, Pretty Deadly #1 by Kelly Sue DeConnick and Emma Rios, and Velvet #1 by Ed Brubaker and Steve Epting, have sold out of their 57,000 print runs, from Diamond Comic Distributors.
Now, both books were made returnable if retailers ordered significant amounts, and this figure does not account for any returns retailers may make. But publicity and reviews seem to have been universally positive, both from Bleeding Cool and elsewhere, and it is likely that any such returns will be minimal.
It may also be worth pointing out that Velvet #1 sold around the same level as Brubaker and Epting's Winter Soldier #1 for Marvel which, ICV2 not-including-the-UK estimate put it at 51,000. But Pretty Deadly #1 significantly outsold Kelly Sue's Captain Marvel which ICV2 put at 41,500…