In an interview with ComicsBlog, comic book writer Brian Azzarello talked about his recent comics career, his attitude, and his work at DC Comics and Image. The interview, translated into French, also sees Brian Azzarello talk about the controversy that dogged Batman: Damned a year ago. For those with short memories, the comic was the launch title for DC's Black Label imprint for mature readers superhero comics, and it involved a naked Bruce Wayne hitting headlines worldwide, including late-night talk show hosts just as new DC Comics President Pamela Lifford arrived. As a result, DC Comics refused to put out a second printing, and demanded changes to the second issue, delaying the project for months. Black Label was repositioned as an age rating only, Vertigo was cancelled, a number of books were cancelled and many changes were demanded across the line as a new Puritanism et in at DC Comics.
At the time, DC Comics publishers Jim Lee and Dan DiDio blamed it on production issues, that the light levels on printings had been lifted too high. But in the interview, Brian has a different take. The intention was to show a Bruce Wayne making himself vulnerable, Azzarello wrote 'naked' and artist Lee Bermejo drew him head-on, in shadows that could be extended if the publishers wished. Brian insists that everyone at DC Comics was aware of it, everyone had seen the art pages… but Pamela Lifford only took her seat as President the day the comic was published. And then DC Comics threw them under the bus when the controversy kicked off. Azzarello talks about how DC can do whatever they want with their characters, but they chose not to publish something they had supported because they were afraid.
He was also asked about Birds Of Prey, solicited as an ongoing series, then resolicited and delayed as a truncated one-shot from Black Label. He told Comics Blog, that this was again down to DC Comics being scared. He mentions that the Birds Of Prey film will be rated T and one of his bosses at DC Comics asked him to write a Birds Of Prey comic as close to an R rating as possible but in DC Comics continuity. And when he submitted his script, Brian was told that it was too close to an R rating. And so everything changed. But he's happy with the story at Black Label and promises that we will learn something new about Joker and Harley Quinn within its pages…
You can read the full interview here. Black Canary will be published in February from DC Comics.
BIRDS OF PREY #1
(W) Brian Azzarello (A/CA) Emanuela Lupacchino, Ray McCarthy
Black Canary's life has spiraled out of control: her personal life is going through the ringer and her band is in crisis when an old flame resurfaces only to flicker out and set her on an all-new mission against an all-new opponent. The only thing she has to be grateful for is the fact that she's not alone, as Huntress finds herself on a collision course with Black Canary's quarry at Detective Montoya's urging. Meanwhile, Harley Quinn has resurfaced outside of Gotham City and out of the Suicide Squad, with a new lease on life that is sure to make everyone else's life more complicated.
And that's only the first five pages of this high-octane, graphic novel-length one-shot that pushes the Birds of Prey far beyond their limits and puts them up against the most brutal crime syndicate to ever sweep into Gotham City! Hardboiled superstar writer Brian Azzarello and the bombshell art team of Emanuela Lupacchino and Ray McCarthy take the Birds into the no-holds-barred world of Black Label, and none of them will ever be the same! PRESTIGE FORMAT One Shot In Shops: Feb 05, 2020
Final Orders Due: Jan 06, 2020
SRP: $9.99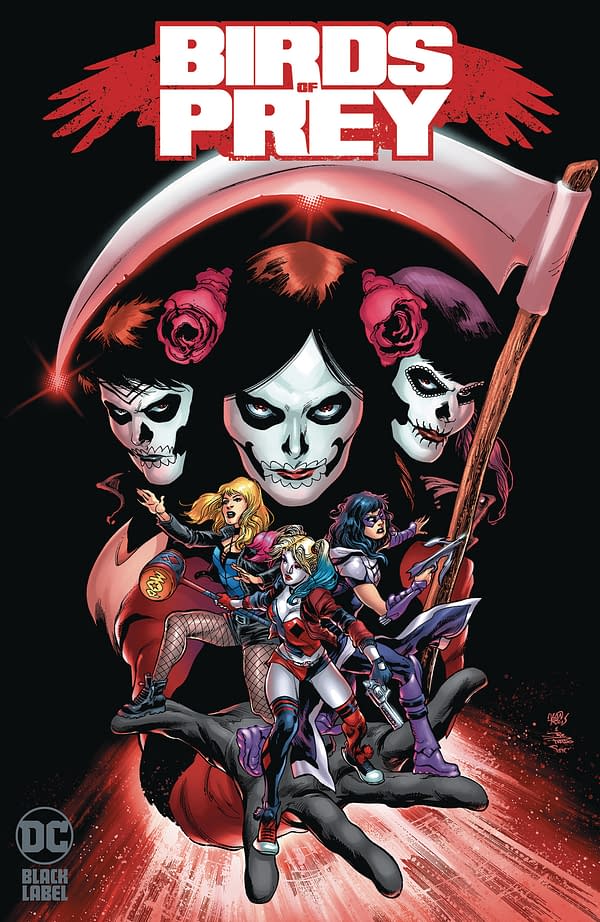 Enjoyed this article? Share it!