Cameron DeOrdio has a Writer's Commentary on Charlie's Angels/Bionic Woman #3, on sale now from Dynamite. He writes,
Welcome to issue 3 of Charlie's Angels/Bionic Woman! We're officially in the back half of this four-issue arc, which means it's time for some reveals! For that reason, I'd really recommend you read the issue before digging into the commentary below. Honestly, I can't imagine folks getting much out of any of these commentaries without reading the issues first, but in your defense, I'm very entertaining.
Pages 1-3
Something people hate to hear even more than "everything is pro wrestling" is "espionage is like any other long-form improv," but I'm here to speak the capital-T Truth. Espionage is like any other long-form improv: ya gotta be able to yes-and any situation. Kelly, as the most veteran Angel, is able to quickly run through all the possible reasons Jaime and her boss at Stoker would have to find Kelly in this position and hits them with a pretty convincing – and, crucially, self-deprecating – one. People love to think they're more competent than you. It puts them at ease.
While Kelly was seemingly able to escape suspicion, she recognizes the woman snooping around Stoker Security as none other than the super-powered guard from the other night. The broad sense of suspicion both Jaime and the Angels have been feeling are starting to narrow on one another, though both are operating with incomplete understanding of the situation. Tension!
Pages 4-5
Let's check in with Jaime, who had to have thought helping out with security at Naris would be an easier gig than OSI. Jaime is fiercely loyal to Oscar, whom she not only loves dearly but also feels she owes her life. Jaime (understandably) finds these break-ins extremely peculiar, and they have started to plant a seed of doubt – if not, quite yet, in her mission, then perhaps in her ability to fulfill it.
Pages 6-7
We asked a lot of Soo here, and she really went above and beyond in delivering. She didn't sign up to do Design & Drawing for Production, but I absolutely love the way this spread turned out, with the schematics in the background and the Angels discussing them. The Angels have long known that stealing the adrenalizine formula would be difficult, and with their recon complete, they're starting to see just how difficult. This is a big moment, because not only do the Angels get a sense of the non-living security tech they're up against, but they also figure out who Jaime is. The momentum is in the Angels' favor, but the odds most certainly are not.
Pages 8-9
It's not that Jaime doesn't trust Oscar. It's just that she is a very good, kind-hearted person, and she likes to be on the side of what is Good and Right. She'd felt more certain of her mission at OSI, even in the times she didn't have clearance to know all of the pieces in play. She wants that certainty again. She needs to know what, exactly, she is fighting for. (Bad news: It's not great!)
Pages 10-13
All right, the Angels set out to tackle ostensibly the easiest part of their extremely difficult mission: swipe one of the two vault keys, starting with the keyholder who doesn't have superpowers.
Unfortunately for the Angels – and Bosley! – Oscar may not be super-powered, but he is super suspicious of strangers trying to get into his home. Sometimes not even a monogrammed jumpsuit can fool a seasoned intelligence officer.

Pages 14-17
MAJOR SPOILERS!
This is where Jaime finds out everything: how Naris (with some help from O.S.I.) cheated Rudy out of the rights to his invention, why the profit motive demands adrenalizine militarization over medication, and how Oscar ended up on what appears to be the wrong side of history.
Oscar had hoped to temper Naris's excesses. But changing a system from the inside is a tricky thing. Systems have ways of defending themselves, especially those that make the rich and powerful more rich and powerful. Sometimes, systems defend themselves with force – armed guards, police, incarceration, torture, murder – but other times they defend themselves by deflection.
It's hard to imagine the people you see every day – the folks who have complimented your potluck dish, saved your job when a deadline snuck up out of nowhere, noticed when you got a haircut – are contributing to Bad Things happening. But that is, in part, because they can't imagine they're contributing to Bad Things, either. It's a gray, muddy mix of questions people don't know to ask and questions people can sense they should not ask if they want to keep their jobs, even if they don't fully understand why. If something bad is happening, they certainly don't know about it, so what can they be expected to do?
I'm reminded of how, in an episode of the excellently reported podcast The Dream, the host explained that many multi-level marketing companies say up front, "We are not a pyramid scheme, and you know that, because pyramid schemes are illegal, and no one has shut us down." Of course, by that logic, the Zodiac Killer's victims are still alive, because if murders had been committed, surely someone would have been arrested and tried for them. But that line of reasoning actually works on people! We very badly want to believe that if something were going so terribly, so egregiously wrong, someone somewhere would stop it. Who that "someone" is, how they'd know, and what they would do to "stop it" is often left unquestioned.
Jaime no longer has the luxury of living in a world she believes is inherently just. She knows what's happening at Naris, and she knows she has been helping it happen. And she just might know how to stop it.
Pages 18-19
And it's a good thing, too, because the Angels are well and truly stuck at this point. They're no closer to getting either of the two keys or cracking the safe than they were before, and there are no clear steps to take to fix that. On top of it all, Kelly is increasingly worried about her cover identity at Stoker, which was originally intended to only have to hold up for a single day. You can imagine Kelly's blood pressure spike when she saw Jaime, the superhuman guard who almost caught Kelly twice, striding directly for her desk.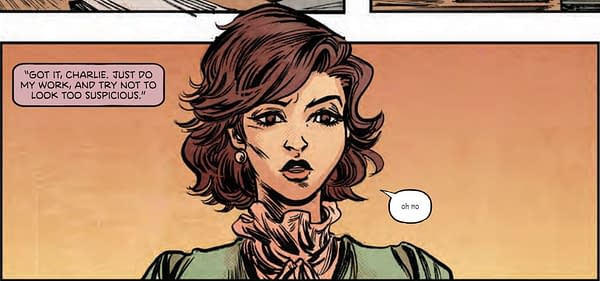 Page 20
Fortunately for Kelly – as well as thousands of neurological patients and the adults, children and clergy of Nicaragua, El Salvador and Iran, among other places targeted by U.S.-backed violence likely to be supercharged by military-grade adrenalizine – Jaime is on the side of the Angels now.
But how will they get Oscar's key and crack the safe? Find out next time, in Issue 4 of Charlie's Angels/Bionic Woman!
Enjoyed this article? Share it!