Marvel has yet to release the full list of comics they're bringing to their Marvel Unlimited binge-reading subscription service this month, but this week has seen several new comics added to the service that readers might be interested. First up is Spider-Woman Vol. 2, a four-issue mini-series launched in 1993 by legendary writer Roy Thomas. Despite being just a four-issue mini-series, the series featured several artists, with the first two issues, which were also co-written by Dann Thomas, penciled by John Czop and the latter two issues, written by Roy Thomas alone, penciled by Steve Ellis. Bringing consistency, Fred Fredericks inked all four issues, with colors by George Roussos and letters by Pat Brosseau. This series stars Julia Carpenter, not Jessica Drew, going up against The Manipulator and the team Death Web.
Spider-Woman isn't the only classic comic available on Marvel Unlimited this week. The service also added Marvel Two-in-One #37-46, featuring The Thing teaming up with partners such as Daredevil, The Vision, Black Panther, Brother Voodoo, Captain America, Man-Thing, Hercules, the original Captain Marvel, and The Hulk. These issues feature work by Marv Wolfman, Sal Buscema, Ralph Macchio, Alan Kupperberg, John Byrne, and more.
Marvel also added The Punisher: Intruder graphic novel from 1988, by Mike Baron, Bill Reinhold, Linda Lessmann, and Willie Schubert, as well as The Punisher: Assassins Guild by Jo Duffy, Jorge Zaffino, Julie Michel, and Jim Novak from 1988, both part of the Marvel Graphic Novel series that ran from 1982 to 1993. Finally, Marvel added Spitfire and the Troubleshooters #5. Yes, only #5, with the first four issues not available. Maybe they'll be added later. That one is by Gerry Conway, Roy Thomas, Herb Trimpe, Tony DeZuniga, Bob Sharon, and Rick Parker.
All of these comics can be read on Marvel Unlimited right now. The service costs ten bucks a month and offers Marvel's entire digitized back catalog, with the publisher both adding new comics on a time-delayed basis and older comics as they are made digital. When Marvel finally sends out their press release revealing what else they're planning to add in August, we'll let you know.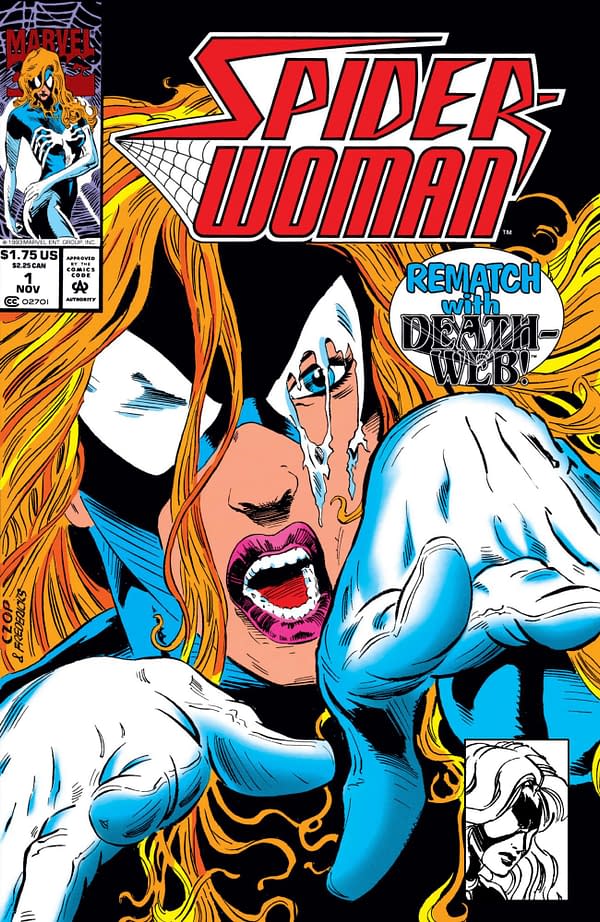 Enjoyed this article? Share it!