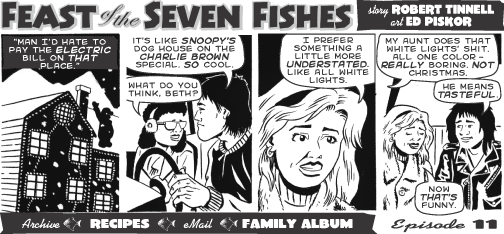 Some comics can inspire toys. Some can inspire films. Some can inspire tattoos.
But only one that I am aware of has inspired a town's annual festival.
That's the legacy of Robert Tinnell's collection of his comic strip, Feast of the Seven Fishes. Eisner Award nominated for Best Reprint, it celebrates an Italian Christmas tradiation, La Vigilia di Natale, that has found a home in Italian American families in the US, a Christmas Eve meal that eschews "meat" and is based around seven separate seafood dishes.
And as a result of the comic strip's popularity in reviving this tradition, in Fairmount, West Virginia, it turned a private family affair into a blog, a movie, a DVD, a cookbook and…new commercial opportunity for the town. Here's what they are up to…
Main Street Fairmont presents the sixth annual Feast of the Seven Fishes Festival in conjunction with our Premier Sponsor, Pierpont Community and Technical College. The festival is scheduled for December 10,2011. Located on Monroe Street in historic downtown Fairmont, the Italian Heritage street fair will open to the public at 11 and will close at 7pm. The Feast of the Seven Fishes Festival is held each year in Fairmont, West Virginia to celebrate the Italian Christmas Eve tradition. It's a one day event with traditional Italian foods, shopping, music, more food, cooking demos, fish, a street market, and even more food, but we already mentioned that. Everybody is welcome—because when it comes to Christmas Eve and the Feast of the Seven Fishes, everyone is Italian.

This Italian Street Festival offers authentic foods which will showcase our local chefs and restaurants. Holiday favorites such as: lupini beans, fried smelt, stuffed calamari , beer, wine, soups, sandwiches, Italian pastries and breads will be featured. The cooking school will demonstrate how to prepare the "7 Fishes Feast" with all NEW recipes this year including: Baked Stuffed Eel, Cioppino, Pasta with White Clam Sauce, Seafood Lasagna, Homemade Torrone, Panna Cotta and Italian Wine Punch.
The festival will also feature many local vendors showcasing gift baskets, Christmas ornaments, Italian pottery, West Virginia glassware, fresh pine and holly wreaths and garland and other unique gift items. There will also be a homemade wine and cookie contest which is open to the public.

The highlight of the day will be the entertainment. Area bands, dancers and vocalists will perform on the center stage. A unique combination of Italian and Christmas music and entertainment will be featured. This year we are proud to showcase such talents as: Joey and Tanya Media, Mirella Volpe, Michael Sonata, Ott & Sam and The WV Italian Children's Chorus. There will be plenty of tables and chairs located in the firehouse and in various locations under shelter to keep warm. The street will be brightened up with Christmas lights and the sounds of music. Portable heaters will line the street to add warmth and glow. The Christmas parade is back this year and a traditional Mass will close the event.

2011 Schedule of FREE Entertainment Events:
• 11 AM: Festival Opens
• 11:15 to 12:00: WVIHF Children's Chorus
• 12:00 to 1:00: Ott Meale and Sam Manno
• 1:00 to 3:00: Michael Sonata
• 3:00 to 5:00: Mirella the Musician
• 5:00 to 6:00: Ott Meale and Sam Manno
• 6:30 to 7:30: Catholic Mass @ Gatherings
Friday and Saturday evening
• 7:30 to 8:30: New Mystics Theater
Presents: The Feast of the Seven Fishes $10/ticket

OTHER ACTIVITIES:
11:30 to 1:00 – Festival Cucina (cooking school)
Old-World Traditional Meal – $20 Admission
Call 304.366.0468 to reserve your seat!

1:30 PM: Homemade Italian cookie contest

2:00 PM: Homemade wine competition

Event made possible through the generous contributions of the City of Fairmont, the Marion County Commission, the City of Pleasant Valley, Pierpont C&TC and the Town of White Hall.

You won't want to miss this opportunity to experience an Italian Christmas tradition set in a historic downtown setting. Admission to the festival is free. If you would like to become a part of this festival or need more information, please call the Main Street office at304-366-0468
Enjoyed this article? Share it!