We get the nod that Marvel Comics is to publish a new Captain Marvel trade paperback called Captain Marvel: Starforce on May 28th to run alongside the new Captain Marvel movie.
Which happens to feature the Kree superteam known as Starforce.
Whether that is a collection of previous Captain Marvel comics stories with Starforce – or if it's the name of the first arc of the new Captain Marvel comic launching in January, is not yet clear. But if it is the latter, that would suggest Marvel will be publishing new Starforce stories in the new Captain Marvel comic, probably with the movie line-up, and also that they are going to rush-publish the first trade paperback with a five-issue collection in May, the same month as the fifth issue is published. We should get a clue when January solicits are released.
First appearing in 1992 in Avengers #346 as part of the Operation: Galactic Storm storyline and created by now-DC Comics EIC Bob Harras, the initial team was Captain Atlas, Doctor Minerva, Ronan the Accuser, Supremor, Ultimus, Korath the Pursuer and Shatterax, then joined and lead by the Shi'ar's Deathbird.
In the upcoming movie Captain Marvel, the team will be Carol Danvers, Korath, Minn-Erva, Att-Lass, and Bron-Char make up the team and are led by Walter Lawson/Mar-Vell.
Odds are that these will be the Starforce members who also appear in the new Captain Marvel comic?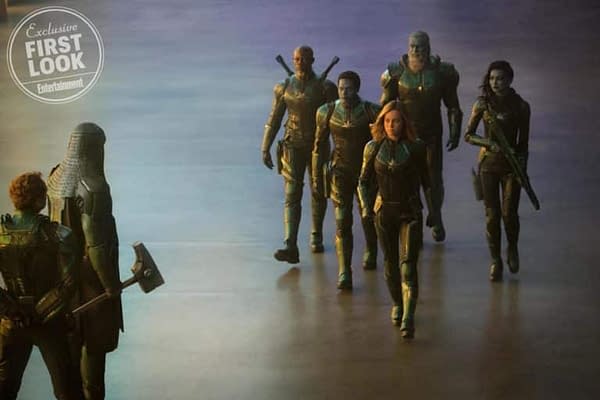 Enjoyed this article? Share it!