Constantine Can See His Own Pencils (Justice League Dark #22 Spoilers)
I am a sucker for when comic books reveal that they are comic books. Yesterday in Action Comics #1022 saw Superman and his Superfriends come to terms with their own reality being rebooted a few times. People seemed to really like it – or at least, really like talking about it. And while yesterday's Hellblazer: John Constantine #6 was condensing the very best of Hellblazer into one issue, Justice League Dark #22 by Ram V, James Tynion IV, Alvaro Martinez Bueno, Amancay Nahuelpan, Raul Fernandez, June Chung and Rob Leigh had Constantine revisit his Swamp Thing roots – and break down reality.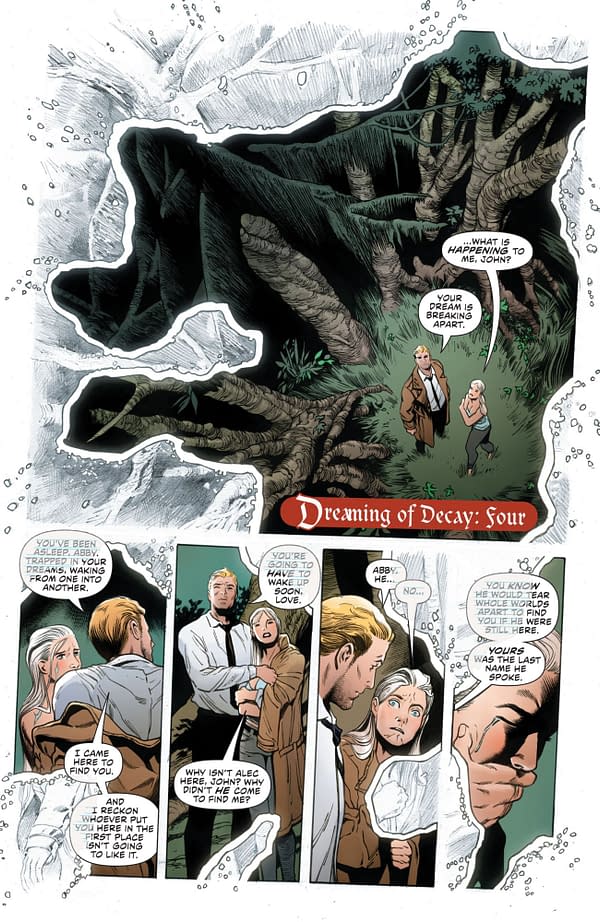 With the page beginning to break down as Abby' dream reality did so. The artwork is knocked back to reveal its pencils, while speech balloons reveal the blue-lined and pencils that, or at least used to. That's a point, does this breakdown reveal work patterns that aren't used any more? But it continues.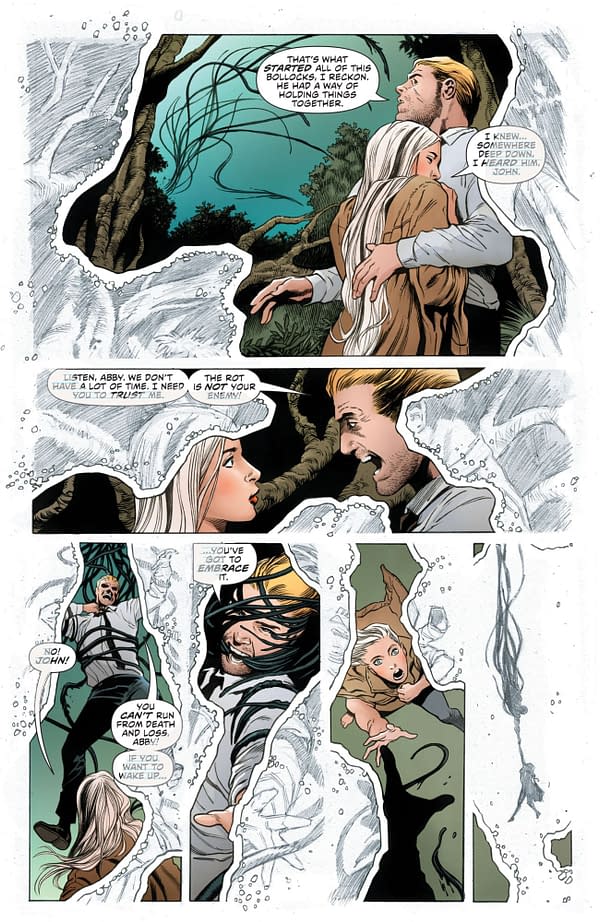 This kind of approach is more common in meta-comics like Gwenpool or Peter Cannon: Thunderbolt, it's much rarer in mainstream continuity shared universe comics. You might want to look to Grant Morrison and Chas Truog doing this kind of thing in Animal Man in the eighties, which had its origins with Bryan Talbot in the seventies. But this example in Justice League Dark is more like Jupiter's Legacy's levels of reality. Might this suggest there is more like this to come?
JUSTICE LEAGUE DARK #22
(W) Ram V. (A) Alvaro Eduardo Martinez Bueno (CA) Yanick Paquette
What dreams may come-we should be so lucky! Instead, the nightmares are here! Zatanna and John Constantine take a dive into the mind of Abigail Arcane to save her from the all-consuming Rot, while Animal Man must reach deep within himself to save Detective Chimp and Wonder Woman from the hordes of infected rot monsters. Minds, worlds, and lives hang in the (im)balance!In Shops: Jun 03, 2020 SRP: $3.99