"John Constantine is a Virus" – Hellblazer #6 (Spoilers)
It was meant to come out in April, but then stuff happened. But this issue of John Constantine: Hellblazer #6 dealing with a preponderance of mystery deaths in a hospital, suffering under pressure is sadly as relevant now as it would have been back in April. But it also gets a lot more relevant due to being published this week.
It has been mentioned that writer Si Spurrier has found a level that reflects both Jamie Delano and Garth Ennis Hellblazer in one. But Aaron Campbell also does a damn fine job of reflecting the likes of Dave McKean, Arthur Ranson and more, making this look even more of a concentration of classic British Hellblazer than we've ever had. It's full of politics, and healthcare, and people, and racism, and power and hate, and the dreams and perceptions we have of each other, and the games we play inside our heads.
So there's that. And a ghost story, with a little bit of politics.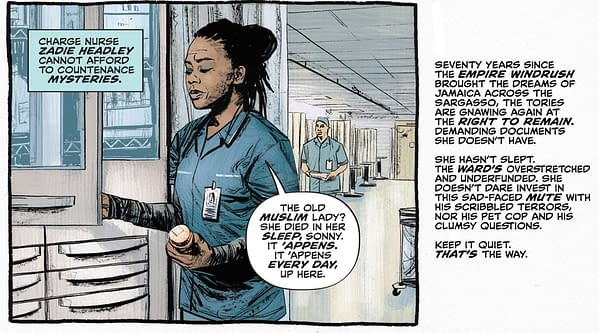 Because it seems that the deaths are all of immigrants, of one generation or another. And a potential spirit behind such deaths, which means John Constantine is needed for his own very special breeds of exorcism, that also looks at the why.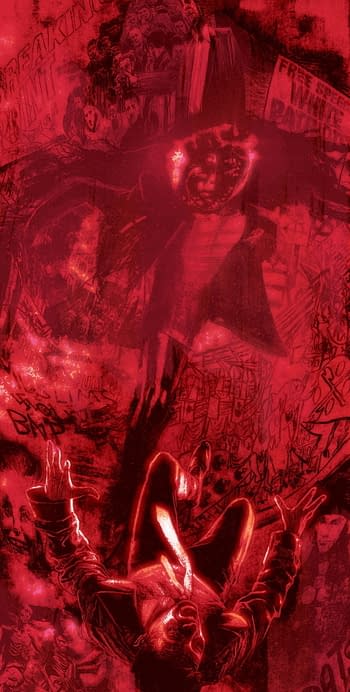 Including images from UKIP anti-immigration posters, as well as racist graffiti and protest signs, all fuelling hatred. But the hatred is being fuelled elsewhere as well. With clues that John has to place together.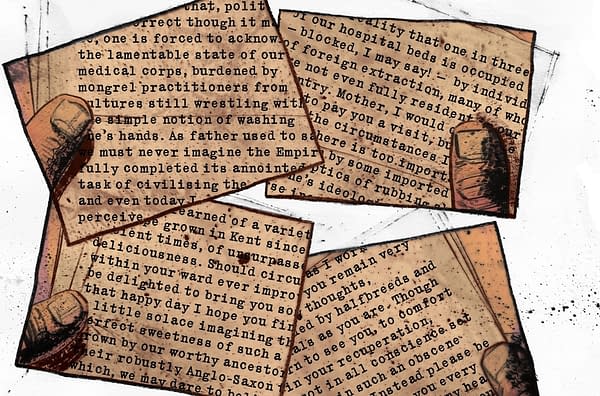 As well as John Constantine being similarly evicerated as much as the other victims, though using his own privilege to fight back in ways that others are less able to. But it describes John Constantine in terms that hit even harder right now.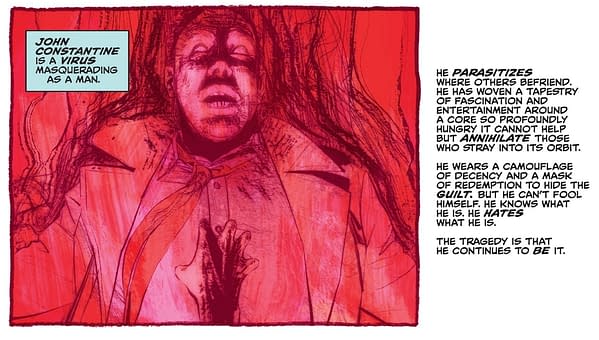 And the denouement also ties this right back into the events of the first issue of this new Hellblazer run, which had a familiar-looking Prime Minister who is somehow still in power in both fantasy and reality, and running around the bowels of Parliament naked. If ever you read Hellblazer, if you ever enjoyed Hellblazer, if you missed what Hellblazer could be, this is a great opportunity to jump back on board. And catch up in your leisure.
JOHN CONSTANTINE HELLBLAZER #6 (MR)
(W) Simon Spurrier (A) Aaron Campbell (CA) John Paul Leon
As Noah's mother lies in the hospital, deep in a coma with no prognosis of awakening, John Constantine makes the acquaintance of a rapacious spirit-one with a terrifying significance for all of England. In Shops: Jun 6th, 2020 SRP: $3.99