It's good to be Cullen Bunn. He's just had two comic books get launched, sell out and go to second printing in the same week.
The first, Unearth #1, written by Cullen Bunn and Kyle Strahm, and drawn by Baldemar Rivas, published by Image Comics will be out on the 7th August.
SERIES PREMIERE! When a flesh-warping disease ravages a remote village in Mexico, a scientific task force travels to the inhospitable area to investigate the contamination. Tracing the source of the disease to a nearby cave system, the team discovers a bizarre, hostile ecosystem and a supernatural revelation from which they may never escape. This new subterranean nightmare is brought to you by writers CULLEN BUNN (REGRESSION) and KYLE STRAHM (SPREAD), and rising-star artist BALDEMAR RIVAS!
The second Knights Temporal #1, written by Cullen Bunn, and drawn by Fran Galan, is published by AfterShock Comics and will be out on the 31st of July…
When Auguste de Riviere returned from the Crusades, he was ashamed and horrified by the things he had done. Hoping to reclaim his soul, he pledges to root out evil wherever it might be found. But when he pursued a vile sorcerer into a forbidden forest, his life was shattered. Auguste ventured into the dark forest, but emerged in the modern world. Accompanied now by the enigmatic Jane Fool, Auguste hunts a madman while trying to piece together the mystery of his very existence.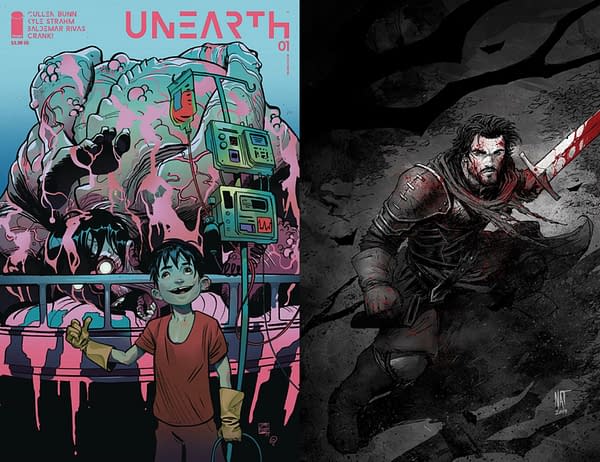 Looks like someone will be having a busy San Diego…
Enjoyed this article? Share it!