Justice League Odyssey #8 hits stores next week, we find the titular league on the surface of Aeolon, where they have captured the super-villain Darkseid. And the heroes of the DC Universe have a lot of preconceived notions about who Darkseid is, what his motives are, and whether he can ever be trusted. Which is to say, they don't think that he can be trusted at all. Though Darkseid disagrees.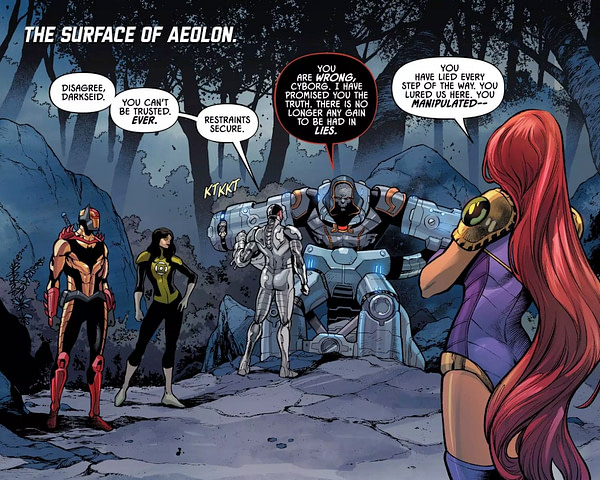 In fact, Darkseid takes issue with the term "super-villain," which he finds inadequate. And he doesn't particularly care for the description of his opponents as "heroes" either. Is it worth considering Darkseid's perspective in all of this?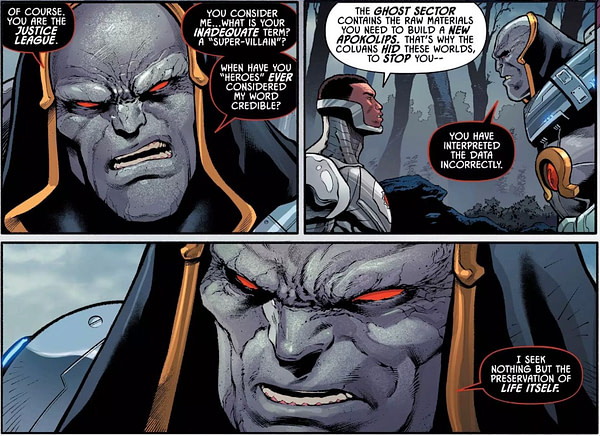 Mmm, probably not. But it looks like he's on the verge of convincing Cyborg…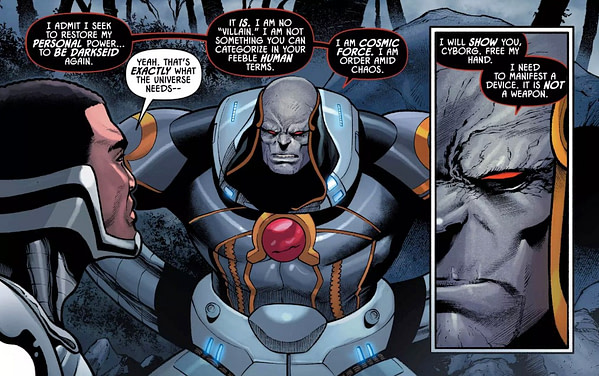 Eh, that's probably not such a good idea.
Justice League Odyssey #8 redefines Darkseid as cosmic force, order amid chaos, on Wednesday. Graphic Policy had the EX-X-XCLUSIVE preview of this one, but previews aren't meant to be contained.
Justice League Odyssey #8
(W) Dan Abnett (A) Daniel Sampere, Juan Albarran (CA) Carmine Di Giandomenico
The fate of the Ghost Sector hangs in the balance, and Rapture and the Order of Azrael want to tip the scales! With enemies amassing from all sides, the Odyssey team is all that stands in the way of the deaths of trillions. If they have any hope of succeeding, Cyborg, Starfire, Azrael and Jessica Cruz must work with-and trust-Darkseid himself!
In Shops: Apr 10, 2019
SRP: $3.99