Dave Petersen Returns To Mouse Guard in July With Owlhen Caregiver
Dave Petersen is returning to his Mouse Guard series from Boom Studios in July with Mouse Guard: The Owlhen Caregiver one-shot.
Which of life's biggest lessons can be learned from the smallest amongst us? A young mouse learns that compassion and kindness are the great virtues in The Owlhen Caregiver. Meanwhile, Piper the Listener finds a brave mouse venturing into wild country to learn the tongues of other beasts. And finally, a grizzled oldfur shares the lesson of putting a whisker out too far in The Wild Wolf.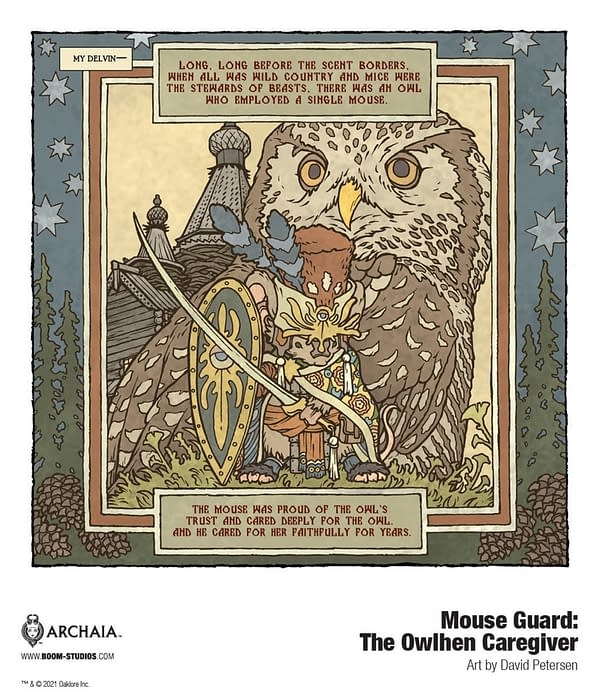 "I'm so pleased that readers get to walk back into the Mouse Territories, be accompanied by familiar Guardmice, and encounter snakes, owls, wolves, rams, otters, toads, and foxes again. Short stories are magical things. Despite their size, they are exactly the right shape to hold large messages of morality and virtue," said Petersen. "The common themes in these stories are ones of hope and of compassion, of service and the wellbeing of others. And every world could use more of that."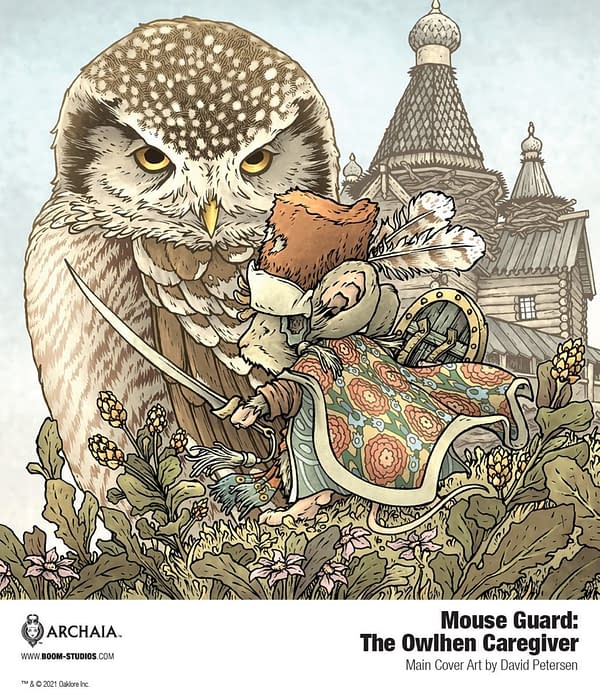 Mouse Guard is a New York Times Bestselling, Eisner & Harvey Award winning comic book series written and illustrated by David Petersen. Digging into his love of animal stories and medieval role playing games, David created a fantasy adventure world of cloaked, sword wielding mice who protect the common mouse against threats of predator, weather, & wilderness. The stories are released as a series of miniseries available as individual comic issues first, and then collected into hardcover volumes.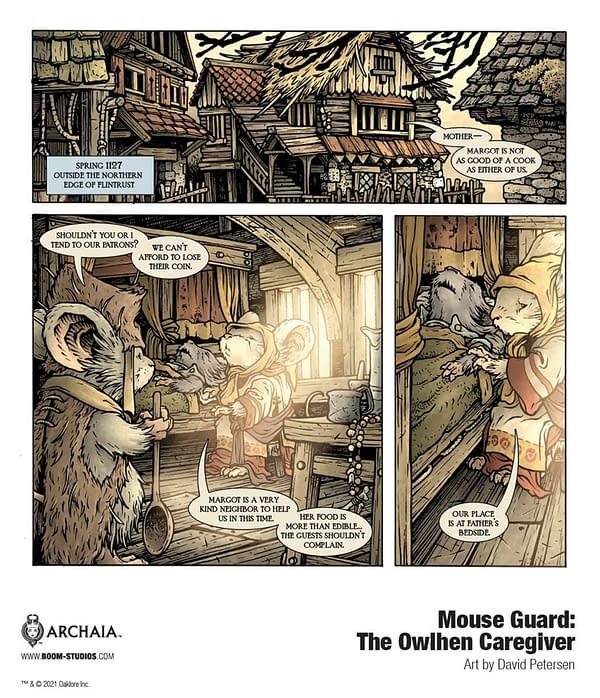 "It's very exciting to return to the world of MOUSE GUARD and engage with the characters and stories that David has beautifully created and continues to expand upon," said Bryce Carlson, Editor, BOOM! Studios. "David has an incredible talent for writing and illustrating stories that bring the reader into the richly detailed world drawn from his imagination and it's simply a joy to spend time in this world and allow David to guide the journey."
Mouse Guard: The Owlhen Caregiver one-shot will be published in Jult.
---
---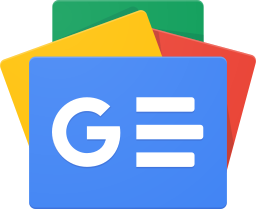 Stay up-to-date and support the site by following Bleeding Cool on Google News today!