It's like he just loves it when people kick off. But will anyone notice?
Dave Sim has another new #1 Cerebus for May 2019, using more cut-and-pastes of the work of Gustave Dore, a French artist, printmaker, illustrator, comics artist, caricaturist, and sculptor who worked primarily with wood engraving in the 19th century, especially notable for Sim his work on Dante's Vision of Hell.
And the new one? Cerebus Woman #1. Oh, bloody hell…
Hey, the character is canonically genderfluid. Though I am somehow not expecting the most sensitive portrayal.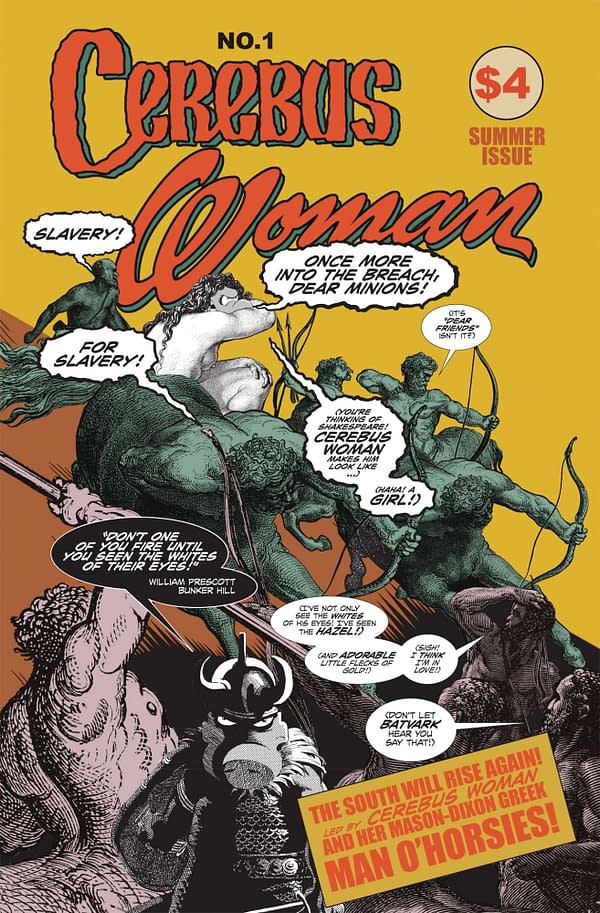 CEREBUS WOMAN

(W) Dave Sim (A) Dave Sim, Gustave Dore (CA) Benjamin Hobbs
Now with no reprints! Epic-length all-in-one 24-page issue! Ever wonder what the illegitimate daughter of Batvark and the Whore of Babylon would be like? Gosh! Who hasn't? Get ready for Cerebus Woman, the tyrannical queen of Real Amazon.com Island and her legion of Mason-Dixon Greek Man O'Horsies! First appearance of her invisible robot bulldozer! First appearance of the ancient Greek Real Amazon.com national anthem! Jingles, everyone's favorite CGC-dog comic collector, as Cerebus Woman's interspecies love interest! Don't miss Cerebus Woman tied up with her own magic lasso!

In Shops: May 29, 2019
SRP: $4.00
Enjoyed this article? Share it!