David Avallone's Writer's Commentary on Bettie Page's Hallowe'en Special 2019
David Avallone's Writer's Commentary on Bettie Page's Hallowe'en Special 2019, on sale now from Dynamite.
I can't believe it was a year ago that we re-launched Bettie Page with a Halloween special, and a prelude to volume two of the series, AKA THE PRINCESS AND THE PIN-UP. I also can't believe how my fairly random decision to have her face one of Lovecraft's Great Old Ones would come back to haunt her in volume three, AKA BETTIE PAGE UNBOUND. The last Halloween special also introduced new series artist Julius Ohta, who's been an invaluable creative partner in chronicling Bettie's secret diary.
Of course… now that Julius is busy drawing the ongoing series, we needed to find someone else to draw this Halloween issue. Editor Kevin Ketner was kind enough to indulge me, and let me bring in the fantastic Roy Allan Martinez. Earlier this year, Roy and I did a miniseries together called ZORRO: SWORDS OF HELL, in which the masked avenger of Alta California faced down conquistador zombies and saved Los Angeles from damnation. Roy's work was so gorgeous, and so perfectly suited to the horror genre, that when this Halloween issue came up I thought he'd be a natural for it.
We brought Roy on before I had decided on a direction for the story, so I emailed him and asked "what monster do you want to draw?" He came back with two: an incredible monster from Filipino folklore that I'd never heard of… the tikbalang… and werewolves. I knew werewolves would require the least research (an important factor with tight comic book deadlines) so I chose that option. That said… the tikbalang is fascinating – kind of a were-horse — and I plan to incorporate it in a story someday.
One last overall note: from 1983 to 1987, I attended Bard College. I loved it there, and I've stayed involved in all things Bard (was even on the Alumni Board of Governors for a decade or two…) since graduation. I'm a big fan of the school, and this issue is a little tribute to Bard, as you'll see below. I'm hardly the first comics writer to do this, by the way: fellow Alumni Chris Claremont made Jean Grey's parents Bard professors, and she is canonically buried on campus. (That is, if she's still dead. I lost track of X-Men continuity a looooong time ago.) In fact, last time I was on campus for an alumni event, some students had erected a fake "Jean Grey, RIP" tombstone in the cemetery there. At least… I think it was fake.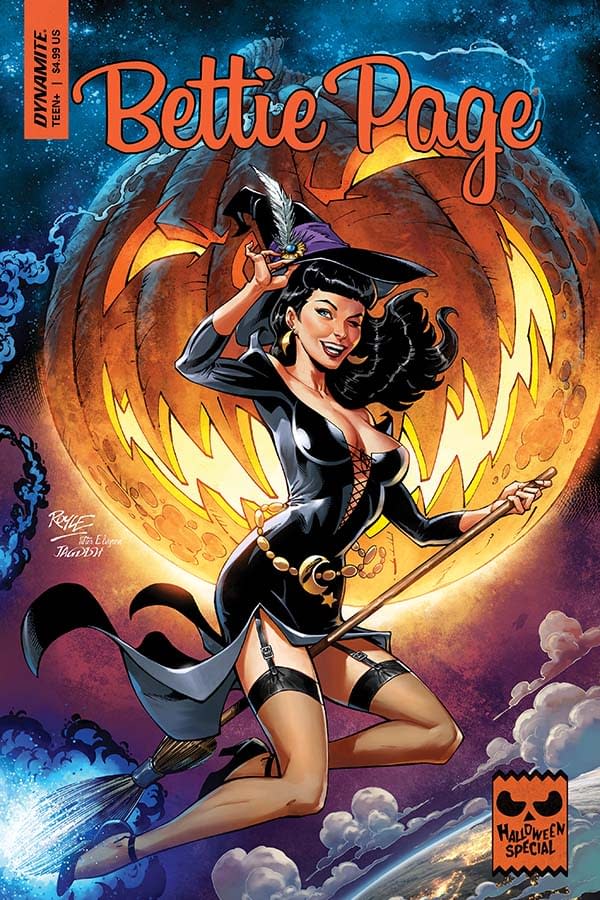 Covers: John Royle and Jagdish's A cover is an homage to the great Gil Elvgren, a legendary mid-century paperback cover artist.
(Elvgren/Royle below) Royle is a worthy inheritor of Elvgren's mantle. The vibrant colors are by Mohan.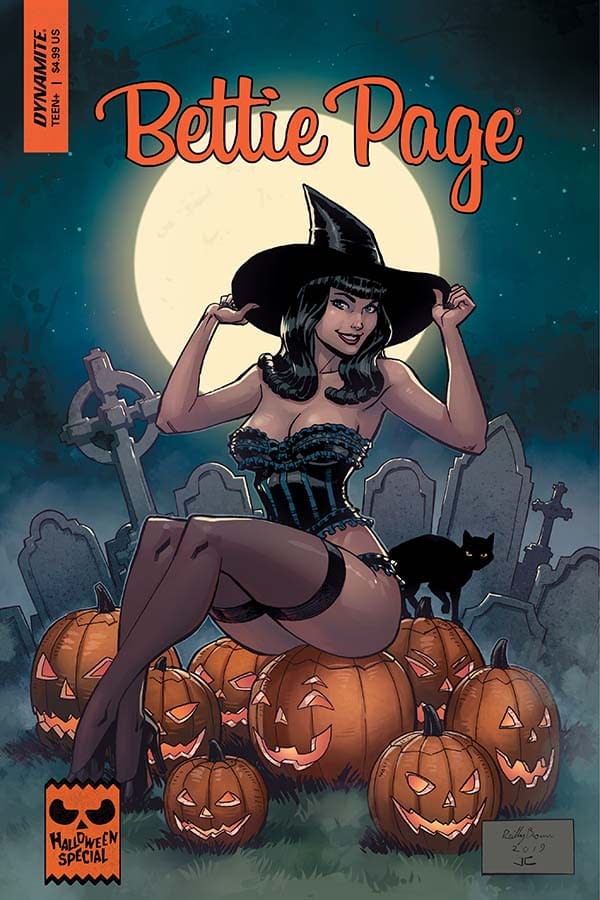 The B cover, by Reilly Brown (who I just had the pleasure of meeting at NYCC 2019), has colors by Tim Charalampidis, and is another perfect Bettie/Halloween image.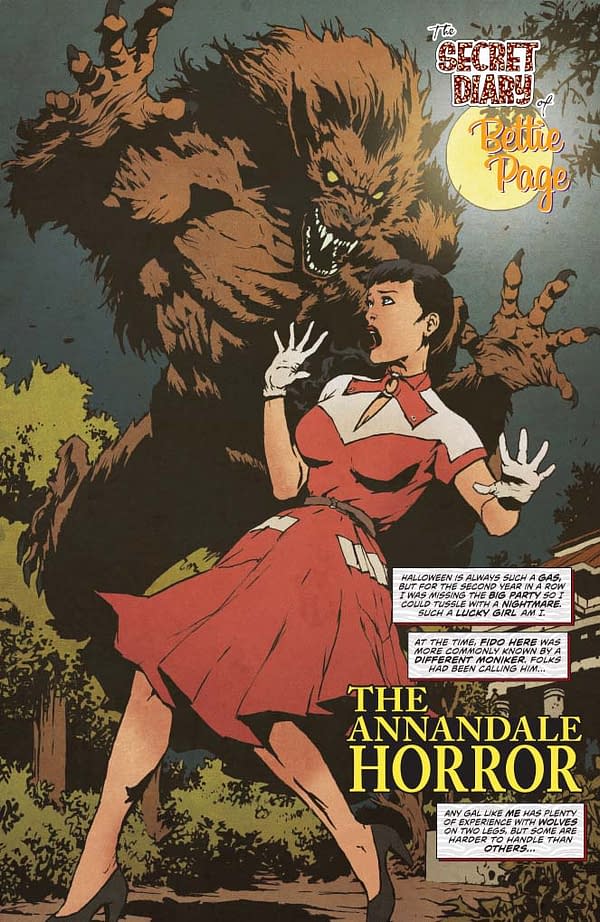 Page 1: Like last Halloween, and the first issue of BETTIE PAGE UNBOUND, I start us "in media res," so the reader knows what to look forward to. Right away you can see why Roy was the perfect artist for this book. He captures Bettie perfectly, and he can sure draw a monster. The title treatment, by our excellent letterer Taylor Esposito, uses the font and color of THE AMITYVILLE HORROR, if you're the kind of person who enjoys that kind of detail. Taylor knows very well I am that kind of person. Bard College is located in Annandale-on-Hudson, New York, so the college in our story is "Annandale College."
Pages 2 & 3: Bettie deals with a handsy masher. She's drinking a Coca-Cola: an interesting fact about Bettie Page is that she didn't smoke or drink or swear. In issue five of Volume One, (collected in "Bettie Page: Model Agent") she went through Basic Training and learned Judo. It comes in handy in Manhattan. I usually do one last pass on dialogue between the final inks and handing the script over to Taylor for lettering. In this case, the shocked couple on page three initially had no dialogue, but as Roy drew them the panel cried out for something. "Chicken Ala King" is not something you find much in restaurants in the present day, but in the fifties it was quite the "classy" dish.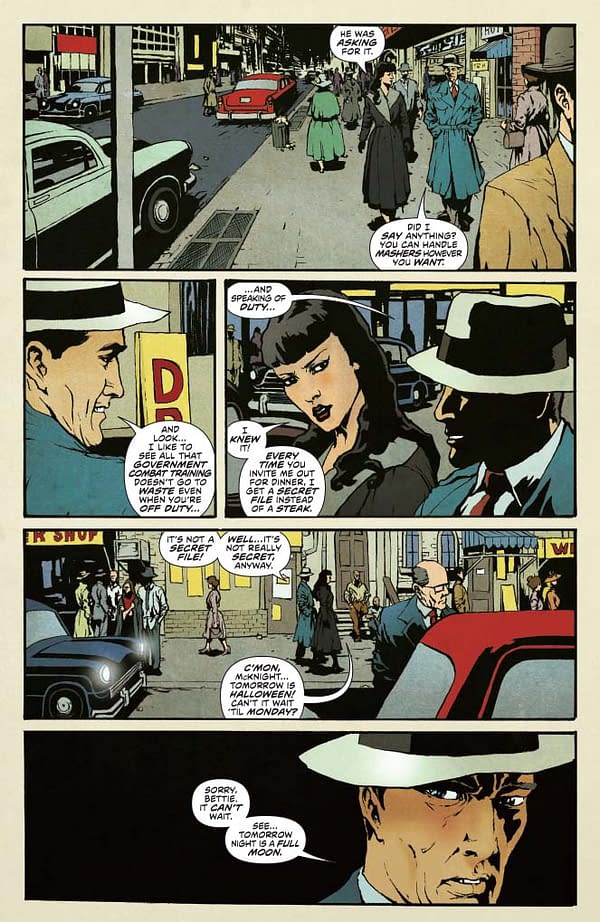 Page 4: It's easy for me to write "New York City Street, 1952", but I try not to forget it's a lot of work. Roy handles the challenge of a period setting, cars, "extras", buildings, beautifully.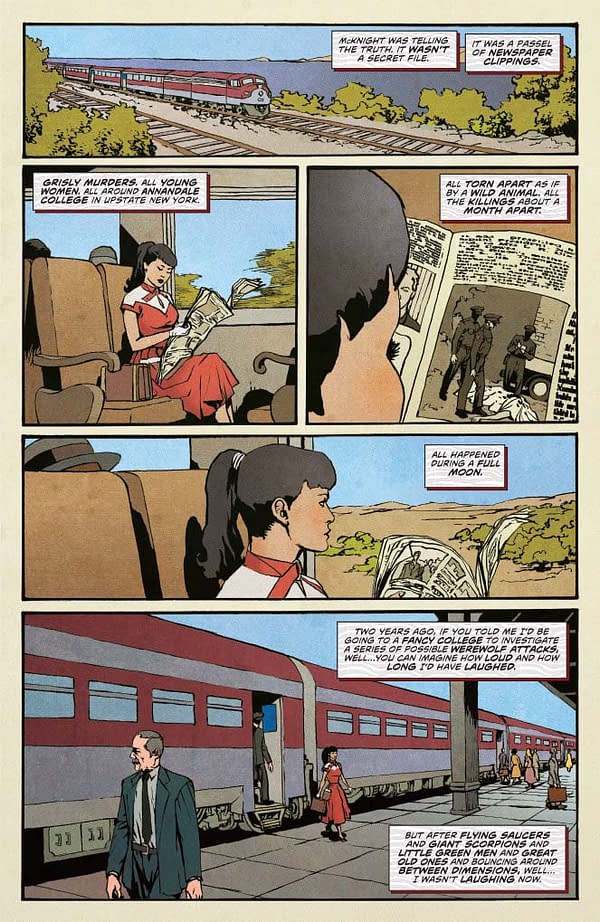 Page 5: Bettie on the train up the Hudson, to Rhinecliff station. In the real world it's a beautiful ride, and I thought it was a good setting for her doing her homework on her way up. Annandale is about ninety minutes by train from Grand Central Station (back in the day: now it leaves from Penn.)
Pages 6: Bettie in her "Clark Kent" glasses, walks across Annandale College campus. In the first panel of page six, the building on the right is called "Stone Row." I lived there for two years. She meets with Dean Stewart: when I was at Bard, the Dean was named Stuart Levine. Roy's Dean Stewart reminds me of Patrick MacGoohan as the warden in ESCAPE FROM ALCATRAZ. I haven't asked him if that's intentional. In Bettie's narration she mentions "Striporama": at the time this story takes place (Halloween, 1953) that movie – a collection of "naughty" skits, some of them starring Bettie – was in release in some theaters. The Dean's mention that Annandale has recently gone coeducational is also a reference to something real: Bard was a men's school up until just after World War Two, and like Annandale, went co-ed in the middle of the century.
Page 7: Poetry class. Bobby Astaire (a joke on the name of a popular Bard poet/professor) is reading from T. S. Eliot's The Hollow Men. The last lines "this is how the world ends: not with a bang but a whimper" were written before Hiroshima, and would seem particularly inaccurate a year after America and Russia had both tested H-Bombs. Lon Chaney Jr. played The Wolfman in the Universal horror movie of the same name.
Pages 8 & 9: Little Red Riding Hood stalks the wolf. Bard/Annandale is set in the middle of a vast woodland, and yes, some professors do live in cottages in the forest. The reference to Errol Flynn recalls his bad reputation, which would be fresh in the mind in 1953. I did date an Evelyn while at Bard, and yes, she was blonde, but she was a lovely person and aside from hair color she had nothing in common with the character in this story.
Pages 10 & 11: Phyllis was the name of my step-grandmother, who was – if I'm being honest – kind of a killjoy, which is probably why I used that name here. On this page I noticed Professor Bobby looks a little like Chris Pine. The last three panels on page 11 are a joke on the metamorphosis scenes in modern werewolf movies. We watch him for three panels and… he doesn't change.
Page 12: Professor Astaire was a red herring. I love Bettie's FBI ID picture, with the jacket and tie and glasses.
Page 13: Bettie passes two students in costumes, dressed as Zorro and Lolita, an homage to my last comic book series with Roy. On Bard campus is a beautiful old mansion called Blithewood, and Blithewood has its own formal gardens. Roy has recreated them perfectly here. When I was at Bard, Blithewood was an all-girl dormitory. Here it's named "Pruitt Manor" after my old film professor, John Pruitt. John passed away shortly before I wrote this issue, and I wanted to include a little tribute to him. He was a great teacher, who introduced me to a lot of great films, and over the years remained a good friend. I'll miss him.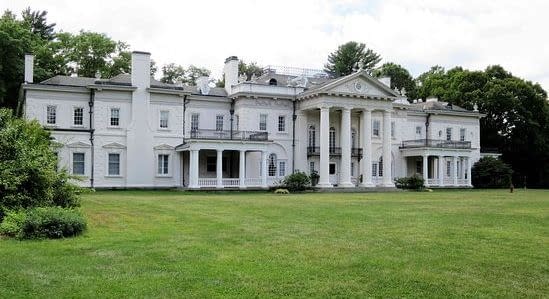 The reference to "the second Mrs. DeWinter" is from the Hitchcock movie REBECCA, a gothic mystery where an innocent woman walks into a very dangerous situation.
Pages 14 & 15: Blithewood Gardens. If you're in upstate New York and choose to visit, you'll see how faithfully Roy has rendered them. Don't be disappointed when the fountain doesn't have a Civil War statue in it: that's a plot contrivance, as you'll see. Rhinebeck is a town close to Annandale. When I was a student at Bard, my father wrote a book called THE SIXGUN APOSTLES (under the house pen-name of Lee Davis Willoughby.) It's set before the Civil War, about a teenager (helpfully named "David") who gets involved with an abolitionist group led by a crazy old man named Martinius Rhinebeck. So this is a reference within a reference within a reference. Bard was, in fact, founded around the time of the Civil War… but not by a family of werewolves. As far as I know. "Ichabod" is a character name quite famous from another fairy tale from that part of Upstate New York…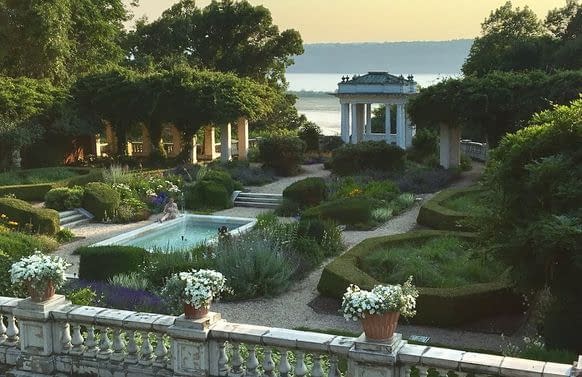 Blithewood gardens, so you can see how well Roy drew a place he's never been.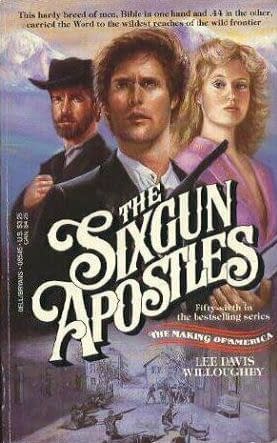 The Sixgun Apostles, with young "David Bard" and "Martinius Rhinebeck" on the cover.
Pages 16 & 17: I love writing a character who says "Jeepers" and means it. Roy has a great talent for action, and you can see that on these pages. This is also a good place to mention the incredible color work of Sal Aiala. He really wanted to make this issue look like a horror comic from the period, and it works beautifully. Moonlit nights, in particular, are challenging to draw (and, for that matter, film.) They have a tendency to look over-lit, but not here. Sal evokes both old comics and the real world perfectly: a difficult balancing act.
Pages 18 & 19: Dean Stewart sold his soul to the Rhinebecks years ago, and some kind of Stockholm Syndrome has clearly set in. You'd think he'd be happy to be free of the cursed family, but… it's what he knows, and it's what he's always known. I feel like I need to say (as I did about Evelyn), that Dean Stuart Levine from my college days was an affable fellow and I had a good relationship with him. He had no partnerships with monstrous murder-families. I love the collection of Halloween costumes Roy drew on the college students in the last panel.
Page 20: I couldn't resist the classic, cliché final scene of all horror movies. The sun has come up, the monster is dead, the police have arrived. I wanted it to be ambiguous whether the silver bullets worked or not, but my feeling is they just slowed the werewolf down enough to blunder into the sword of his ancestor. If there's any magic… it's in great-grandpa's saber.
The back-up story: it's not for me to tell you what Erica and Fernando had in mind, but I love their story. It's a tribute to two great movies of the period (and two influences on this series), and Fernando's art is – as always — fun and funny. I bet he got a kick out of drawing Martian War Machines. My favorite thing about this back-up story is the same as my favorite thing about Leah Williams' back-up story from last year's Halloween special: the focus on the friendship between Lyssa and Bettie. Lyssa is an original character of mine, and I take pride in her, and in the portrayal of that relationship in the comics I've written. I absolutely love that the two other writers who've taken on Bettie in this series have both chosen to spotlight Lyssa, and that aspect of the comic.
That's it for this one… as always, acknowledgment to Kevin Ketner for his full-service editing, and Joe Rybandt and Nick Barrucci for letting me play in their sandbox.