Joe Glass writes,
DC bring the Master Class to SDCC, with Amanda Conner, Tony Daniel, Andy Kubert, Jim Lee, and John Romita Jr. come to dish on their upcoming new projects.
A rather dapper Dan DiDio rocks up to the mic, at this late in the day panel, but this was one panel they didn't want to serve before its time.
He talks about bringing the best artists to DC to teach others as much create the finest product as well. The panelists are people who are not only some of the best but have longevity in the industry.
Conner talks about going to the Joe Kubert school and studied, and back in the day when it was possible she went and bugged Marvel until they gave her work. Discussing her licensed work with Mattel, she found it a pain. It's too constrictive. She does love drawing facial expressions, but Barbie expressions weren't allowed to run the full gamut. She says her inspirations are Frank Miller and Chuck Jones.
Greg Capullo then turns up for the panel too.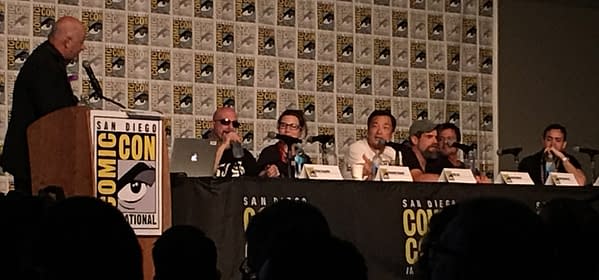 Continuing, Conner says Power Girl has been one of her favorite characters to work on. She loves Harley Quinn now too, but still has a soft spot for PG. Conner says she follows scripts loosely, sometimes adding panels or switching things around to add humor.
Lee talks about being a huge comics fan as a kid, and going to prep school to be a doctor, but ultimately decided to do what he wanted to do: become a comic artist. He started drawing submissions right after graduating from college (he has a degree in Psychology), he got lots of rejection, but he talks about how these were useful as it gave him something to work on. He pretended like he had the job already, setting up a drawing table and rolling out of bed each morning straight to the work.
He says that his era on X-Men he was trying to show off, very striking poses, excessive cross-hatching etc. By the time he got to Batman, he worked with more of a less is more attitude.
How does he approach creating new characters in Immortal Men, he says it actually feels like the early days of Image, you get to exercise a wholly different set of creative muscles. Talks about working closely with James Tynion IV and refining the ideas.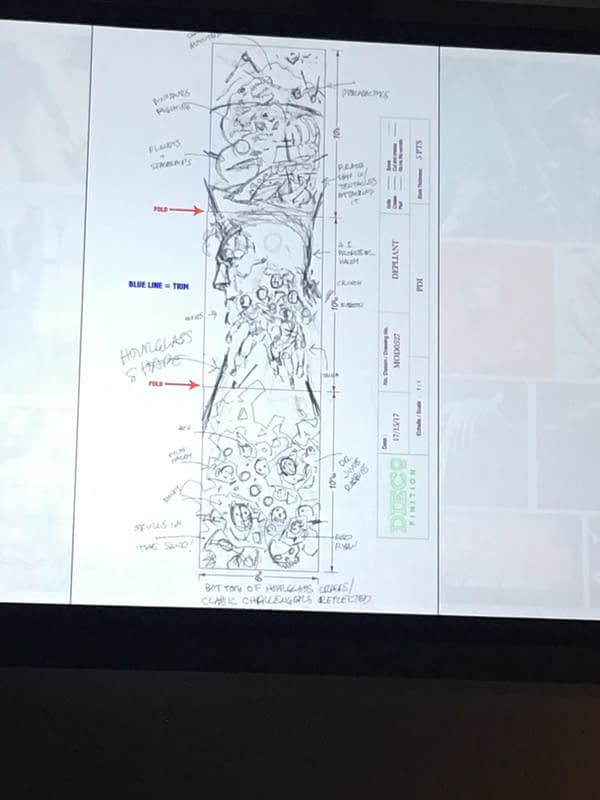 Onto Kubert, coming from a family where his father was already a legend in the industry, Kubert says just after six months in college he decided to leave to become an artist. His father, Joe Kubert, did not go easy on him at the Kubert School, and made sure he worked hard at it. He was taught to letter, and was how he initially got into the industry himself.
What changed going from Marvel to DC? Kubert says there's two reasons he wanted to, and one was he really wanted to draw Batman, and that Lee was a huge influence on him, and then he says the other thing was Didio's charisma. He jokes that the only character he never really did at Marvel was Spider-Man, and he loves the character but drawing him is just not in his repertoire – they joke you have to be crazy to want to draw Spider-Man…noting Romita Jr sat to his left.
Why is he taking Challengers of the Unknown? It's going to be the chance to do something in a very different direction from anything he's done at DC to date.
Romita Jr. is up next, who says his father never trained him. He wanted him to be an artist, but he never wanted him to get into comic books. He hated the idea of him doing such arduous work. His father explained to him one day what superhero comics were, that he was then working on, it blew his mind. Romita Jr got so excited he started drawing them, but Romita Sr pushed him to go into fine arts.
Ultimately, Romita Jr became an intern, and his father said he'd get no help from him, he'd rather he not be doing comics work, but if he did it, he'd be happy for him. But he wanted him to do it off his own back.
How was it making the transition from Marvel to DC? He was nervous as hell, but he felt it was time to do something different. This was the most different thing he'd ever done. But he says ultimately it came down to DC made an effort that Marvel did not.
Going onto the brand new work with Silencer, he says it's nowhere near as terrifying as working on the iconic characters. Instead, it just struck him as a lot of fun.
Daniel is up next, he broke in the old fashioned way, he'd go to conventions and show the editors his portfolio, which was how he started out. He focused in on Fabian Nicieza, because why focus on ten editors when you can work on the one who has ten books. They built a relationship, and then over the course of two or three sets of samples he got a call from Bob Harris.
He was at Marvel for just two years, and then he got the call from Todd McFarlane to work on Spawn Bloodfeud with Alan Moore. When he did The Tenth, it was a time he wanted to branch out and tell his own stories and have more control.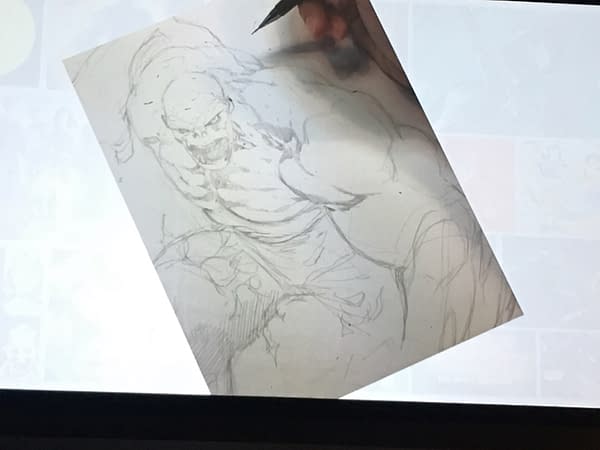 Daniel says Teen Titans is near and dear to his heart, and he loved working on it, then moving onto Batman which he described as a fantastic ride. He says Suicide Squad has been different as it makes him feel like a kid again, because it's kind of crazy and wild.
Moving onto the new character of Damage, he reveals that the image we've seen all over SDCC is not the final design of the character. Moving to Capullo, he describes how it was a different age when he wanted to break into comics. But as a kid he thought he was better than he was. So he'd just rock up to Marvel, pre-9/11 security measures, and would just ask the secretary to ask someone out to check out his portfolio. At one time, editor in chief of the time Jim Shooter came out and looked it over. He says interestingly the final person to go over his work was John Romita Sr.
His very first work was for a tiny publisher, and a horror story that he had no interest in.
Talking about his time on Spawn, doing an 80 issue run plus the Angela mini-series, and he jokes about how Tony Daniel seems to keep following him over (after leaving X-Force, Daniels took over, and the same happened with Spawn). He talks about how the collaboration between him and McFarlane was very loose, the closest to Stan Lee and Jack Kirby.
Now a mystery guest to come out: Frank Miller. The entire panel takes to their feet to applaud him as he walks on the stage. Miller talks about how he got into comics was the only way you could at the time, he looked up Neal Adams' number in the phone book and made an appointment to see him. And then Adams would tear into him and his work.
Onto Daredevil, he says two things happened that got him on it – the book had fallen to a bi-monthly schedule, and long-term artist Gene Colan went running from the book. Miller got the job by default.
What do the artists find better, writing or drawing? Miller says "Dan? You keep talking like they're two different things."
Kubert on working with his brother: He never really worked in a studio environment, but they did work in their parents basement sometimes. But he describes liking the lonely work of artist. Conner says the same, she draws alone in her room…sometimes her cat joins her.
Capullo talks about competing with himself, not other artists, you should always have that desire to grow as an artist and get better. He has a constant desire to challenge himself, and when he's not feeling it, he opens up books that inspire him. Conner just tries to keep it interesting for herself, if she can make Jimmy Palmiotti laugh, and agrees with Capullo: just challenging herself.
What drives Lee to keep doing monthly books? He thinks he inherited it from his father, who had to repeatedly do standardized tests to keep his licence and go through arduous long hours and work…Lee has inherited that stubbornness.
How do you keep yourself motivated? Kubert says he can't really add anything more to what Capullo said. Daniel says he just looks at what Capullo is doing, and knows that means it's what he is doing next.
Finally, they end the panel by revealing a single piece of teaser image for Superman: Year One, a new project to come from Frank Miller and John Romita Jr.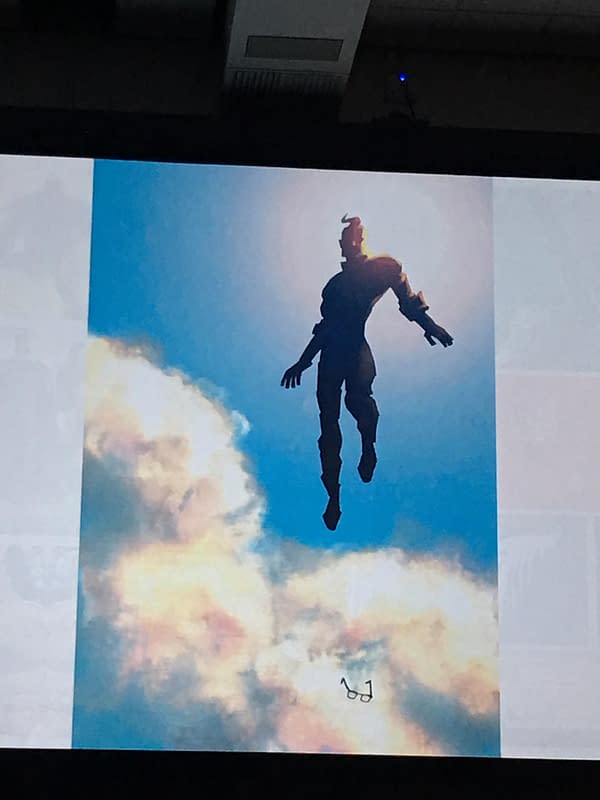 Enjoyed this article? Share it!