At New York Comic Con, DC Comics and Funko have been announcing a new line of figures, the DC Primal Age. And exclusive to Amazon.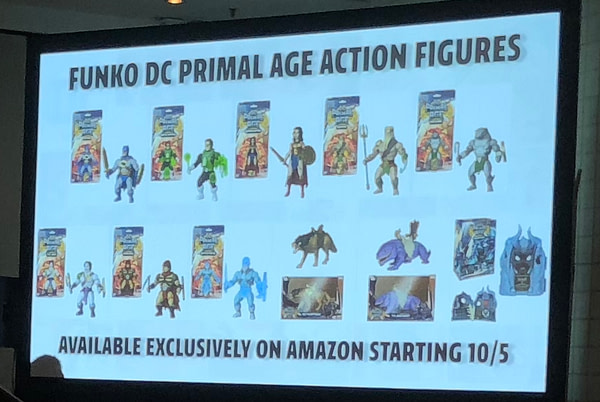 But DC Comics couldn't let that go without further exploitation. Which is why Marv Wolfman will be writing a comic book based around the characters.
DC Universe Heroes in a Medieval Masters Of The Universe setting… written by Marv Wolfman. I'd read that.
If it wasn't exclusive to Target.
Sigh. Will no one think of the British? We don't have Targets or Walmarts. Can DC's next exclusive line be exclusive to Tescos? Just so everyone knows hat it's like?
Thanks to Hugh Sheridan and Octavio Karbank for getting the word to us.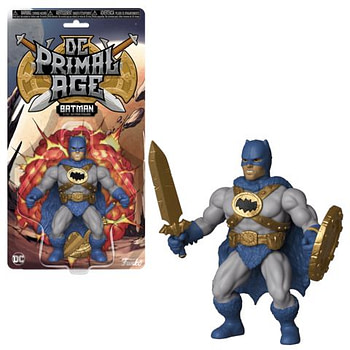 UPDATE: DC Comics have shared more…
The panel had even more surprises in store: Dan DiDio made reference to a recent interview on DC Daily where he talked about finding some old sketches and designs for a 1980s-era comic and toy line called Primal Age. With an announcement by Funko of a new retro-style barbarian fantasy-themed action figure line called DC Primal Age, Dan had to confess that the interview he did was part of a larger stunt and there was never a comic planned.
However, the joke was on Dan when DC writing icon Marv Wolfman took the stage. Wolfman spoke with Dan and Jim about his plans to write a comic book based on this new line of toys by Funko, with art provided by Scott Koblish. Titled DC PRIMAL AGE, Wolfman revealed initial details about his story, explaining the mythos behind the toy line and how it will be rooted in the sword and sorcery genre, reminiscent of DC comics like WARLORD and HERCULES UNBOUND. In addition, the DC PRIMAL AGE comic will also include several short stories featuring DC characters rendered in the style of Funko's new action figure line.
Fans received a firsthand look at the new line and were treated to a special surprise, receiving a New York Comic Con exclusive Mr. Freeze DC PRIMAL AGE figure.