Tom Taylor's First Creator-Owned Series "Seven Secrets" From Boom Studios – ComicsPRO Leak
Not content with only having Image Comics co-founder and CFO Erik Larsen waging a war against them, it looks like Boom Studios has poked the bear in Burbank and scored themselves a defector from DC Comics with Tom Taylor, the writer behind some of their biggest books in the last five years including Injustice and the recent DCeased.
Instead of staying inhouse with DC's hot Black Label imprint or going to Image Comics like fellow DC alum Scott Snyder, Boom announced today at ComicsPRO that Taylor was bringing his first-ever creator-owned series to life at the publisher alongside Power Rangers artist Daniele Di Nicuolo.
While Boom's Filip Sablik and Morgan Perry didn't offer many details, they confirmed this new series is entitled Seven Secrets and called it their "Once & Future of 2020." Yes, they're expecting this to perform as well as the best-selling creator-owned launch in company history and, I'm guessing, maybe without retailers needing eight printings to realize they should've ordered much higher.
Earlier this week (social media URL), Boom teased that 2020 would be even bigger for retailers than 2019. Today Boom unveiled their "Must Read" list for 2020 at ComicsPro, with the recently released Alienated from Spurrier & Wildgoose and already announced controversial sequel Faithless II from Azzarello & Llovet kicking off the list. With Seven Secrets joining the list, there's still two more books to be announced and we'll keep you updated as more information becomes available.
But if Boom is now head-hunting DC's biggest talent – after already counting Grant Morrison, Brian Azzarello, James Tynion IV and now Tom Taylor amongst their ranks – will Gerard Way be one of the next names they announce? Could there be a new project from Tom King that's revealed in a nine-panel teaser? Or could it be someone like Sean Gordon Murphy who might be hungry to return to his creator owned roots? Would Geoff Johns ever join the creator-owned comics world like he promised with The Killing Zone?
It's probably none of the above, but I figured I might as well call it now so I can tell you I told you so later.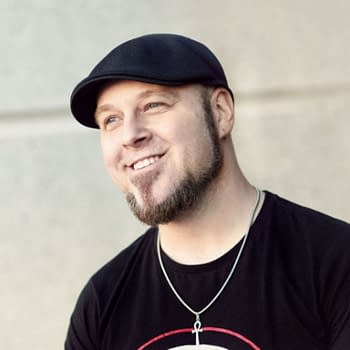 Catch up with more #ComicsPRO coverage with this handy tag.