 We know that DC Comics/Vertigo has been asking for comic books that can be more easily translated into relatively lower budget television programmes.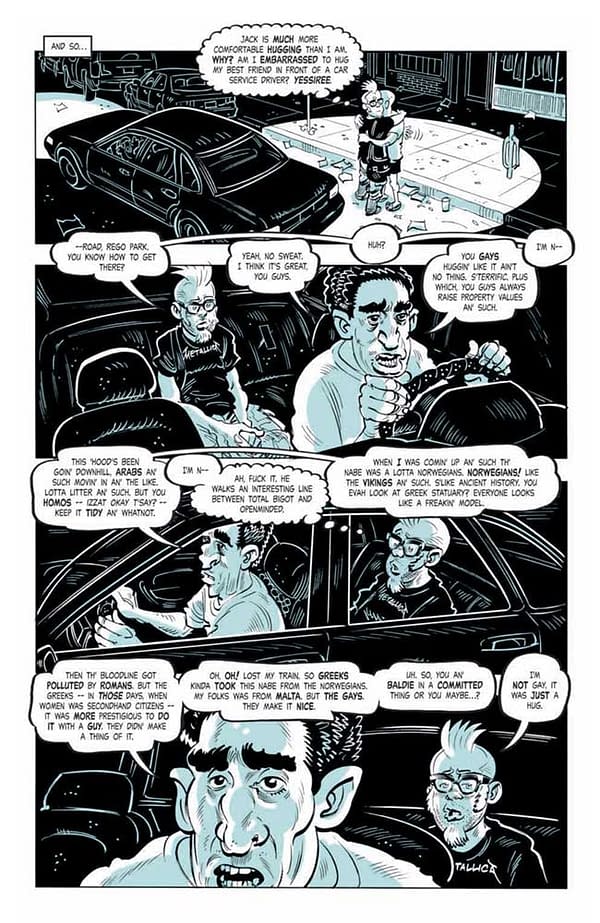 But if that's the market, there's one comic book that's just sitting there, waiting to make that journey. Bob Fingerman's Minimum Wage has been published on and off over the last decade and change, most recently landing at Image Comics alongside The Walking Dead.  Indeed, it was Robert Kirkman being a fan of the comic that got it placed there. The story of a struggling cartoonist, his bunch of friends and a woman that he just cannot quit, it shares some aspects in common with Peep Show and Hate. But the comic is far closer in execution to the likes of Curb Your Enthusiasm, Catastrophe and Bored To Death. But what might lift it above both those is the other layer of reality that the series has. Because Bob is a cartoonist, and that's how he dreams. In the comics that sees the black-and-white reality turn into coloured dreamscape. In television, that might translate nicely into animated sequences, in that strange graffiti-like fashion – which wold also make for a title sequence, T-shirts, merchandising, the usual. But the core of the show is a manchild trying to be a childman, and preserving his life, his dream, his rut, as the stresses and strains of the world keep ripping them from him. And there's the comfort of friends, or partners, of being able to express yourself in front of someone who will not judge you, retweet you, condemn you, but understand that you are exploring ideas, may share them, may want to go on that journey with you.
I'm not sure if someone like creator Bob Fingerman would be even interested in seeing his show translated in that way, he's grabbed a brand new career as a novelist as well now. But it does feel like something that current culture might reward if it hits the right note. Minimum Wage seems to be a comic whose time has come, just as long as it can be seen by its audience. At a time when expression seems to be monitored, censored and labelled more than ever before, as a culture we seem to be erring more towards those who will say the unsayable, as a cultural cathartic release. But you don't have to elect someone like that. You just have to make a TV show instead. Minimum Wage is a much better alternative to President Trump. Enjoyed this article? Share it!