How Elektra Assassin Became Natural Born Killers and Other Comics Histories From Robert Beerbohm
Robert Lee Beerbohm is an American comic book historian and retailer, involved with the rise of comics fandom since the sixties. A fixture in the growing comic convention scene, he was heavily involved in Bay Area comic book retailing and distribution. He also rediscovered the first comic book in America, Rodolphe Töpffer's The Adventures of Mr. Obadiah Oldbuck.
And he has a lot more history to share. After reading a recent Bleeding Cool post, he went to town.
With tales of the earliest of comic book stores, when Oliver Stone took the superheroes out of his Elektra Assassin screenplay (recommended to him by Beerbohm) into Natural Born Killers, drugs and booze, and acts of God… I am sure many people's version of events will contradict these, and they are welcome to send their own versions. But for now… You can read the whole thing on Facebook, but here are a couple of the more shareable (and less litigious) moments;
The floods…
In Feb 1986, Best of Two Worlds' central warehouse of a million comic books and related artifacts was destroyed in northern Calif flooding. The firm controlled most of the back issue market in the Bay Area by virtue of having the product when others simply did not in such depth.

Mark Stichman and I estimated we were fielding at least 80% with at least one copy of every comic ever printed from 1934 up. Stuff like Amazing Spider-Man #1, there were upwards of 50 copies stashed any one time. We worked very hard to have virtually everything ever published with two staples on those folded up pamphlets, plus ancillary artifacts extending in to original art, movie posters & lobby cards, toys, ERB, OZ, pulps, so much more.

Then almost 90% of BTW's extensive assets worth then over $4M were destroyed in a weekend just 43 miles south of where Eclipse Comics was washed down the Russian River which had gone some 57 feet above its flood banks.
Which leads into his… differences with San Fransciscan retailer Brian Hibbs. Then there were the films and film makers…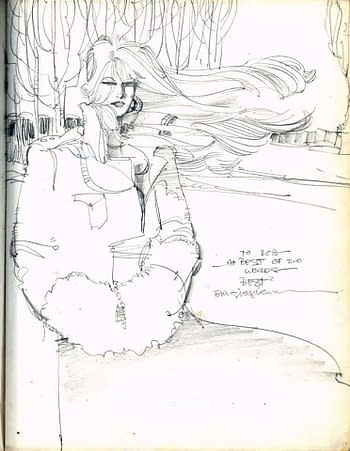 Just concentrated on my semi regular customers like Robin Williams, Jerry Garcia, Danny

Glover (lived in the neighborhood back up the hill behind Haight), so many others, but souls might think I merely name drop those I have been honored to have met in my life. People who were repeatcomics reader fans when the pitch was reduced down to "This is a good read" for you.

In Xmas time in 1987, then again 1988, maybe even 89, Bill Sienkiewicz flew into my store for a special signing all day the Saturday before Xmas. We were both recovering from major set-backs in life. I just learned his a few months ago.

In 1990 Oliver Stone filmed the Haught scenes for his Doors movie with Val Kilmer literally right outside my front door. The 2nd of shooting he spent 45 minutes one on one with me insde my store ultimately picking out a 4 foot stack of my personally recommended "good reads".

Then as he was ready to get back to work Oliver looked me in the eye, asking my opine what would make a really great movie script in that stack fo stuff. I replied, "Easy….that Miller & Sienkiewicz Elektra Assassin 8 issue mini-series."

Six months later I read in Billboard Oliver Stone had optioned Elektra but ultimately its "rights" were submerged in Daredevil "rights" purgatory.

Damn, was I jazzed! Oliver Stone had optioned a movie based off my (initial) recommendation! Cloud 9 for a day, then back to work.

Ultimately that script was re-written a bit and became Natural Born Killers sans the super heroics – and Bill's visual vision. It would have come on the heels of Michael Uslan's first Batman movie. It would have killed at the box office.

Back on Haight St…..some months later in 90 Terry Zwigoff asked if he could film part of his critically acclaimed CRUMB! movie in my 3rd Haight location. I feel lucky that last location remains forever immortalized in that flick every one should watch.
I do get the feeling that Beerbohm has many more stories to tell… some we may be able to publish here as well…