In 2014, Emma Beeby was the first woman to write a Judge Dredd comic. It took almost forty years after the launch of 2000AD – and 14 years after the year that the comic book is named after.
Today, on International Women's Day, Emma Beeby reported that she was returning to the fascist cop of the future.
Feels fitting to be returning to my ol' pal Joe today. This will also be his first outing with an all female team of creators. Feels drokking PHENOMENAL. 🤗 #IWD2018 #internationalwomensday #JudgeDredd #amwriting #comics #2000AD pic.twitter.com/gDfcYyFtmC

— Emma Beeby (@emmabeeby) March 8, 2018
This may be the previously announced 2000 AD Sci-Fi Special for 20th June with an all-female creator list.
Previously named creators working on all-new stories for the volume included  Alex De Campi (Archie Vs Predator, Grindhouse), Maura McHugh (Witchfinder, The Nail), Tillie Walden (On A Sunbeam, The End of Summer), Katy Rex (Jade Street Protection Services), Laura Bailey (Future Shocks) with covers from Tula Lotay (Supreme: Blue Rose, Bodies) and newcomer Emily Zeinner.
And that many of the creators would be working on the galaxy of 2000 AD characters for the very first time, including Judge Dredd, Rogue Trooper, Psi-Judge Anderson and DeMarco, P.I.
But Emma Beeby looks like she'll be returning to a rather familiar chin…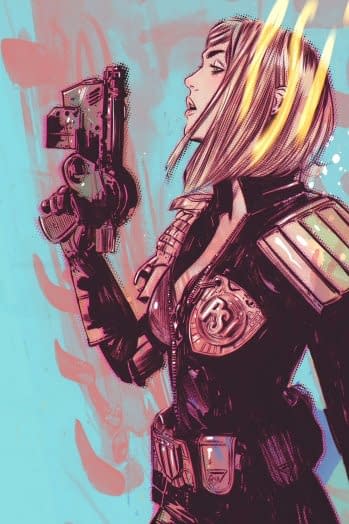 Enjoyed this article? Share it!