Image Comics are running up the flagpole a couple of incentives for retailers ordering titles going to FOC today. That would include Family Tree #2 – retailers who order at least 70% of their orders for Family Tree #1 will qualify for a 25% free overship of their order for issue #2. Which means they will basically get the same amount of copies for #2 as they did for #1 – but for a quarter discount. While for Undiscovered Country #2, retailers who order at least 80% of their orders for Undiscovered Country #1 will receive full returnability on their orders for Issue #2.
The second issue drop off is a common experience for comic book publishers. Comic retailers are a naturally conservative lot, recognise that a percentage of first issue buyers will decide not to buy a second issue, and so drop numbers as a matter of course – even if there may be customer demand they haven't recognised. This is a way for Image Comics to show to retailers that there may be greater demand for these titles'second issues than they may have otherwise believed…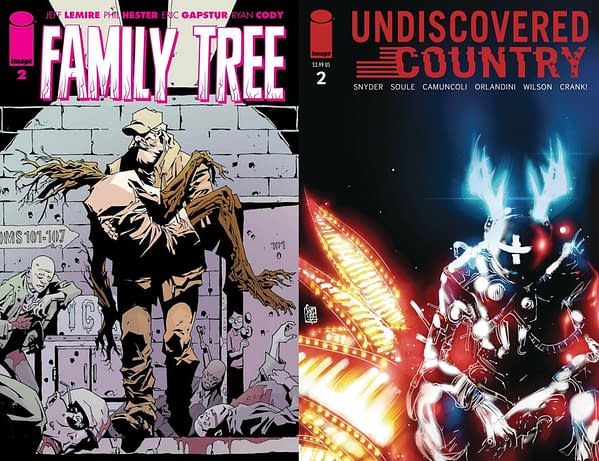 FAMILY TREE #2 (MR)
(W) Jeff Lemire (A/CA) Phil Hester, Ryan Cody, Eric Gapstur
Loretta and her family are surrounded by deadly cultists and running out of time when Grandpa Judd arrives toting his ornery attitude and his trusty shotgun. But what good is a gun against a mysterious ailment turning his granddaughter into a tree? In Shops: Dec 18, 2019 Final Orders Due: Nov 18, 2019 SRP: $3.99

UNDISCOVERED COUNTRY #2
(W) Charles Soule, Scott Snyder (A) Daniele Orlandini (A/CA) Giuseppe Camuncoli
As the team goes on the run from the deadly Destiny Man, the focus shifts to Charlotte's brother, Daniel. Until this expedition, he was the only person on Earth to successfully infiltrate the black box that is the United States. What secrets did Daniel learn that might keep the team alive, and what did they cost him? In Shops: Dec 11, 2019 Final Orders Due: Nov 18, 2019 SRP: $3.99
Enjoyed this article? Share it!