A lot of Marvel readers have been complaining that the upcoming super-mega-crossover event, A4: Empyre with a Y sounds pretty cool and all that, but it just doesn't have enough tie-ins and spinoff mini-series to completely drain your wallet. Well, Marvel has heard your complaints, true believers, and answered with yet another tie-in: A4: Empyre with a Y: Emperor Hulkling #1. This one-shot comic will be written by Chip Zdarsky and Anthony Oliveira with art by Manuel Garcia and focuses on how and why Hulkling decided to abandon Earth and what will happen to his relationship with Wiccan.
Marvel media partner Newsarama scored the access journalism EX-X-XCLUSIVE reveal of this solicit:
LORDS OF EMPYRE: EMPEROR HULKLING #1
CHIP ZDARSKY & ANTHONY OLIVEIRA (W) • MANUEL GARCIA (A) • COVER BY PAT GLEASON
DESTINY FULFILLED!
The child of the Kree hero Mar-Vell and Skrull Princess Anelle, Dorrek VIII — known on Earth as "Teddy" — has spent years evading the clutches of both bloodthirsty empires. But now fate has caught up to him. The Kree and Skrull worlds are aligned — and only a man born of both can lead them. But what has led Hulkling to abandon Earth and the Avengers he's fought beside? And what will become of his fiancé, the hero Wiccan? Star writers Chip Zdarsky and Anthony Oliveira team up with artist Manual Garcia for a can't-miss one-shot!
Well, if you were thinking of skipping it, too bad! This one-shot is "can't-miss." So what's your answer to that, Jonathan Hickman?
All of this does leave us with one burning question, though: shouldn't it be Empyror Hulkling? Branding matters, Marvel.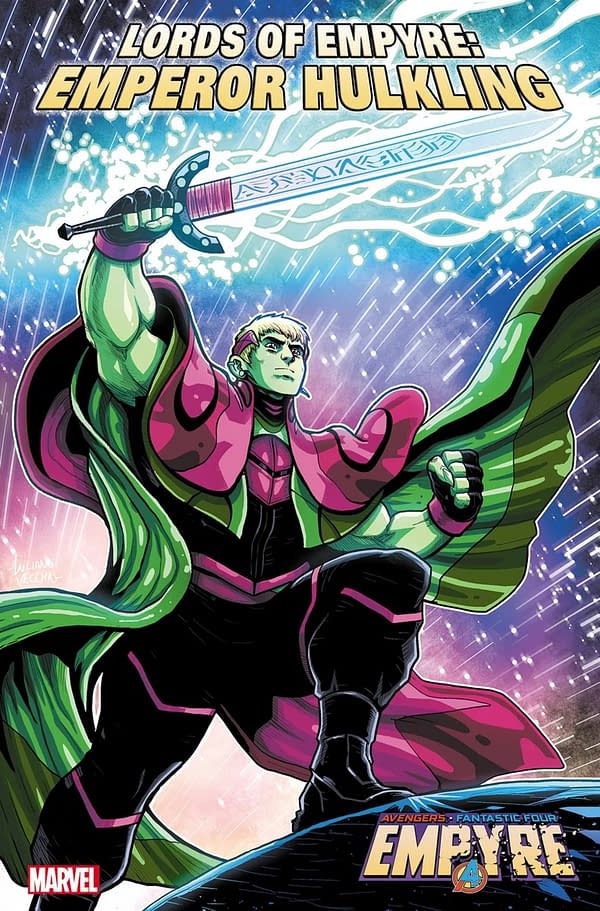 Enjoyed this article? Share it!