5 Days of Black Panther, Day 3: Christopher Priest's Black Panther Part 2
Christopher Priest's Black Panther is a fascinating animal in the grand scheme of comic book writing, and it is more than worth of extended discussion. With that in mind, we're going to complete the Vol. 1 Complete Collection of his Black Panther run.
When we left off, T'Challa had taken back Wakanda from Achebe and defeated his half-brother, Hunter the White Wolf, in a heated duel in the collapsing palace. Romanda, T'Challa's step-mother, was injured by Achebe. Monica Lynne had gone missing, thrown out of a plane by Nakia during the skirmish in Wakanda's capital.
In the aftermath, T'Challa confronts Nakia, sending her away for her crimes. He also knows he must return to America, but Wakanda still needs a ruler. Ramonda is still recovering from her injuries, so T'Challa chooses Everett K. Ross to rule while the Black Panther is abroad. Everett is far from confident in his own abilities.
Monica Lynne is found and rescued by an unexpected savior: Erik Killmonger.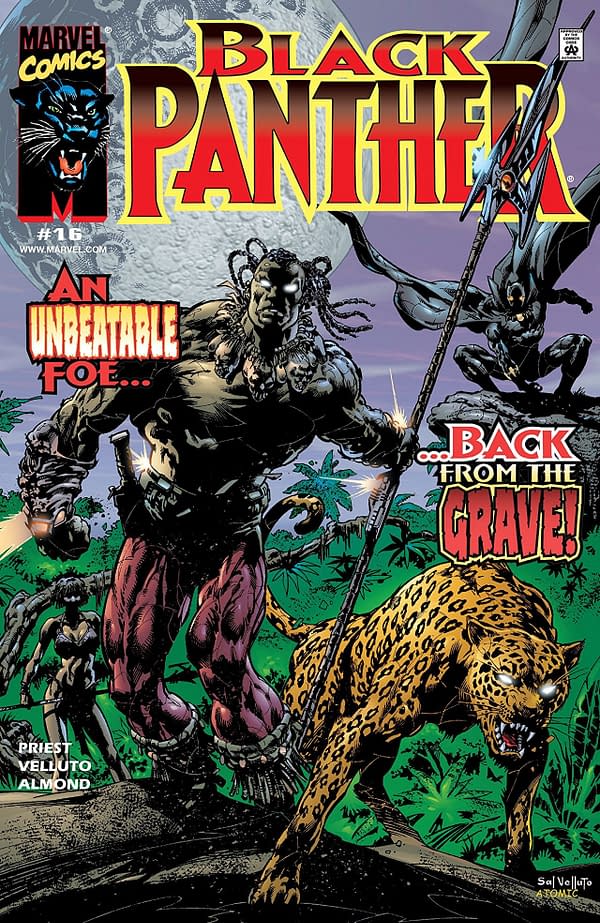 Another Dora Milaje is recruited. Her name is Chante Giovanni Brown, but she prefers to be called Queen Divine Justice. She is a hell-raiser fighting for the underprivileged and downtrodden in her hometown. She also happens to be of a noble Wakandan bloodline.
Relying on his Avengers resources, T'Challa recruits the help of the young Avenger, Justice, to help him protect the Russian mafioso who funded the attempted coup in Wakanda. An assassination is attempted against this criminal in a jumbo jet. The assassin? Hydro-Man.
This is far from the only challenge T'Challa faces from the American criminal underworld. Deadly Nightshade, Stiletto, Cottonmouth, and others take a shot at the king. Also, the Hulk crosses paths with the Black Panther.
Queen Divine Justice often steals the show in these issues. She is the only character around T'Challa to give him pause. Watching her give the Hulk an on-the-spot education on social justice is one of the most magnificent things I've ever seen in a superhero comic. I'm being 100% genuine here. It's amazing.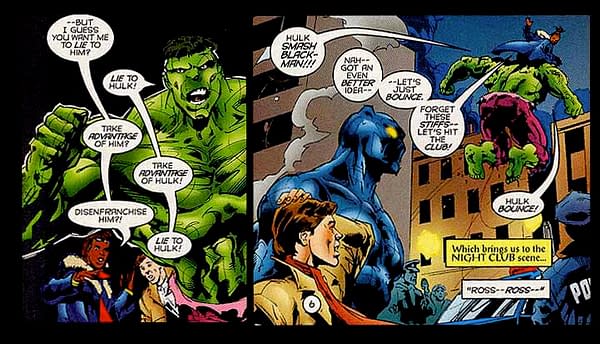 She is played in such a way to imply that Priest may have been hedging his bets with this character. She is overzealous, but she makes good points. However, she isn't likely going to change the world by yelling at an ice cream man like she does in this comic. Also, she calls the ice cream man an "I.C.P." The other ICP was around back then, but there is no subtext here to suggest a joke about them.
Black Panther's showdown with Hydro-Man on the jet is a great fight sequence too, believe it or not. Actually, I never understood the dissing on Hydro-Man, but that's a conversation for another day. Anyway, the layouts and art by Sal Velluto capitalize on the confusion and claustrophobia of the fight. It's hard to follow, but that's the point. It gets very creative.
Erik Killmonger succeeds in posing an intimidating force in this comic. He doesn't show up too much before the collection ends, but he throws his weight around, literally and figuratively, a lot in his short time.
It turns into a team-up-apalooza in #16 and #17, and it's great. Luke Cage, the Falcon, Iron Fist, Brother Voodoo, and Black Goliath all show up to support T'Challa in his fight against the would-be assassins that come after him. I would easily read a team book with these six and the Dora Milaje.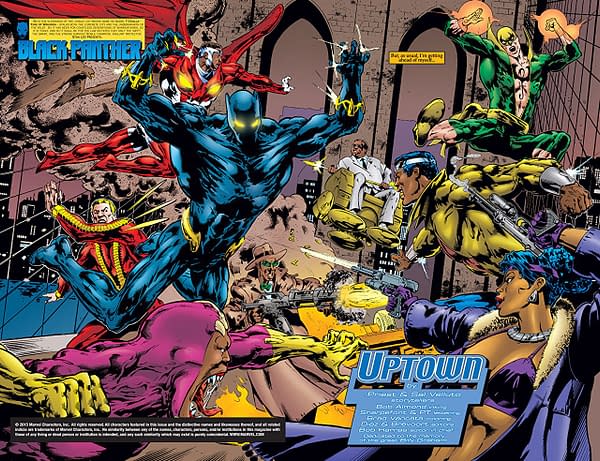 The book also finally gets around to confronting that Everett's boss and girlfriend, Nikki, is the same one who used to date T'Challa in years past. This sets up some decent character drama.
Everett also comes into is own as a bit more. He's still wildly inadequate, endlessly cynical, and throws around a bit of casual racism, but these are softened at moments. He and T'Challa don't often share words, but, when they do, it usually turns into a fairly warm moment of friendship.
Velluto's artwork leaves me a little torn. While it does maintain some of that realistic style that Texeira and Jusko brought to the series, Velluto's work is muscles-on-muscles-on-muscles. Black Panther has so many abs it genuinely looks painful. It's a little silly and harkens back to the less-appealing parts of 1990's comic book art. However, when the comic isn't putting muscles in places they shouldn't be, it does look pretty good. The art can make good use of the layouts, Hydro-Man looks really cool, there is a lot of expression and detail layered into each page, and it all can come together well.
Brad Vancata covers the colors for this section. The palette isn't quite as dark as previous issues, but the balance is still very good.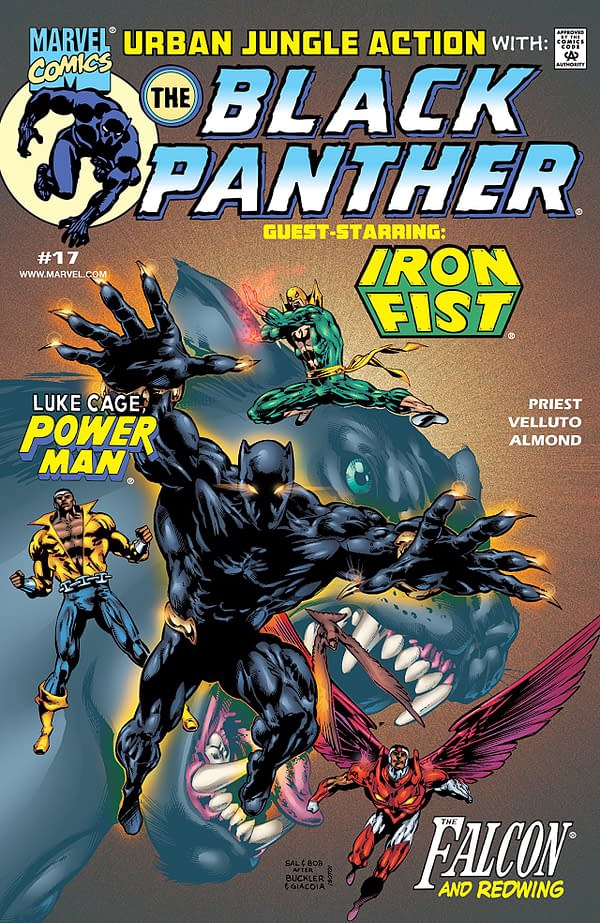 This volume actually leaves off on a cliffhanger, but, that aside, I greatly enjoyed exploring Christopher Priest's Black Panther. He took the King of Wakanda in new and fresh directions that still feel daring today. The weird balance struck between the semi self-insert Everett K. Ross and T'Challa himself is strange but works very well. These five issues are easily almost as enjoyable as the first section I covered. The art isn't quite as solid, but it's not bad either. I still recommend this series and this volume, and you should definitely check it out.
---
---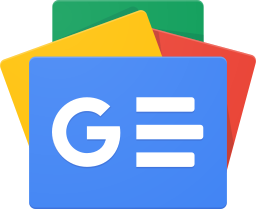 Stay up-to-date and support the site by following Bleeding Cool on Google News today!