Lucien is a character from Neil Gaiman's Sandman series. Originally the first Raven companion to Dream, he became the chief librarian in the palace of Dreaming, overseeing a collection of every book that has ever been imagined but never written or published.
When Dream was captured by sorcerors, Lucien was the only member of Dream's staff who did not abandon his position, and tried to maintain the integrity of the Dreaming as much as was possible, even as his own library had gone missing.
As a result of his loyalty and tenacity, Dream increasingly relied on his counsel, and Lucien's responsibilities expanded accordingly. When Morpheus died and Daniel replaced him as Dream, Lucien remained in position.
And he was referred to in Dark Nights: Metal #4, out before Christmas., by Scott Snyder and Greg Capullo.
But something has been pointed out about his speech patterns.
Here are Daniel and Lucien from Sandman's The Wake, drawn by Charles Vess.
But in Metal #4, while Dream's speech balloon type remains a wavy outlined shape with cursive lettering, Lucien's speech balloons have changed from the normal pattern as seen in Sandman…

To those of Morpheus, the Dream before Daniel, outlines wavy shape, but white cursive on black.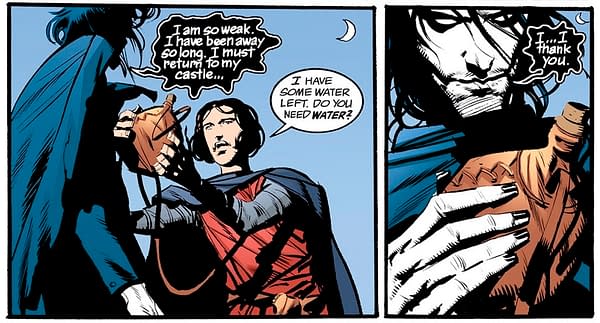 Is Lucien somehow becoming more like Morpheus after serving Daniel so long?
Or… will they fix it in the trade? Or in this case, hardcover?
The New York Times bestselling BATMAN writer and artist team of Scott Snyder and Greg Capullo re-unite in the epic event graphic novel DARK NIGHTS: METAL!

The Dark Knight has uncovered one of the lost mysteries of the universe…one that could destroy the very fabric of the DC Universe! The dark corners of reality that have never been seen till now! The Dark Multiverse is revealed in all its devastating danger–a team of twisted, evil versions of Batman hellbent in destroying the DC Universe!

With appearances from heroes, villains and faces long forgotten, DARK NIGHTS: METAL will examine every choice a hero doesn't take and every path they don't walk, and open up worlds that are forged by nightmares.

Together on a single title for an outstanding fifty issues, Snyder and Capullo's award-winning stories BATMAN VOL. 1: THE COURT OF OWLS, BATMAN VOL. 3: DEATH OF THE FAMILY and BATMAN VOL. 7: ENDGAME turned generations of Batman fans into a global horde of Batman superfans. With DARK NIGHTS: METAL, Scott and Greg will build on this strong foundation and broaden the scope of their storytelling to encompass the full expanse of the DC Universe. This hardcover edition will come with an embossed foil cover! Collects DARK NIGHTS: METAL #1-6.
Enjoyed this article? Share it!