Just a few minutes ago, DC Comics announced a new five-book deal with Frank Miller that includes an upcoming Young Adult graphic novel starring Carrie Kelley with art by Ben Caldwell. Fully embracing his new role as a young adult author, Miller is also working on a completely separate YA project. According to Entertainment Weekly, Miller is drawing Cursed, a Young Adult graphic novel reimagining the story of King Arthur, famous magickal British king and ancient relative of Bleeding Cool Rumormonger-in-Chief Rich Johnston., from the perspective of Nimue, a 16-year-old girl who wielded the legendary sword and Chris Claremont/Alan Davis comic Excalibur before King Arthur did and (spoiler alert) eventually became the Lady of the Lake.
Thomas Wheeler is writing the book, which will be published by Simon and Schuster. EW got quotes from both men:
"I have always been entranced by the mythological Arthur story — and by Nimue, in particular," Miller said. "It can be interpreted in any number of ways — from a delightful children's story, as in The Sword in the Stone, to a terrifying interpretation like Excalibur. This tale represents an incredible opportunity and an exciting challenge for me as an illustrator, and I'm excited to collaborate on the story with Thomas Wheeler. I inherited a collection of antique children's books from my mother, and I've always wanted to have a crack at it myself. This project is a dream come true."
"I am honored and humbled to be working with the living legend Frank Miller on Cursed," added Wheeler. "I cannot think of a writer-artist who has had a more formative impact on my growth as a storyteller. His characters, images, and dark worlds have haunted and delighted me since I was ten years old. To be a witness and accomplice to Frank's first journey into the Arthurian mythos is the very definition of a dream come true. Together we hope to shake the foundations of this beloved mythology and in the process create a new hero for a new age."
The book hits stores in 2019. Check out a drawing by Miller that EW sullied with their watermark below: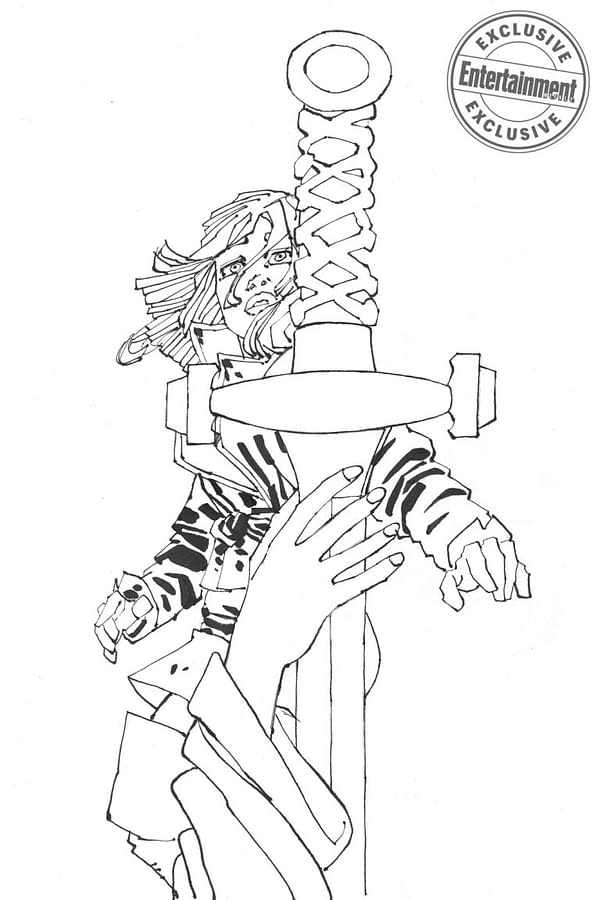 Enjoyed this article? Share it!