Thanks to Comic Book, CBR, Newsarama, and C2E2.., collating together some of the new comic books that Marvel will be publishing in June 2016.. UNCANNY X-MEN #8 & 9
CULLEN BUNN (W) • KEN LASHLEY (A)
Cover by GREG LAND
"APOCALYPSE WARS" CONTINUES!
• Fearing their teammate Archangel has once more fallen under the sway of the villainous Apocalypse, Psylocke and Magneto have embarked on a mission to save his life.
• But little did Psylocke suspect that the mission would bring her face-to-face with her former flame, Fantomex! (And believe me, things did NOT end on good terms!)
• Meanwhile, Sabretooth and M make a horrifying discovery in the Morlock tunnels beneath New York City. A ghost from M's past has resurfaced…and she's determined to make this run-in their last!
32 PGS. (EACH)/Rated T+ …$3.99 (EACH) ALL-NEW X-MEN #10
DENNIS HOPELESS (W) • MARK BAGLEY (A/C)
"APOCALYPSE WARS" CONTINUES!
• The ALL-NEW X-MEN are on a mission to write their own futures…and none is more determined to escape their destiny than Evan Sabahnur, who is to one day become the next host for the genocidal villain APOCALYPSE.
• But now, by way of unintentional intervention by his teammate Beast, Evan finds himself thousands of years in the past, in Egypt…and on the run alongside his predecessor, En Sabah Nur, the boy who will one day become Apocalypse himself!
• To change his future, will Evan literally change the course of history?
• Or will he instead be Apocalypse's first victim??
32 PGS./Rated T+ …$3.99 EXTRAORDINARY X-MEN #11
JEFF LEMIRE (W) • HUMBERTO RAMOS (A/C)
"APOCALYPSE WARS" CONTINUES IN "OMEGA WORLD" PART 4!
• Trapped one thousand years in the future on a world ruled by the genocidal tyrant Apocalypse, the X-Men are literally mutantkind's last hope!
• But in fighting Apocalypse's newest horsemen, the X-Men's future is slipping away from them…
• …especially when one of those horsemen is a Wolverine with a Venom symbiote!
32 PGS./Rated T+ …$3.99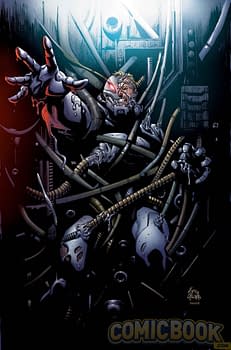 UNCANNY AVENGERS #10
GERRY DUGGAN (W) • PEPE LARRAZ (A)
Cover by RYAN STEGMAN
ULTRON!
• Hank Pym's journey leads him to a dark discovery.
• Something wicked this way comes…from outer space!
• Plus: the eagerly awaited return of Janet Van Dyne!
32 PGS./Rated T …$3.99
SPIDER-MAN #5
BRIAN MICHAEL BENDIS (w) • SARA PICHELLI (a/C)
• BLACK CAT makes her move against SPIDER-MAN!!!
32 PGS./Rated T …$3.99 SILK #9
ROBBIE THOMPSON (W) • STACEY LEE (A)
Cover by HELEN CHEN
• With Silk's life turned upside-down by the events of SPIDER-WOMEN, she's not sure what to do.
• I'm pretty sure running more robberies with Black Cat is the wrong choice.
32 PGS./Rated T …$3.99 SPIDER-WOMAN #8
DENNIS HOPELESS (W) • JAVIER RODRIGUEZ (A/C)
• Even though, she's a mom now, Jessica Drew is still kicking ass and taking names as SPIDER-WOMAN!
• This time, she's tangling with the baddest fish in the sea – TIGER SHARK!
• FUN TIGER SHARK FACT: Did you know Tiger Shark has the DNA of both Namor the Submariner AND a tiger shark? Think about that for a second.
32 PGS./Rated T+ …$3.99 SILVER SURFER #6
DAN SLOTT (W) • MICHAEL ALLRED (A/C)
SILVER SURFER #200! Oversized anniversary issue!
• After Norin Radd's massive status quo change in the 50th Anniversary issue (no spoilers!), it's now Dawn Greenwood's turn. With one simple act of kindness, the Surfer may have forever changed her world.
• What's going on? Why is San Francisco overrun by monsters? And what wall-crawling, web-spinning guest-star is swinging by to help out? (Okay, we'll tell you that one! It's Peter Parker, THE AMAZING SPIDER-MAN!)
• All this and tons of cosmic weirdness, surprise super heroes, and special stories as we celebrate the 200th Silver Surfer issue!
40 PGS./Rated T+ …$4.99 GUARDIANS OF THE GALAXY #9
BRIAN MICHAEL BENDIS (W) • VALERIO SCHITI(A)
Cover by ARTHUR ADAMS
GAMORA AND DRAX FIGHT A MONSTER OF THE BADOON!
• The two most deadly people in the galaxy together again! Drax and Gamora go on a side mission involving the Badoon that's going to put their skills to the test like never before.
• But the Badoon aren't just playing the same old game and these Guardians are going to have to learn the rules really quickly.
32 PGS./Rated T …$3.99 ROCKET RACCOON & GROOT #6
SKOTTIE YOUNG (W) • Brett Bean (A)
Cover by SKOTTIE YOUNG
MADNESS ABOUNDS!
• We've gotten Rocket and Groot in trouble before, but this…HOO BOY.
• Seriously, what is this? What are we doing in this book? Someone should probably stop us.
32 PGS./Rated T …$3.99 STAR WARS: HAN SOLO #1 (of 5)
Written by MARJORIE LIU
Art by MARK BROOKS
Cover by LEE BERMEJO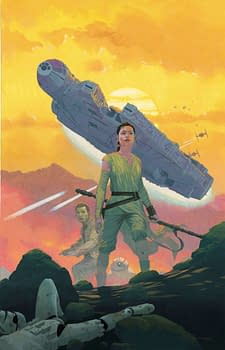 Star Wars: The Force Awakens #1 (of 5)
Written by Chuck Wendig
Art by Luke Ross
Cover by Esad Ribic

Civil War II: X-Men #1
Written by Cullen Bunn
Art by Andrea Broccardo
Cover by David Yardin Civil War II: Gods of War
Written by Dan Abnett
Art by Emilio Laiso
Vote Loki #1 by Christopher Hastings and Langdon Foss Deadpool #13 by Gary Duggan, Charles Soule, David Walker, 80 page comic. Civil War II #1
By Brian Bendis and David Marquez
A mysterious new Marvel character comes to the attention of the world, one who has the power to calculate the outcome of future events with a high degree of accuracy. This predictive power divides the Marvel heroes on how best to capitalize on this aggregated information, with Captain Marvel leading the charge to profile future crimes and attacks before they occur, and Iron Man adopting the position that the punishment cannot come before the crime.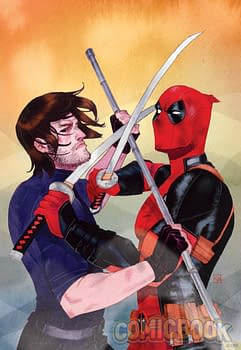 Deadpool vs. Gambit #1
Written by Ben Acker & Ben Blacker
Art by Danilo Beyruth
Covers by Kevin Wada
Deadpool and Gambit's time as conmen working together on jobs just long enough to stab each other in the back.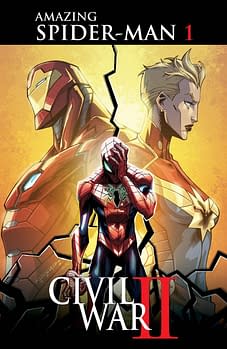 Civil War II: Spider-Man by Christos Gage and Travel Foreman Amazing Spider-Man #15 by Dan Slott and Giuseppe Camuncoli Spider-Gwen Annual #1 by Jason Latour, Chris Brunner, Chris Visions and more. Unbelievable Spider-Gwen #3 by Christopher Hastings and Gurihiru Patsy Walker AKA Hellcat #7 by Kate Leth and Brittany Williams. Civil War: Choosing Sides
Creators include Declan Shalvey writing and drawing a Nick Fury that runs through the entire series, coloured by Jordie Bellaire. Brandon Eastonand Goran Sudzuka working on Night Thrasher. Chad Bowers, Chris Sims and Leonardo Romero telling a Damage Control story. And more for Power Pack, Punisher, War Machine and Jessica Jones.
Timely Comics reprint line – three issues for $3
– TIMELY COMICS: INVINCIBLE IRON MAN
– TIMELY COMICS: ALL-NEW, ALL-DIFFERENT AVENGERS
– TIMELY COMICS: ALL-NEW INHUMANS
– TIMELY COMICS: CARNAGE
– TIMELY COMICS: DAREDEVIL
– TIMELY COMICS: DRAX
– TIMELY COMICS: DOCTOR STRANGE
– TIMELY COMICS: MOON GIRL AND DEVIL DINOSAUR
– TIMELY COMICS: NEW AVENGERS
– TIMELY COMICS: SCARLET WITCH
– TIMELY COMICS: SQUADRON SUPREME
– TIMELY COMICS: TOTALLY AWESOME HULK
– TIMELY COMICS: ULTIMATES
– TIMELY COMICS: UNCANNY INHUMANS
– TIMELY COMICS: VENOM: SPACE KNIGHT
– TIMELY COMICS: WEB WARRIORS
Enjoyed this article? Share it!