By Tim Hanley
DC's overall percentage of female creators ticked up slightly in June 2017 while Marvel's ticked down by the same amount, resulting in a combined total that left the Big Two superhero publishers about exactly where they were last month.
DC COMICS
DC posted a gain in female creator representation for the second straight month, though a) it was minimal, and b) they remain far off their previous highs. In June 2017, DC Comics released 82 new comic books featuring 772 credited creators, 654 men and 118 women. Let's look at their stats: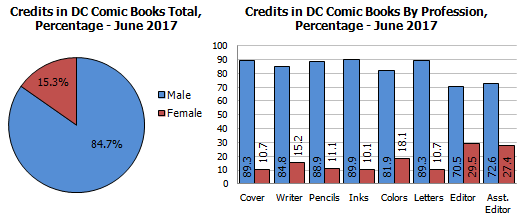 The publisher's overall percentage of female creators was up 0.2% from the May numbers, a very small gain but a gain nonetheless. Female cover artists, pencillers, inkers, and letterers all remained within a percentage point or so of last month's total, with the interior artists posting slight growth. Meanwhile, female writers jumped a couple of points while colorists, editors, and assistant editors all slipped down a few. The gains outweighed the losses, and DC continues to move in a positive direction, albeit very slightly.
The Past Year at DC: While the publisher's overall percentage of female creators is trending upward currently, a look at where the numbers have been over the past year shows that there's quite a long way to go yet:

DC halted their lengthy downward skid last month and their female representation grew slightly higher in June, which is a positive development. But barring some massive changes to their creator lineup, it may be some time before the publisher nears the 20% mark again.
MARVEL COMICS
Marvel's female creator numbers slipped down slightly in June, marking a definite downward skid of their own. In June 2017, Marvel put out 92 new comics by 855 credited creators, 721 men and 134 women. Here are their numbers:
A decline of 0.2% female creators overall is hardly catastrophic, though it does mark the third straight month of losses for the publisher. By category, things were up and down across the board. Female cover artists, colorists, and editors saw gains, including jumps of several percentage points for the latter two. Meanwhile female writers, and assistant editors both fell a handful of points. Pencillers and inkers remained about the same, while letterers stayed constant yet again at zero. All together, the losses weighed slightly heavier and pulled the overall percentage down just a tad.
The Past Year at Marvel: The past twelve months have been rather uneven at Marvel, but we appear to have entered a downturn:

Three straight months of losses hasn't taken too much of a toll on the numbers and seems to have about levelled off fairly quickly. Still, the publisher is clearly capable of much higher female creator representation, and their June showing marks a tie for the second lowest total of the past year.

A Programming Note
First, an apology for the delay on the June numbers. Other work has gotten busier as of late, and unfortunately "Gendercrunching" has had to take a bit of a backseat to that. Which brings us to the programming change: "Gendercrunching" is shifting formats! The monthly pace has been difficult to maintain, and so we're switching to a quarterly report moving forward. This means the end of the supplementary parts of the articles, unfortunately. But female creator representation at DC and Marvel will continue to be tracked on a regular basis in order to keep an eye on trends in the superhero industry and serve as a record for those who are curious about such things. With the June numbers now up, we'll be back in October with a summer post tackling July/August/September, and then three months later we'll do it all again for the fall months. I'm looking forward to the change, and am curious to see if tackling three months at a time will offer any new insights into female creator representation at the Big Two!
Enjoyed this article? Share it!