Getting Beyond The Clichés To Create Awesome Female Characters In Pop Culture At San Diego Comic Con By Michele Brittany – who chaired the panel at San Diego Comic Con
There are a lot of examples in the industry where women characters have broken away from the stereotypical portrayal, such as Velvet Templeton from Ed Brubaker's Velvet, G. Willow Wilson's Ms. Marvel, and controversy aside, potentially Marvel's female Thor. However, there are still plenty of instances in which women and girls are still relegated to the damsel in distress, the femme fatale, or the sidekick. As moderator of the panel Beyond Clichés: Creating Awesome Female Characters for Film, TV, Comics, Video Games, and Novels the room was packed, anxious to hear what the six panelists assembled had to say about populating the popular culture landscape with awesome female characters.
After introductions, I asked the panels if they could briefly describe some of the traditional stereotypes they have written and/or been expected to create in their projects.
Neo Edmund is a novelist of the Red Riding Werewolf Huntress series and writer of animated television shows such as Kaijudo: Rise of the Duel Masters, who created this panel five years ago after being told by a number of producers to make Red Riding Hood into a boy. Edmund refused to gender bend his leading lady, and instead, he self-published the book. Mairghread Scott, writer for Transformers Prime and Rescue Bots, has created a strong female character – the Lara Croft types – but as part of the "boys adventure" stories. Working on Transformers: Windblade, Scott said that, "fans are asking for diversity."
Industry giant Marv Wolfman, writer of Blade II and Blade: Trinity along with decades of comics, stated that he has been tring to create strong females since the early 70s. He had been the Disney Adventures editor and he drafted a story of four Wyoming girls who go on an adventure. Disney was okay, but unfortunately, the advertisers were not as enthusiastic and instead wanted a story oriented for male readers.

Clare Kramer, actor (Glory from Buffy the Vampire Slayer), writer, and producer, grew up with parents who encouraged her to do anything she wanted. It gave her confidence and the desire to analyze personal experiences. For Kramer, who has two young children, she is looking to create role models for her daughters.
Writer of Kaijudo: Rise of the Duel Masters, Rescue Bots Andrew Robinson said there are two examples of strong leading female characters from the sixties shows, I Dream of Jeanie and Bewitched. Although strong, they were also submissive to men, a technique that is still practiced today.
According to Scott, it's important to ask for more women when making the pitch for a story. She encourages writers to "push negative traits in women" in order to mar the perfections of women, for example Miko from Transformers Prime. Edmund agreed because expecting women to be into everything a guy is into is unrealistic. And it is the method that Wolfman utilizes. He asks himself the questions: "What's an interesting character? Does gender matter? The character needs to be a human being with all his or her foibles."
The conversation took an interesting turn to a comparison of content availability then (70s) and now. Kramer said we definitely have more content now in which to chose from and it was a fact that Wolfman confirmed. The amount of choices is a good thing.
Robinson mentioned the popularity of Frozen and Downton Abbey in which "women are complex." There are more female writers and female viewership. He indicated that this was a "Golden Age" for women in comics and elsewhere.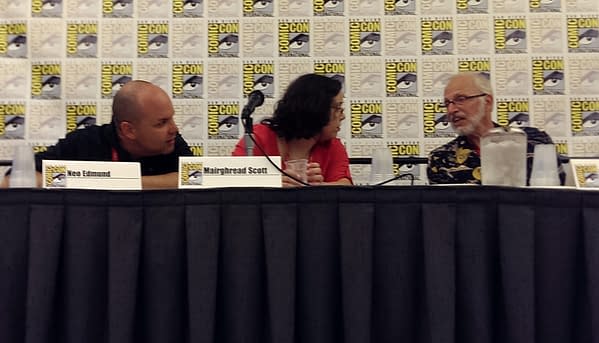 Charlotte Fullerton, writer of the Ben 10 Omniverse and My Little Pony, stated that, "women are not that foreign" when responding to a question from an audience member about how to write the female character. Wolfman reiterated for those creating characters – female or male – it should start with asking yourself, "what makes a character interesting?" Most likely, a character that is flawed, rather than perfect, is going to be more interesting for the reader. And with that, the hour-long panel was concluded.
All photographs were taken by Adam Sullivan.
Michele Brittany is an independent popular culture scholar and semi-professional photographer and editor of the forthcoming title James Bond and Popular Culture: Essays on the Influence of the Fictional Superspy (McFarland & Company). She regularly posts reviews and analysis on the spy/espionage genre on her blog, Spyfi & Superspies.