Harbinger Wars II #1 Advance Review: A Promising Start that Will Hopefully Pay Off
The world has turned against Livewire and the Psiots. While Peter Stanchek is awakening Psiots across North and South America, Omen, G.A.T.E, and the U.S government are attempting to round up Psiots. The powers that be call upon X-O Manowar and Ninja-K to this end, but Livewire has her own friends to help her in this hour of need.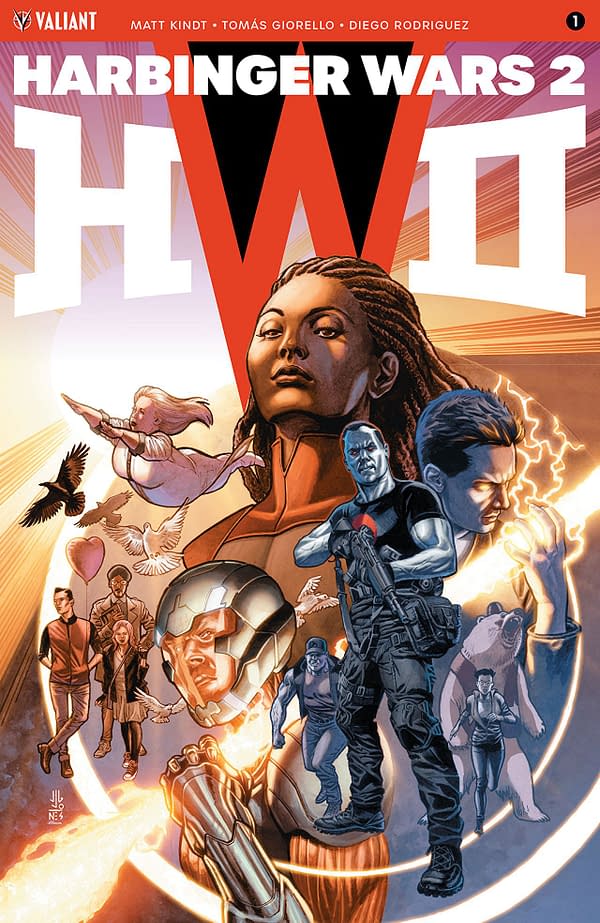 Harbinger Wars II officially begins with what reads like a mixture of Marvel's original Civil War with various X-Men stories from over the years. Bear in mind that this isn't inherently a bad thing, but it is a good frame of reference to understand the kind of story we're digging into.
Like Mark Millar's Civil War, the book does a solid job of giving both sides a legitimate reason to be aggrieved. Livewire's people are being actively hunted, but her response was widespread and arguably an overreaction. The actions of Omen and G.A.T.E (which really is just S.H.I.E.L.D) are militaristic and borderline fascist, but Livewire is behaving in an increasingly erratic and hostile manner.
That said, the thinly-veiled allusions to the ongoing debate about migrants from both South America and the Middle East to America regarding Psiots does frame the conflict in a more good-and-evil manner—then again even that depends on your own opinion I suppose.
Tomas Giorello's artwork is amazing and the perfect choice of Valiant's artist roster to bring this story to life. The lighting, texturing, and detailing is near-perfect. Livewire is a bit lankier and has more emphasized T&A than seems appropriate for the character, but that's the only real drawback. Diego Rodriguez's color work compliments the art style near-perfectly, and the overall product is visually stunning.
Harbinger Wars II #1 kicks off in an intriguing manner with a compelling conflict and interesting players. This story has a lot of potential, and, hopefully, Matt Kindt will be able to pull this one off. That, mixed with brilliant artwork, makes this comic worth a recommendation. Check it out when it comes out on May 30th, 2018.