Tony Fiction writes,
This is a story about three friends, who risked everything (except for their lives) in order to fulfill their dream.
My name is Anthony, and as a kid I drew Looney Tunes characters by using a freeze-frame feature on my grandma's TV. As a pre-teen, I made Hi8 movies with my friends, I always felt that I was born to tell stories.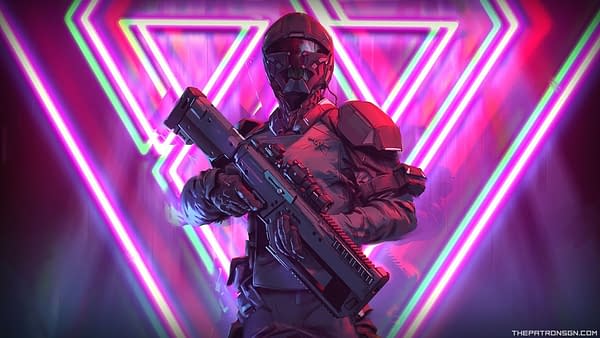 Two of my best friends, Will and Gary, were also born to tell stories. Gary would copy comic books, and invent new heroes, complete with stats and backstories. Will organized his neighborhood friends and created a complex world of fantasy, each house being its own kingdom. And instead of signing yearbooks with his signature and "see you next summa", he would leave short stories staring his classmates.
We grew up and ended up in the entertainment industry. We wanted to tell stories and create our own worlds, but instead, we ended up in reality television and on the sets of commercials. All three of us had failed our inner child.
For years, we tossed ideas around with each other. Comics, films, video games, the things we loved, but it was just talk. Until one day, we landed on a story that we had to tell. The story of The Patrons. We developed the idea for six months while we worked our full time jobs, using our nights and weekends to perfect the story, but it was moving too slowly. The three of us decided to leave our jobs and start our own studio. So we did. We would start production on our comic book immediately and launch a kickstarter in three months. Once finished it would be over 250 pages of jaw-dropping hand painted artwork and a riveting story. That was the plan, but that's not what happened.
Months passed. We were still hitting developmental walls. Do cars fly? What do they look like? Are there robots? What do they look like? How much or little technology is there? What does it look like? Each time we thought that we had a solution, we actually uncovered more problems. I used to think that 5 years of development for a film was nuts, not anymore.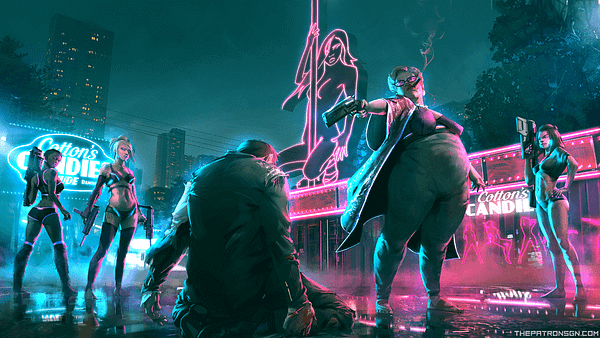 We worked everyday for a year, and were finally ready to share our work. The internet lost its mind. We knew were onto something, but we hit a wall. We ran out of money. We could have quit and returned to our boring, cushy jobs, but we didn't. We moved in with our parents, sold junk we didn't need, set up shop in a garage, and got back to work. We pushed on, and launched our Kickstarter campaign for issue #1. In the first 24 hours, we raised $10,000, halfway to our goal.
We don't know how far this campaign will go, or even if we'll be able to make a living doing this. But we tried, we didn't give up, and yeah, we're probably nuts, but we love what we are doing.
Our comic is called The Patrons. It is a neo-noir, sci-fi comic book series. Set in Shepherd's Rest, a mega-city on the edge of an endless wasteland. With crime, corruption, and a brewing revolution, the world is balancing on a knife-edge. It's up to a lone soldier and a deadly assassin that is hunting him down to decide which way it will fall.
If dark sci-fi is your cup of tea, I encourage you to check it out. And remember, defeat is not final defeat, don't give up.
Enjoyed this article? Share it!