Excalibur and Marauders, the two best books of the Dawn of X by our reckoning, each holding three Wolverine's Weiner X-Pick of the Week awards, tied for the most of any Dawn of X series. They've gone head-to-head before, with Marauders #2 beating Excalibur #2 and Excalibur #3 beating Marauders #3. Gwenpool Strikes Back beat the fourth issue of both, and the first and fifth issues of each won their respective weeks. This week, Excalibur and Marauders go head-to-head again as both wrap up their initial storylines. Which will come out on top…?
---
Sworn to sell comics for Marvel executives who feared and hated the fact that Fox owned their movie rights, The Uncanny X-Men suffered great indignities, but thanks to a corporate merger and a line-wide relaunch, the X-Men can finally get back to doing what they do best: being objectively the best franchise in all of comics.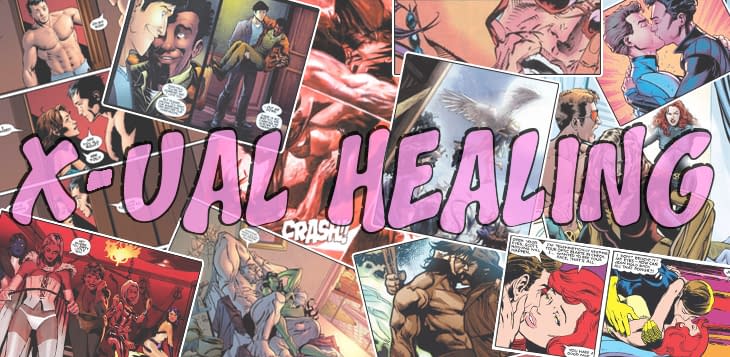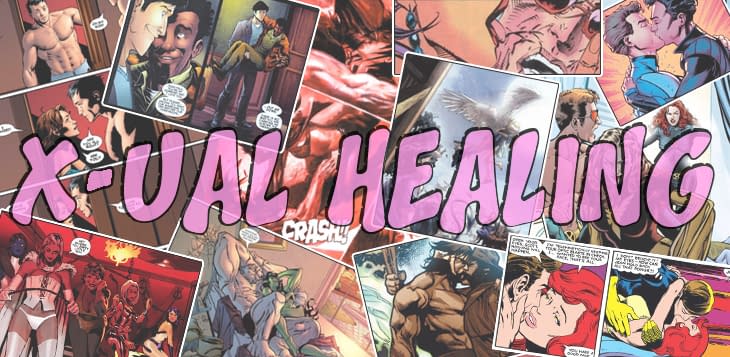 ---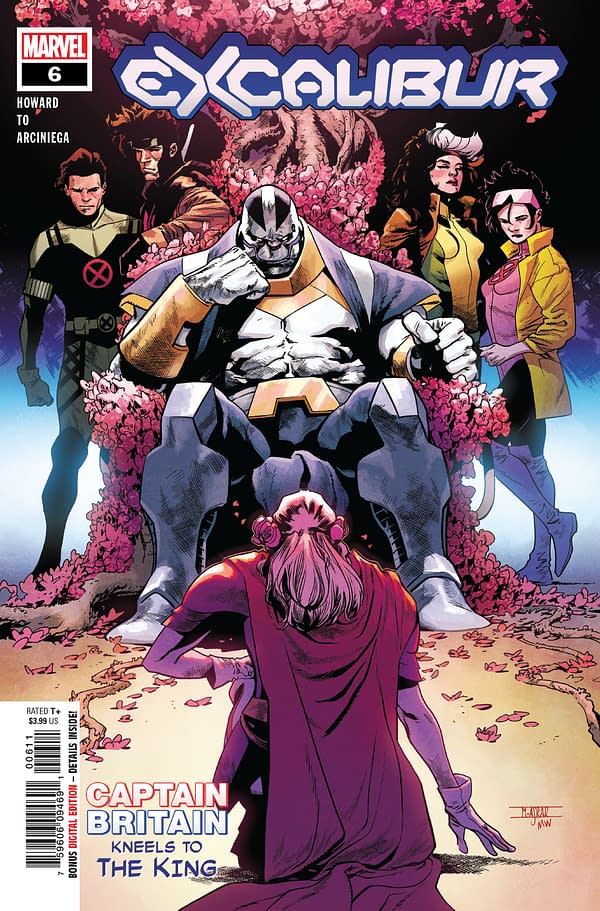 EXCALIBUR #6 DX
NOV190829
(W) Tini Howard (A) Marcus To (CA) Mahmud Asrar
The Secret of Rogue's Coffin!
Locked in her mysterious coffin, Rogue dreams. Meanwhile, Apocalypse performs a ritual, and the throne of power changes hands. The reign of mutantkind reaches the Otherworld at last.
Rated T+
In Shops: Jan 22, 2020
SRP: $3.99
What happened in Excalibur #6?
The issue opens with Xavier resurrecting Apocalypse, a little annoyed that Apocalypse was working behind his back, but even still, he can totally be trusted, right? Jamie Braddock is there is there as well, and he and Apocalypse head off together for Otherworld. An infographic page spoils the ending of the issue, showing Morgan LeFay's Avalon conquered by Jamie Braddock.
But we join the action mid-battle as Le Fay's forces take on Excalibur. After some tussling, Apocalypse arrives and asks to chat with Le Fay. He proposes the battle be settled by a fight to the death between Captain Britain and her brother, the former Captain Britain, currently under Le Fay's control. They agree.
Before the fight, Rogue gives Captain Britain a pep talk and suggests that maybe Apocalypse really does have their best interests in mind, considering he helped her and Rictor. Betsy and Brian have their duel in Avalon's throne room, and though Betsy attempts to give up her sword and convince Brian to do the same, she accidentally ends up stabbing him with his own sword. Jamie Braddock now appears on the throne as Shogo breathes dragon fire on Le Fay's forces. Apocalypse declares Jamie the new king of Avalon, and Jamie imprisons Le Fay. After some persuasion from Captain Britain, eh also revives Brian. No one is very pleased with Jamie's ascension, but Apocalypse explains that Jamie's reality-altering gifts make him best suited to rule, even negating the reality-breaking effects of Shogo's dragon fire.
Back on Krakoa, Rogue and Gambit spend some naked time in a hot tub. Rogue is no longer blue, but she recalls a dream she had during her sleeping beauty phase that made her realize she doesn't want to have children, which is fine by Gambit. She's also back in full control of her powers. They have sex. At Braddock Manor, Betsy visits Brian who had a dream of his own. He was visited by Merlyn and Roma to take the Captain Britain test again, but instead of choosing the amulet, he chose the sword. He's horrified by this, and though Betsy wants him to keep and use the sword, he refuses, claiming it will pit them against each other. He wants her to take the sword and hide it. She tries to give him back the amulet, but he appears to refuse it — it's not 100% clear.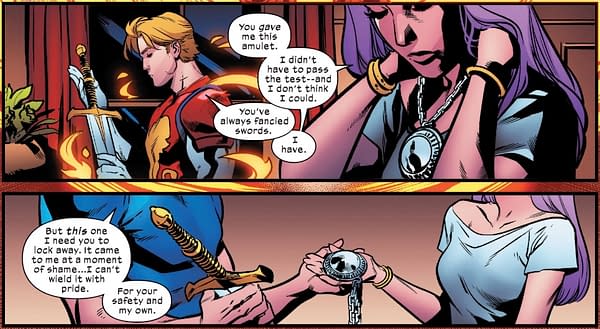 In a final scene, King Jamie visits Apocalypse in his laboratory in Avalon, where we see that Apocalypse is busy dissecting a still-alive Morgan Le Fay, which a page from his Grimoire tells us is part of some magical experiment whose purpose is no doubt nefarious. There's no doubt who's really in charge in this relationship.
Was it any good?
Excalibur has been my personal favorite Dawn of X book from issue one, and the first storyline has wrapped up nicely here. One of the best things about this series is that it moves at a much faster pace than most modern superhero comics. We're one storyline in, and every character in the series is in a much different place than when it started. Excalibur has established an entire magical scene for the X-books, and it's ushered in a complete regime change in Otherworld. And all of this was essentially just setting the stage for what's to come (presumably).
Did Excalibur manager to beat Marauders this week? Check back soon to find out…
---
Read more X-ual Healing here: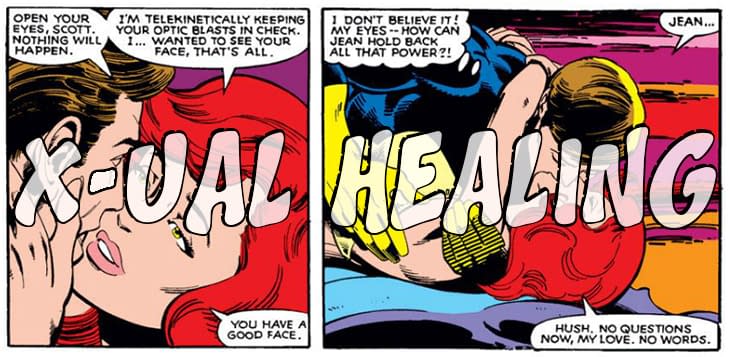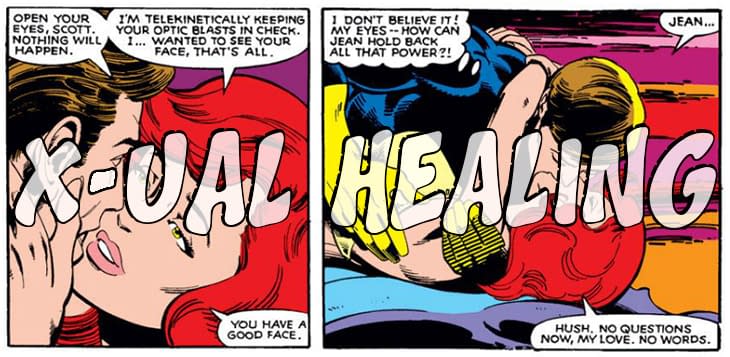 Enjoyed this article? Share it!