Jamie Hewlett Colour Tank Girl Cover From 1992, Up For Auction
Jamie Hewlett co-created Tank Girl for Deadline Magazine in the late eighties; an Australian outback post-apocalypse set reworking of Mad Max, it was violent, sexual, but mostly very very silly. The publication in comics/music magazine Deadline would introduce Jamie Hewlett to Daman Albarn of Blur, see them become housemates, and later co-create Gorillaz together.
Deadline Tank Girl original artwork is rare, and the magazine was sold on newsstands in the UK rather than in comic book shops. But a few years later, Dave Elliott's Atomeka Press would run Tank Girl stories in his A1 anthology, designed to appeal to comic book stores and from where Dark Horse would see the character and make their own deal to republish Deadline in the USA as Deadline USA. Here's a colour cover from A1 #6, one of the earliest and rarest colour Tank Girl published works by Hewlett – and now up for auction, which ends on July 9th.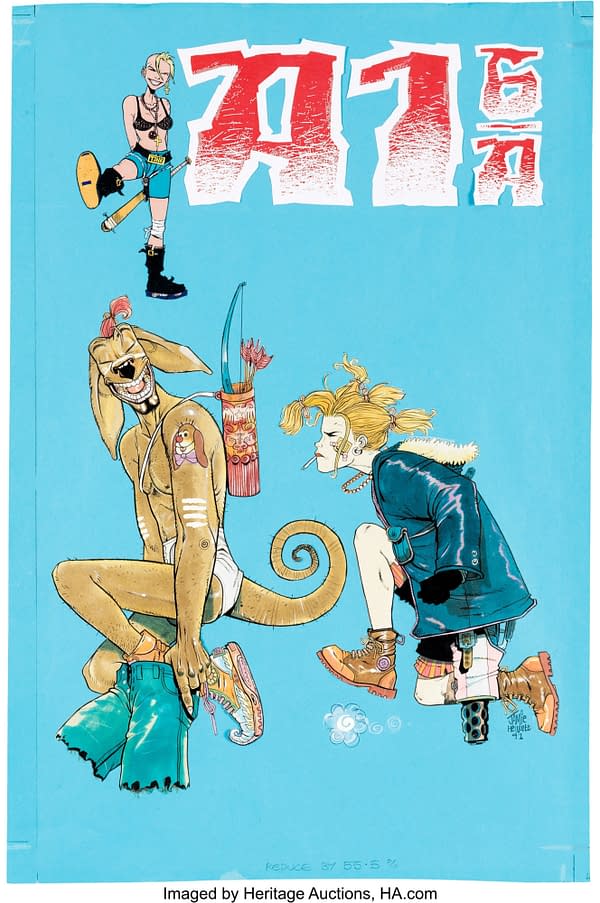 The Heritage Auction listing reads;
Jamie Hewlett A1 #6 Cover Tank Girl and Booga Original Art (Atomeka Press, 1992). Oi! The anarchic adventures of Tank Girl and Booga made them instant smash-hits with the British Underground Comics scene in the 1980s and into the 1990s. And when their adventures were reprinted in the US by Dark Horse, they were embraced on this side of the pond as well! This is a huge cover piece! And rendered in a fairly unusual manner as well! The two main figures are created in ink and watercolor on paper, trimmed to the image edges, and affixed to the blue art paper background. Hewlett has signed in the 14.5" x 20.75" image area by Tank Girl's boot. The top logo is a printed paste-up. The top Tank Girl figure is a printed line-art piece that has been hand-colored. The piece is a stunner from top to bottom, with great little bits like the Band-Aid on Tank Girl's face, and Booga's tattoo of Fleegle from the Banana Splits Club. There are some light creases on the edges, not in the image area. In Excellent condition.
Currently, at $2500 and ending on July 9th and I get the feeling it may go a little higher than that.

Affiliates of Bleeding Cool buy from and/or consign to Heritage Auctions.