Thor Vol 4 #1 by Jason Aaron and Russell Dauterman featured the first full appearance of a new Thor, later revealed to be the transformed Jane Foster. Since the news last night at San Diego Comic-Con that the upcoming Thor movie, Love And Thunder, would star Natalie Portman reprising her role as Jane Foster and starring as the new Thor, the prices on that storyline from the comic have been going bananas.
Which is how, today, Thor Vol 4 #1 from 2014 is now actually selling copies for $55.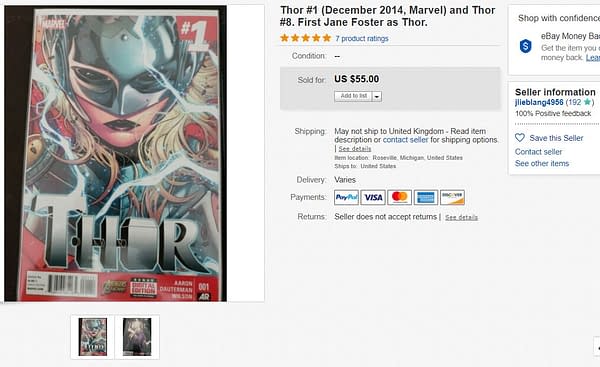 Remember, this comic had lots of publicity at the time, and a big print run, launching as the third best-selling title of October 2014 behind a Loot Crate-pushed Walking Dead and the Death Of Wolverine series. Comicchron estimated 150,000 copies sold into the North American direct market, and you can usually add anywhere between ten and twenty per cent onto that to get the actual figure.
And while copies of Thor Vol 4 #8 in which Jane Foster is revealed as the new Thor have been selling briskly for cover price or less in the last few hours, it looks like it's about to kick off big as prices begin to rise. See this Phantom variant cover of Thor Vol 4 #8? Currently two copies Buy It Now for ten bucks. I'm going to put a clock on it and see how long it takes for someone to grab it…
Enjoyed this article? Share it!