John Stewart, An Architect As Well As Marine, in the Dawn Of DC
The writer of upcoming Green Lantern comic book series from DC Comics, Phillip Kennedy Johnson, has been talking about John Stewart.
---
Once upon a time, DC Studios head James Gunn retweeted and replied to Bleeding Cool news that certain DC Comics collections of comics had sold out and were going back to print, as a result of his news about which characters and which comic book stories would be receiving movie and TV treatment from DC going forwards, In response, one DC Comics fan Philip Desmonds added "When you make green Lantern please actually make John Stewart an architect and a marine. We need less one-dimensional black characters. It's important to inspire young black kids, there's stuff other than rap, or sports."
Well, the writer of the upcoming John Stewart Green Lantern comic book series from DC Comics, and the upcoming backups with the character in the Green Lantern series, Phillip Kennedy Johnson, has been talking to Gregg Katzman of CBR about the upcoming Dawn Of DC publishing initiative at DC Comics. And talked about his approach to the character and DC Comics characters as a whole. And we know that James Gunn has been reading. Phillip Kennedy Johnson is quoted as saying;
"They're bigger than they are. John Stewart is that for me, too. John Stewart is too often painted as a little one-note, in my opinion. Sometimes he just comes off like he spits out military jargon. I get it. You're writing a team book. You got to give everyone little lines like, "How do I make this feel like this person?" Superman is hopeful, you know? Diana's peaceful, Batman scowls, Flash's fast and quippy! And you know, John Stewart used to be a marine. I want to see more."

"I see John as the architect that he was in the beginning and the person who gives their life for the greater good — the thing larger than himself. His being a marine was part of that, but he's the consummate Lantern — the one who always should have been a Lantern — not just with his military background but with his brilliant architect's mind that has been fettered by the concept of three-dimensional space. He's no longer fettered. He's the perfect Lantern, so I'm telling the story of John Stewart that is meant to feel like mythology. I'm telling a story of a Greek god who became a man."
And as Phillip Kennedy Johnson says about James Gunn,
"I think it's clear that the multimedia stuff is being led and made by a superfan. I'm just very hopeful that we're going to see a time of unprecedented cohesion and sharing between source material and all the other media coming out of Warners."
Philip Desmonds may be hopeful too. Green Lantern #1 is published by DC Comics in May with Gree Lantern: Hal Jordan to follow later in the year.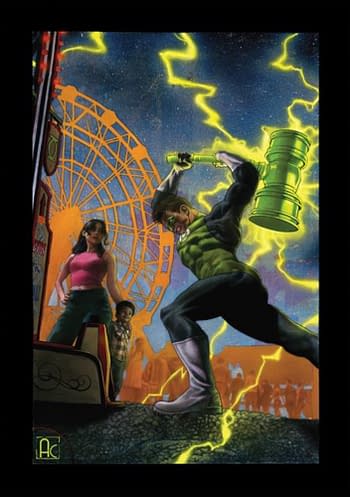 GREEN LANTERN #1 CVR F INC 1:50 ARIEL COLON CARD STOCK VAR
(W) Jeremy Adams, Phillip Kennedy Johnson (A) Xermanico, Montos (CA) Ariel Colon
Spinning out of the events of Dark Crisis, the Guardians of Oa at the heart of the Green Lantern Corps have quarantined Sector 2814, home of the planet Earth—and its champion along with it! A heartbreaking defeat has sent Hal reeling, returning home to rediscover his roots…and find the man responsible for ruining his life: Sinestro. From the visionary team of Jeremy Adams and Xermanico (who brought you the epic Flashpoint Beyond) comes a tale of redemption, loss, and finding out that maybe…just maybe…you can go home again. At least if you're willing to hot-wire a power ring to do it. Also featuring part one of John Stewart: War Journal from writer Phillip Kennedy Johnson and artist Montos! Retail: $5.99 In-Store Date: 5/9/2023