It is my local theatre. And it is calling. The Rose Theatre in Kingston-Upon-Thames has started rehearsals for the world premiere of Hogarth's Progress, a double bill for two plays about one of the first cartoonists and satirists, William Hogarth.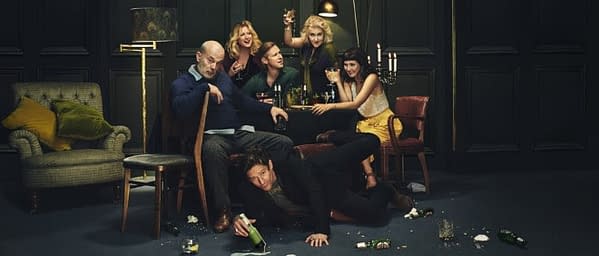 Hogarth's Progress running from the 13th of September to the 21st of October, is made up of two plays, one at the beginning of the satirist's career and one at the end. The first play is the revival of The Art of Success by Nick Dear first performed by the Royal Shakespeare Company in 1986, before transferring to London's Barbican and then to New York. The second play, The Taste of the Town, is a new work also by Nick Dear and a sequel to his original work.
Bryan Dick (The Art of Success) and Keith Allen (The Taste of the Town) star as the younger and older William Hogarth, directed by former National Theatre Associate Director Anthony Banks. They are joined by Ruby Bentall, Emma Cunniffe, Ben Deery, Jack Derges, Ian Hallard, Susannah Harker, Jasmine Jones, Sylvestra Le Touzel and Mark Umbers.
Following one of Britain's most celebrated artists on two monumental pub crawls, Hogarth's Progress explores the extraordinary lives of William and Jane Hogarth at a time when culture escaped from the grasp of the powerful into the hands of the many.
The Olivier Award nominated comedy The Art of Success, in its first major revival, compresses the newlywed William's rise to fame into a dizzying and hilarious night out through 18th century London's high society and debauched underworld.
A world premiere, The Taste of the Town catches up with the Hogarths in Chiswick some 30 years later. Now hugely successful, William and Jane are still at odds with the world and with each other. Facing public ridicule for what he considers his finest painting, William sets out to confront his fiercest critic, but there's always time for one more pint on the way.
Running alongside will be an exhibition of work from Kingston School of Art's Illustration Animation course critiquing contemporary Britain, as well as a series of post-show conversations,
Hogarth's World, Wed 26th September, Professor Norma Clarke and Dr Karen Lipsedge in a lively exploration of the uneasy relationship between a new generation of creative power players and the established powers of parliament and the crown. Karen's teaching focuses on 18th-century literature and culture. Norma is a literary historian and author, who has recently chronicled of the 18th-century novelist, poet and playwright Oliver Goldsmith and his contemporaries.
Hogarth's Art, Sun 30th September, an enlightening conversation about William's subjects, techniques and styles, and how his creative legacy influences our world today with Kingston School of Art's Geoff Grandfield
Hogarth's Women, Sat 6th October, Dr Jane Jordan and Dr Karen Lipsedge join a discussion about the relationship between Jane and William, the status of women in 18th century London, and the emergence of the Blue Stocking Society. Jane's research is on literature and history, especially the legal status of British women and of prostitution. Karen's research focuses on 18th-century domestic spaces and gender roles, and their representation in the British novel.
Hogarth's Progress is a reference to two of his comic strips, A Rake's Progress and A Harlot's Progress. A Harlot's Progress is a series of six paintings from 1731, engraved in 1732, showing the story of a young woman, M. Hackabout, who arrives in London from the country and becomes a prostitute. In the first scene, an old woman praises her beauty and suggests a profitable occupation, procuring her for the gentleman shown towards the back of the image. She is a mistress with two lovers in the second, has become a common prostitute on the point of being arrested in the third, and is beating hemp in Bridewell Prison in the fourth. By the fifth, she is dying from a venereal disease, and she is dead aged only 23 in the last.
A Rake's Progress was a series of eight paintings produced in 1732–34, then engraved in 1734 and published in print form in 1735. The series shows the decline and fall of Tom Rakewell, the spendthrift son and heir of a rich merchant, who comes to London, wastes all his money on luxurious living, prostitution and gambling, and as a consequence is imprisoned in the Fleet Prison and ultimately Bethlem Hospital (Bedlam). Taste of the Town refers to Hogarth's Bad Taste of The Town, an early print by William Hogarth, published in February 1723/24 that mocks the then-contemporary fashion for foreign culture, including Palladian architecture, pantomimes based on the Italian commedia dell'arte, masquerades, and Italian opera.
Nick Dear's previous work includes his adaptation of Frankenstein for the National Theatre/NT Live directed by Danny Boyle and starring Benedict Cumberbatch and Johnny Lee Miller. While the director, Anthony Banks was an Associate Director at the National Theatre for a decade.
Each play can be seen as a single performance or together, either over different days or as one all-day theatrical experience, and the run begins in September.
Anyone fancy joining me?
Enjoyed this article? Share it!