Krakoa's Dark Side Emerges in X-Men #5 [X-ual Healing 1-29-20]
Four X-books hit stores last week. Five if you count Deadpool: The End, which normally we would, but there's no recapping that issue which was just one long series of meta-jokes. Kudos for wrecking DC's Batman Who Laughs nonsense though. Anyway, we're recapping X-Men #5, X-Force #6, New Mutants #6, and Fallen Angels #6. Which will win the coveted Wolverine's Weiner X-Pick of the Week? Not Fallen Angels, that's for sure.
---
Sworn to sell comics for Marvel executives who feared and hated the fact that Fox owned their movie rights, The Uncanny X-Men suffered great indignities, but thanks to a corporate merger and a line-wide relaunch, the X-Men can finally get back to doing what they do best: being objectively the best franchise in all of comics.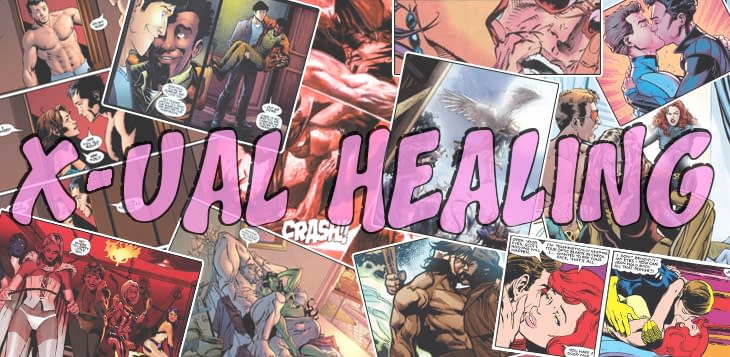 ---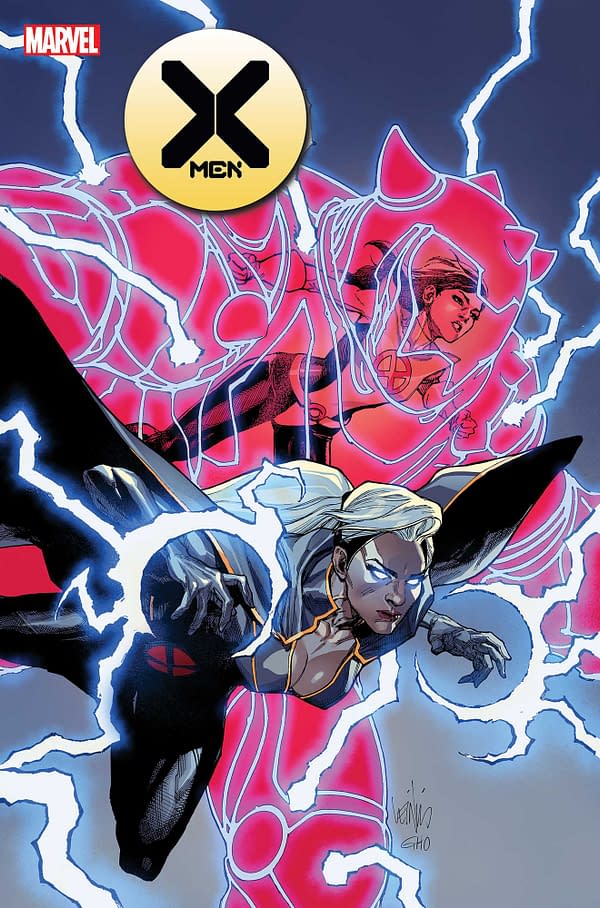 X-MEN #5 DX
AUG199030
(W) Jonathan Hickman (A) R. B. Silva (CA) Leinil Francis Yu
The X-Men, the most powerful heroes on the planet, deal with an old nemesis' surprising return…
Rated T
In Shops: Jan 29, 2020
SRP: $3.99
What happened in X-Men #5?
The issue opens with Cyclops lamenting a decision he's made.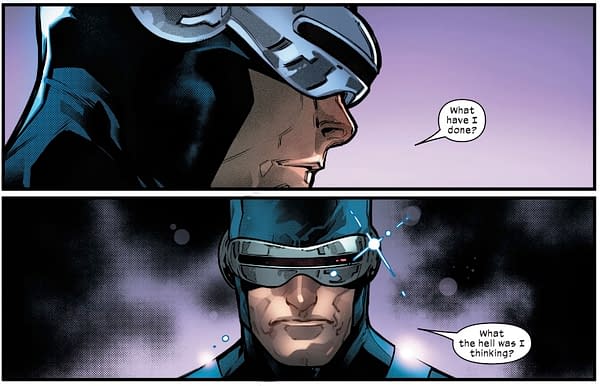 Since he's made a lot of bad decisions in life, we'll have to wait to see which one he's talking about, which means the rest of this issue will be a flashback. Serafina, the Child of the Vault freed by the X-Men a few issues back, traipses through the jungle of Ecuador with Wolverine on her trail. After murdering some locals, Wolverine finds the entrance to the vault, where Serafina has already escaped. On Krakoa, Storm, Cyclops, Xavier, Armor, and Wolverine plan their next move. A team of Darwin, Synch, and X-23 (who insists she's the actual Wolverine even though she started going by X-23 again on purpose in her short-lived X-23 series from before the Dawn of X) are selected as best equipped to survive an infiltration of the vault, where time moves differently and they could be trapped for centuries. They have to get in, figure out what's going on, then get out long enough for Cerebro to read their minds to extract the information. If they don't emerge from the vault, the mutants can't tell whether they've died or not, which means they can't be resurrected according to the protocols.
After a psychological report explaining how Synch and other mutants brought back from the dead after X-Men continuity has progressed a lot feel lost and lonely, as well as a scene from inside the vault where we see the vault read information about the outside world from Serafina to get up to speed on the current Dawn of X status quo, the X-Men head back to Ecuador where Storm, Cyclops, and Armor create a diversion so X-23, Darwin, and Synch can slip inside the vault. They succeed, but inside the vault, they are recognized as threats and a cleansing procedure is activated. It's not shown, but they may have been wiped out. Several months later, Cyclops asks Professor X how long it's been, and he tells him over 3 months, which could have been over 500 years in the vault. Cue the scene from the beginning of the book.
Was it any good?
Considering this issue was framed with Cyclops questioning what the hell he's done after going along with Xavier's plan to send three young mutants into either their deaths or several centuries of pain and suffering, it's a pretty clear signal that something is rotten in the state of Krakoa. Of course, there are some in the fandom who still won't accept that Xavier is pretty clearly a bad guy in the Dawn of X because they like the concept of mutant power and solidarity as a metaphor, but when even Cyclops is questioning whether this has gone too far after sending basically kids on a poorly-planned suicide mission, you have to accept that maybe it has. The only question is why he went along with it in the first place? Why did Storm go along with? Wolverine? These three in particular seem like the type who would have been begging to heroicly self-sacrifice and go instead (yeah, I know, Darwin's powers blah blah). The point is, allowing this to happen seemed very out of character for these three… unless their minds have messed with by a certain professor, of course. With the exception of Fallen Angels, every X-book out this week touched on this theme, so if this one doesn't convince you, maybe one of those will?
In any case, it was a good issue.
---
Read more X-ual Healing here: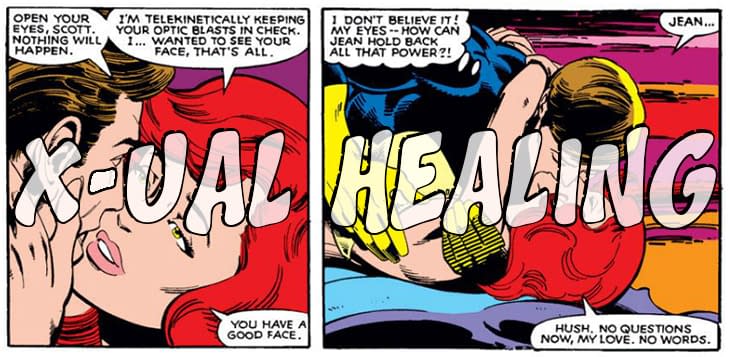 ---
---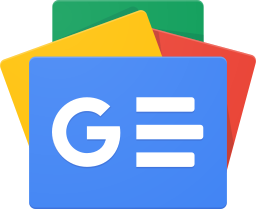 Stay up-to-date and support the site by following Bleeding Cool on Google News today!