Posted in: Comics, Marvel Comics | Tagged: alex ross, kurt busiek, Marvels
---
Kurt Busiek Announces Marvel, Marvel Snapshots and The Marvels With Alex Ross – Anyone, Anywhere, Anytime
A couple of weeks ago, Bleeding Cool scooped the news about a new series being curated by Alex Ross called Marvel Anthology. That Ross would draw the first episode and would write subsequent issues for others to draw or paint.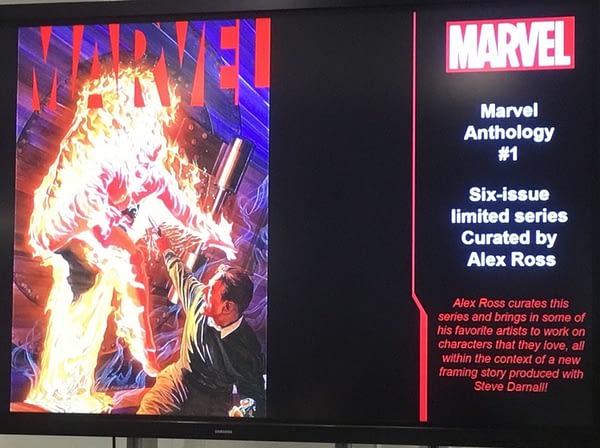 While Kurt Busiek was guesting on the Marvel podcast (below) he talked about the Marvels dramatic podcast series being created for Stitcher, on which he is consulting. And he also talked about his own involvement in the Marvels Anthology series.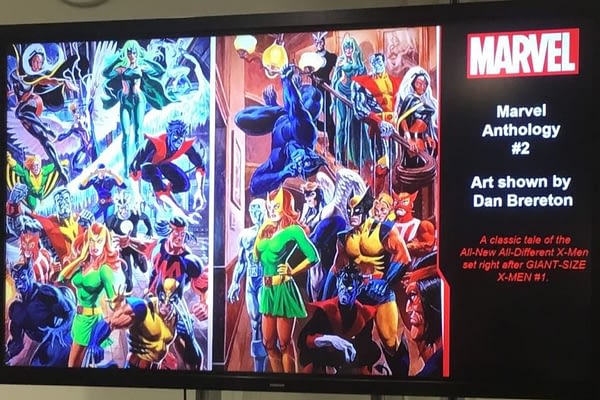 He mentioned he and Ross were co-curating the series which he calls Marvel, which was also the name of Ross' original pitch for the Marvels series, as an anthology series that he could paint and others could draw other stories within in. And that's what Ross now gets to do.
Kurt Busiek stated, "I'm helping out, I plotted a frame story, and I've written so far one story for Steve Rude to draw. And it's gorgeous."
He's also co-curating Marvel Snapshots, " individual one-shot issues by different creative teams that take the Marvel approach to characters of viewpoints you couldn't have got in the original series, maybe Kamala Khan before the powers seeing Fantastic Four and Avengers and what her human perspective is on the superhuman before she crossed that bridge. Or you could see a Miles Morales Spider-Man adventure from the point of view of one of the supporting characters.,, I want to do a story about Scott Summers back when he was in the orphanage with his brother Alex and he was having these headaches and his eyes were working weird, but superhero activity was just starting to begin in the Marvel universe he doesn't know he's going to be one of them, what are his thoughts, his perspectives?"
And then there's another new series called The Marvels, "our tagline is anyone, anywhere, anytime. Marvels isn't a team, its a category, it's a noun, if you have superpowers, if you have a costume, if you are an adventurer, you are one of the Marvels. We're going to tell multi-threaded stories, you'll have characters from different parts of the Marvel Universe all taking parts in the same story but arent always necessarily always going to meet if there's some big sprawling story, where Captain America dealing with a piece of it over here and the Punisher is dealing with a piece of it over here and the X-Men are dealing with a piece of it over here, maybe the X-Men meet Captain America along the way and maybe they meet Punisher but Cap and Punisher never cross pasts, that kind of Tom Clancyesque storytelling with a lot of how does the Marvel Universe work, what is the experience of being a hero, bystander, whatever, in some ways its a series that has lots of Marvels in it, lot of Avengers Forever in it, lots of Untold Tales of Spider-Man, it's a culmination of everything I've done at Marvel. It should be fun."
"There'll be new characters in it, there'll be classic characters, and storylines can take any time. In the first storyline, we'll see a little bit of when Reed Richards working with the military before he ever starting building the rocket, we're going to see cutting edge events of today, we're going to see stuff that goes all the way back to World War II, we're telling the stories that don't all take place now, that spill through time, that possibly the future."
The first episode of MArvels will air on Stitcher on November 20th.
---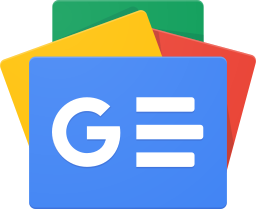 Stay up-to-date and support the site by following Bleeding Cool on Google News today!