A Love Worth Fighting For – Midnighter & Apollo #4
By Joe Glass [SPOILERS FOLLOW FOR MIDNIGHTER & APOLLO #4]
Well now, this one is a doozy!
For those needing a catch up (and really, why? You should ALL be picking up this book), Midnighter has descended into Hell to rescue Apollo, who was killed by the Mawzir and is now being held captive by Neron.
When last we left our heroes, Apollo was playing a dangerous battle of the wills with Neron, and Midnighter, sans his usual post-human attributes, had killed dozens of demons and now found himself face to face with the Mawzir, the demonic ultimate killer assassin of the Lords of the Gun.
Midnighter has a magic bullet to kill the bad guy. The bad guy, however, breaks the gun.
But it's alright: Midnighter is the damn gun!
This issue, which continues to highlight the two heroes separate approaches, is really all about the strength of conviction and testament of love that comes from having a love that can feel like a daily fight. Neither Midnighter nor Apollo are prepared to sit back and accept their fate, nor will they let it stand when their hard fought for love is endangered.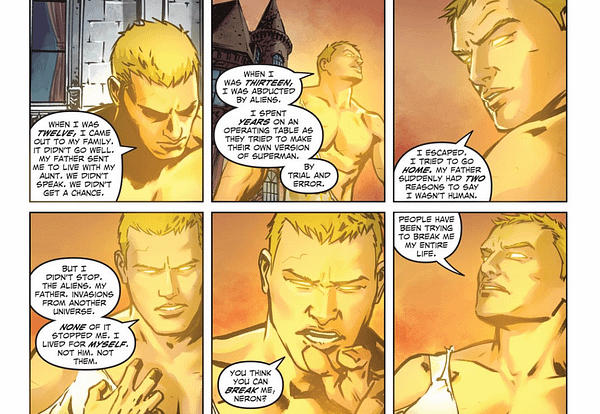 This is an Orpheus tale, but it is a pro-active Orpheus tale. It's one which shows how powerful love is and can be, and certainly for many queer people when they find it, how strong love makes you and how much we will fight for it.
Because sometimes, love is strong enough to make you a gun to shoot back at the monsters.
Steve Orlando, Fernando Blanco and Romulo Fajardo Jr. craft a stunning issue both in terms of story content and the actual look of the thing. From the stunning, clear, action-packed artwork, to moments that play with the panel structure of the comic, implying depth as Midnighter delves deeper into the furthest reaches of hell to find his prize, the team all turn out an incredible job.
Orlando's story, and strength of his work when it comes to Midnighter as a whole, has been his ability to tell incredible action stories with insane sequences that match if not surpass some of the craziest action films, but also have depths to the story that can be appreciated by many on multiple levels. For me, as a queer reader, there are particular elements within the story which have always jumped out exploring the notions of masculinity and queerness and more, but this issue seems to really be about love. And as corny as that sounds and that indeed it could have been, Orlando crafts it in such a way to really emphasise the strength and awesomeness of that love that has to be fought for, and how it is damn well worth fighting for.
Next issue promises the big dust up with Midnighter and the devil himself, Neron. If this issue is anything to go by, that is not one to miss!
Joe Glass is a Bleeding Cool contributor and comics creator. He is the writer of LGBTQ superhero team series, The Pride, which is available on ComiXology and it's own online store.