Margaret Atwood's Angel Catbird Audio Drama Coming from Audible in February
Angel Catbird, the critically acclaimed, NY Times bestselling graphic novel by Margaret Atwood, Johnnie Christmas, and Tamra Bonvillain, is being adapted as an audio play by Amazon-owned Audible.com as one of its Audible Originals, a series which has also included an adaptation of Locke and Key as well as The X-Files: Cold Cases. Atwood wrote the original audio script for the adaptation, her first ever, which is described as like an old-timey radio play.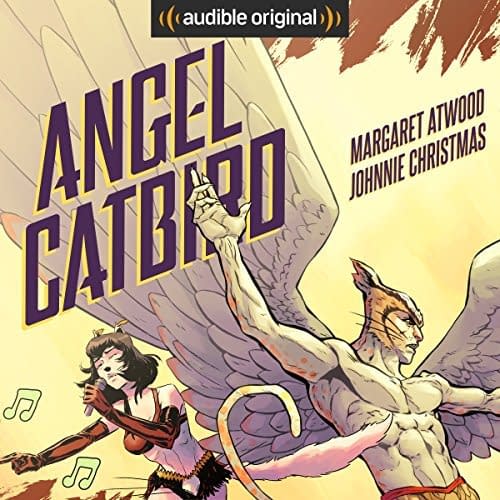 An audio adaptation of Angel Catbird has been in the works for at least a year, with the Handmaid's Tale author discussing it interviews back in February, 2017. The audiobook is set to be released next month, and can be pre-ordered from Audible now. Audible members will be able to download the book using their monthly subscription credits.
Here's the summary from the page on Audible.com:
Margaret Atwood, the most prescient and admired author of her generation, presents an original audio adaptation of her latest leap into the comic sci-fi fantasy underground: Angel Catbird.

Atwood wrote this New York Times best-selling fantasy as an homage to the golden age of comic books and the radio hour thrillers she loved as a child – with a little 21st century spice!

Angel Catbird features an all-star, yowling, and wicked-punning Canadian cast – recorded live, in ensemble – led by a friendly feathered, cat-centric, and unapologetic superhero.

Our story: One dark night, young genetic engineer Strig Feleedus is cruelly mutated by his own experiment and merges with the DNA of a pussycat and an owl. What follows is an action-driven, witty, and pulp-inspired all-species revolution. Would you expect anything less?

The television series based on Margaret Atwood's novel The Handmaids' Tale garnered eight Emmys and two Golden Globes. She and her novels have won many literary prizes including the Arthur C. Clarke Award, the Man Booker Prize, the Giller Prize, the Franz Kafka Award, the German Friedenspreis, and a Lifetime Achievement Award from the National Book Critics Circle. Angel Catbird is her first graphic novel and original audiobook adaptation.

Full cast of narrators includes Lisa Repo Martel, Kelly Vanderburg, Amy Matysio, David Ferry, Margaret Atwood, John Cleland, and Dylan Trowbridge.
Angel Catbird will be available for download on February 13.