Marvel Comics Collections Reveal Details Of What Would Have Been
Yesterday, Bleeding Cool highlighted Darkhold as a comic book series no longer on Marvel Comics' schedule but with a future collection listing revealing what might have been and may still be one day. Just not now. There are a number of other similar collections listed as well… again, these may happen. They may happen later. But the listings are yet to be amended.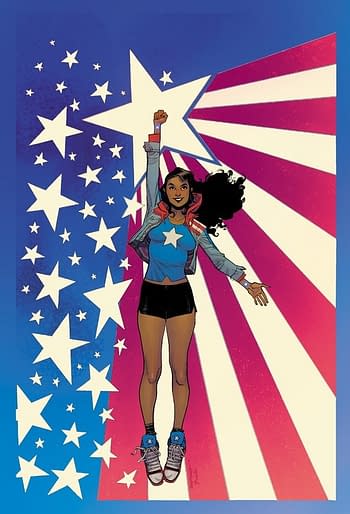 America Chavez: Made in the USA
22 December 2020 112 pages
America Chavez, the teleporting, butt-kicking breakout star of YOUNG AVENGERS and AMERICA, is back! But who is America, really? She's tenacious, intrepid, strong, resilient – everything a hero should be. With her shattering star-shaped portals, she can go anywhere. In short, she's incredible! But there are parts of herself that she's been running from…and when the foundation of everything that she believes is shaken, America Chavez must finally stand up and face her greatest fears!
COLLECTING: AMERICA CHAVEZ: MADE IN THE USA (2020) 1-5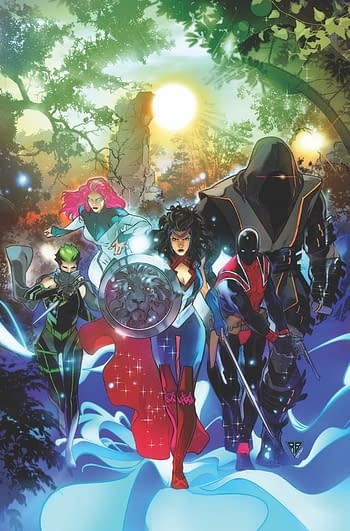 The Union
Paul Grist (Text by), Andrea Di Vito (Illustrated by)
17 November 2020 112 pages
Travel across the pond and bear witness to the grand unveiling of the Union! A team of super heroes gathered from all over the United Kingdom, including Union Jack, Snakes, Kelpie, Choir – and their fearless leader, Brittania! Proud to represent their nation, the Union believes they're ready to take on any foe. But when disaster strikes during their public debut, the fl edgling team immediately fi nds themselves pushed to their very limits! Don't miss out on an exciting new chapter of Marvel from legendary British writer Paul Grist (Judge Dredd, Jack Staff )!
COLLECTING: THE UNION (2020) 1-5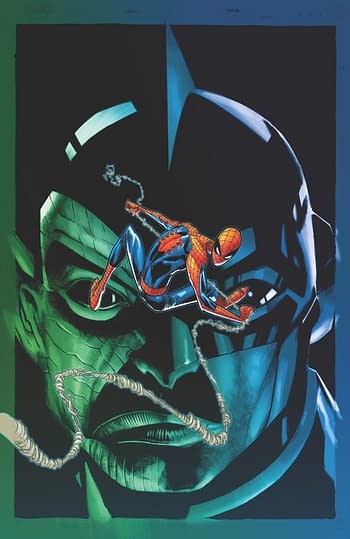 Empyre: Spider-Man & Stormranger
Taran Killam, Saladin Ahmed, Diego Olortegui
06 October 2020 136 pages
Kree and Skrull invasion fleets have arrived on Earth, and the world has been turned upside down! Spider-Man's friendly neighborhood is part of that world, and the events of EMPYRE have unearthed an archenemy hiding in plain sight – one who could ruin Peter and Mary Jane's relationship forever! Plus, out of the pages of MAGNIFICENT MS. MARVEL, meet a new kind of cosmic vigilante! The Kree nanosuit known as Stormranger was once bonded to Kamala Khan…but after deciding that her version of justice wasn't deadly enough, Stormranger rebelled against her. Now Stormranger is charting her own course – just in time for the united Kree/Skrull Empire to engulf Earth in a centuries-old conflict! Whose side is this ruthless space ranger on – and how much havoc will she wreak before we find out?
COLLECTING: EMPYRE: SPIDER-MAN (2020) 1-3, EMPYRE: STORMRANGER (2020) 1-3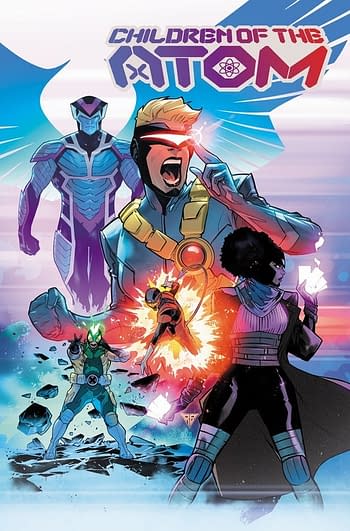 Children of the Atom by Vita Ayala Vol. 1
Vita Ayala, Bernard Chang
20 October 2020 120 pages
When did the X-Men get sidekicks?! Now! Don't miss the debut of the greatest teenage super hero team of all time! They've learned from the best – now they're ready to be put to the test! But who the heck are these kids, and where do they come from? Are they just drawing their inspiration from the X-Men's original lineup, or is there a deeper connection? And how will the X-Men react when this untested team of young heroes makes the scene in their name? Prepare for an action-packed adventure that propels the Dawn of X into the next generation!
COLLECTING: CHILDREN OF THE ATOM (2020) 1-5, MATERIAL FROM MARVEL VOICES (2020) 1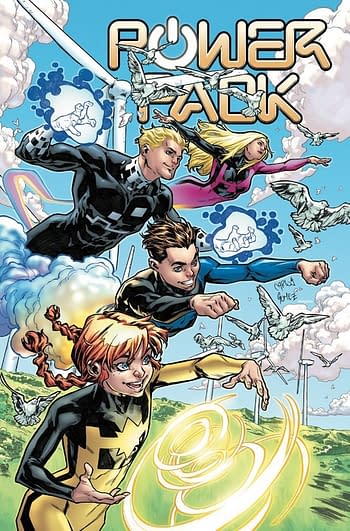 Power Pack: Powers That Be
Ryan North, Nico Leon
20 October 2020 112 pages
Power Pack is back! Katie, Julie, Jack and Alex Power have been super-heroing since they were learning to tie their own shoes. It's been ages since they fought side by side as a family, but a special occasion – and an old grudge – is about to put the gang back together. There's just one teeny tiny hiccup: a brand-new law restricting underage super heroes! But surely if the fate of New York City is at stake, the powers that be will make an exception? To keep on dispensing costumed justice – and avoid prison – Power Pack will need to find an adult mentor! Get ready for a 21st-century Pack Attack as Marvel's original team of kid heroes returns to fight for their rights!
COLLECTING: POWER PACK (2020) 1-5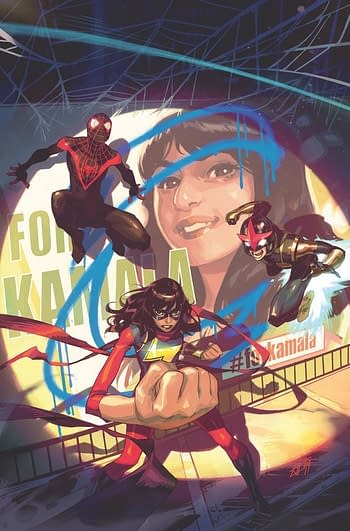 Champions
Eve Ewing, Kim Jacinto, Simone Di Meo
20 October 2020 152 pages
In the wake of a devastating tragedy, the United States passes a law outlawing teenage super heroes! The crackdown has begun -and the lives of Marvel's next generation will never be the same again. This new law goes against everything that Ms. Marvel, Nova and Spider-Man founded the Champions for…and they know that the world still needs heroes. They won't go down without a fight! But as a group of teen vigilantes gathers to plan their next move, the task force called C.R.A.D.L.E. is hot on their trail – and there's a spy in their midst! As protests break out across Chicago, the Champions risk their freedom to restore order – but why has Chicago's hometown hero Ironheart abandoned the Champions?
COLLECTING: OUTLAWED (2020) 1, CHAMPIONS (2020) 1-5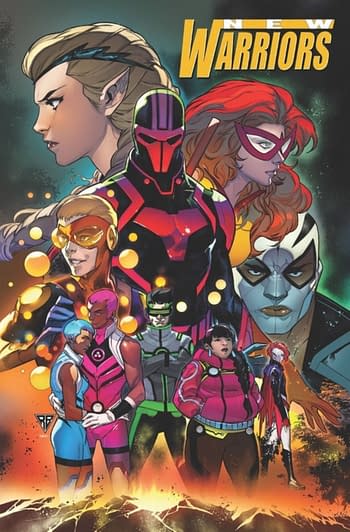 New Warriors: New is the New Old
Daniel Kibblesmith, Luciano Vecchio, R.B. Silva
27 October 2020 112 pages
Don't call it a comeback – or Night Thrasher will knock you out! Better yet, he'll get one of the new recruits to do it. With Kamala's Law in full effect – forbidding unsupervised super-heroics by anyone under the age of 21 – it's time for former teen heroes the New Warriors to step up. Thrasher reunites with Firestar, Rage, Speedball, Namorita and Silhouette to mentor a whole new generation of heroes…whether they like it or not! But the newest New Warriors soon find themselves trapped with the original crew's fiercest foes: Psionex! Thrash and the Warriors must save the newbies from certain doom – but another enemy is lurking in the shadows! And wait – just how did Thrash get the band back together anyhow?
COLLECTING: NEW WARRIORS (2020) 1-5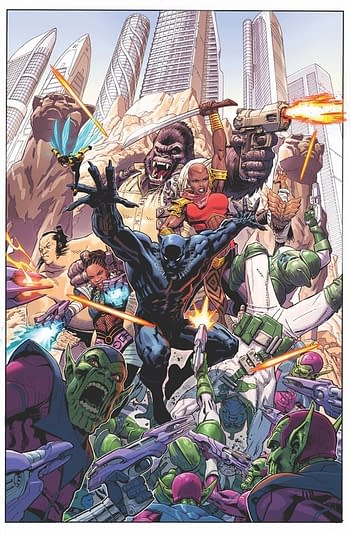 Empyre: The Invasion of Wakanda
Jim Zub, Lan Medina
03 November 2020 112 pages
Black Panther's Agents of Wakanda face a legion of Foom and the alien threat of EMPYRE! When a trio of space dragons attacks Avengers Mountain, the Agents are all that stand between their epic reptilian rage and Fin Fang Foom! And if the Agents survive that, worse is to come – because the heart of Wakanda, its mighty store of Vibranium, has been targeted by the villains of EMPYRE! The Agents of Wakanda rush to form the front line against this space invasion, but the enemy's powers are vast and unknown. With T'Challa off fi ghting alongside the Avengers, General Okoye is in charge – and even with all the superhumans she has at her disposal, she may fi nd herself outmatched!
COLLECTING: BLACK PANTHER AND THE AGENTS OF WAKANDA (2019) 7-8, EMPYRE: THE INVASION OF WAKANDA (2020) 1-3