Marvel Comics Gets A Couple Of Killer Characters Today (Spoilers)
Today in Phoenix Song: Echo #1 from Marvel Comics, we see the newly powered-up Echo, Maya Lopez, testing out her newly-found cosmic abilities and her control on them. And it gets rather messy fast.
Very rude indeed. But she's not alone on the streets of New York making such life-and-death decisions either. Take the newly adopted son of Ben and Alicia Grimm, Jo Venn in Fantastic Four #37.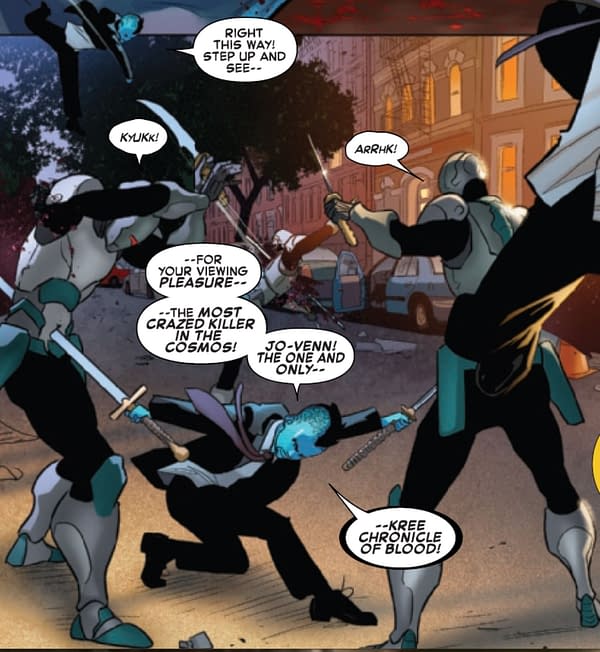 What kind of reprimand will such callous, cold-blooded murderers face? After all, they must pay for their crimes…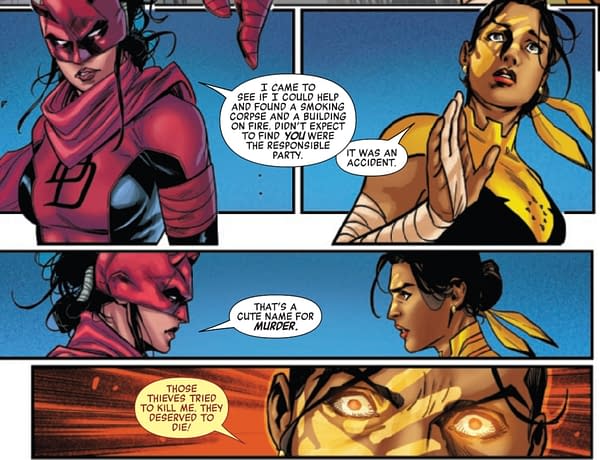 A ticking off from Elektra? Elektra Assassin? Clue's in the name there, even as she is the new Daredevil, that's never going to come from a lower moral high ground. And that's about it for Echo. While for Jo-Venn?
The kind of scolding one might get for stealing from a purse, it seems. With the loophole that it's only his dad seeing him kill that's the problem here. Yes, that's what's unacceptable. Do we have a couple of Punishers in the making? Where could such lax family values come from?
How about Marvel's first family? Where brothers don't even bother with their half-brothers, sisters, nieces, and nephews? I guess the family that slays together, stays together…
PHOENIX SONG ECHO #1 (OF 5)
MARVEL COMICS
AUG211186
(W) Rebecca Roanhorse (A) Luca Maresca (CA) Cory Smith
STRAIGHT OUT OF HER TRANSFORMATION IN AVENGERS, ECHO GETS AN EXHILARATING SOLO SERIES FROM BESTSELLER REBECCA ROANHORSE! Against all odds, one of the most powerful entities in the Marvel Universe chose Maya Lopez, a deaf street fighter, as its new avatar. And the burning question on everyone's minds is: WHY?! But Echo is the last person to answer. Still learning her new cosmic abilities – and struggling with the Phoenix's overwhelming personality – Echo strikes out to return to her roots. But the reservation has even fewer answers. And where power goes, evil follows. Someone wants Echo to fail – and unleash a power only the greatest heroes in history have been able to control. Avengers artist Luca Maresca joins superstar writer Rebecca Roanhorse for a story that will light the universe on fire! RATED T+In Shops: Oct 20, 2021 SRP: $4.99

FANTASTIC FOUR #37
MARVEL COMICS
AUG211200
(W) Dan Slott (A) Nico Leon (CA) Terry Dodson
"There Are Monsters on Yancy Street" The fallout from the FF's 60th anniversary stories continues! Maybe a visit from a certain friendly neighborhood Spider-Man might help with that? Meanwhile, it's time for Ben and Alicia to take their kids trick or treating for the very first time… which might not be such a good idea. Especially when one of the Fantastic Four's greatest enemies has returned! RATED TIn Shops: Oct 20, 2021 SRP: $3.99