Amazon: Marvel Omnibuses for Warren Ellis's Hellstorm, The MCU, Dracula, X-Men Wedding, and More
I am going to say that when the Omnibus line was launched by Marvel Comics, they did not expect to include Warren Ellis's first published comics work in America, Hellstorm — and its sequel Druid — in that format. I suspect even he will be surprised when I email the link to him. Can Ruins be far behind?
Here's a look at some new Omnibuses revealed on Amazon from Marvel, and all in time for stretching that Christmas stocking to buggery.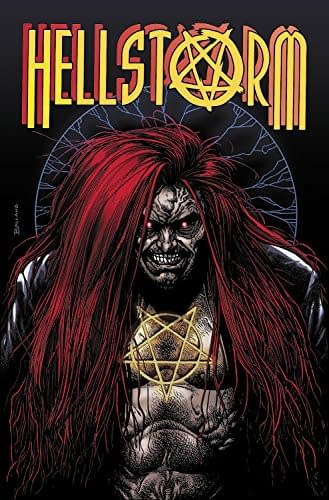 Hellstorm By Warren Ellis Omnibus Hardcover – October 16, 2018
In his first American Marvel comic, rising superstar Warren Ellis made one hell of a debut! Now, rediscover his edgy and unsettling tales of Daimon Hellstrom, the Son of Satan himself! Daimon is on the hunt for a serial magician murderer alongside his ally Isaac Christians, the Gargoyle. But who is Jaine Cutter, and what is her role in the delicate balance between Heaven and Hell? What terrible fate lies in store for Daimon's ex-wife, Patsy "Hellcat" Walker? And what happened to Daimon in his fateful confrontation with his demonic father? Ghosts, demons and things that go bump in the night all await – as does the truth about Satan himself! Plus, Ellis revamps the sorcerous Dr. Druid…and takes on Satana, daughter of the devil, in a never-before-published story!
COLLECTING: HELLSTORM 12-21, DRUID 1-4
Tomb Of Dracula Omnibus Vol. 1 Hardcover – October 16, 2018
He rose from the grave in 1972, ushering in an Age of Horror like nothing seen before or since! Now behold the Prince of Darkness' first encounters with his most implacable enemies of the era, including legendary Blade the Vampire Hunter! With ghosts, mutants, mad scientists and more! Plus a tour of the Lord of the Vampires' earlier U.S. activities, with such stops as the Pool of Blood and the Devil's Heart! Featuring Werewolf by Night and Lilith, Daughter of Dracula!
COLLECTING TOMB OF DRACULA 1-31, WEREWOLF BY NIGHT 15, GIANT-SIZE CHILLERS 1, GIANT-SIZE DRACULA 2-4.
Earth X Trilogy Omnibus: Alpha Hardcover – September 18, 2018
Comic art master Alex Ross offers his dark vision of the Marvel Universe's future – together with writer Jim Krueger and artists John Paul Leon and Doug Braithwaite! The saga begins in a world where everyone has super powers – and Reed Richards sets out to cure a calamity he fears he may have caused. Meanwhile, a battle-weary Captain America struggles to defeat a horrific new enemy of freedom – and Celestial forces beyond comprehension threaten a fate that only the Watcher suspects. Could it be that Earth itself is doomed – or can a new generation of heroes, including the legendary Mar-Vell reborn, save humanity? Be here for bold reimaginings of the Avengers, X-Men, Inhumans, Fantastic Four, Spider-Man and more!
COLLECTING: EARTH X 0-12, 1/2, X, EPILOGUE, SKETCHBOOK; UNIVERSE X 0-12, X, 4, SPIDEY, CAP, BEASTS, IRON MEN,
Guardians of the Galaxy by Gerry Duggan Omnibus Hardcover – September 18, 2018
A new era of cosmic adventure begins – with the Guardians caught between the Collector and the Grandmaster! And that's bad news when Groot can't grow any bigger than baby-sized, Drax has sworn off violence, and Gamora is hiding something! Can the gang get it together before they find themselves in the middle of a war between the Nova Corps and the shadowy Fraternity of Raptors? Hydra's Secret Empire brings the Guardians back to Earth – but who will blast back off with them as their newest member? And the hunt for the Infinity Stones begins – a search that involves our ragtag renegades becoming…Novas?! But no Infinity quest can be complete without Adam Warlock!
COLLECTING: ALL-NEW GUARDIANS OF THE GALAXY 1-12, GUARDIANS OF THE GALAXY (2017) 146-150, MATERIAL FROM FREE COMIC BOOK DAY 2017 (ALL-NEW GUARDIANS OF THE GALAXY)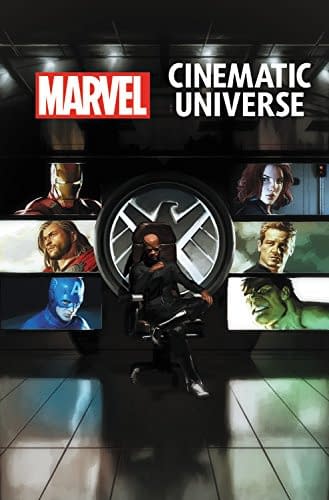 The Marvel Cinematic Universe: The Marvel Comics Omnibus Hardcover – October 16, 2018
Celebrate the Marvel Cinematic Universe's tenth anniversary with this complete compendium of every action-packed adaptation and exclusive comic-book prelude! Relive Iron Man's origin, the founding of the Avengers, the Guardians of the Galaxy's debut, the superhuman Civil War, the threat of Thanos and much more…and thrill to blockbuster comic adventures taking place before, between and during the films you love!
COLLECTING: IRON MAN: I AM IRON MAN! 1-2, IRON MAN 2: AGENTS OF S.H.I.E.L.D. 1, IRON MAN 2: PUBLIC IDENTITY 1-3, IRON MAN 2 ADAPTATION 1-2, THOR ADAPTATION 1-2, CAPTAIN AMERICA: FIRST VENGEANCE 1-4, CAPTAIN AMERICA: THE FIRST AVENGER ADAPTATION 1-2, THE AVENGERS PRELUDE: FURY'S BIG WEEK 1-4, THE AVENGERS: BLACK WIDOW STRIKES 1-3, THE AVENGERS 1-2, IRON MAN 3 PRELUDE 1-2, THOR: THE DARK WORLD PRELUDE 1-2, CAPTAIN AMERICA: THE WINTER SOLDIER INFINITE COMIC 1, GUARDIANS OF THE GALAXY PRELUDE 1-2, GUARDIANS OF THE GALAXY PREQUEL INFINITE COMIC 1, AVENGERS: AGE OF ULTRON PRELUDE INFINITE COMIC 1, ANT-MAN PRELUDE 1-2, ANT-MAN INFINITE COMIC 1, CAPTAIN AMERICA: CIVIL WAR PRELUDE 1-4, CAPTAIN AMERICA: CIVIL WAR PRELUDE INFINITE COMIC 1, DOCTOR STRANGE PRELUDE 1-2, DOCTOR STRANGE PRELUDE INFINITE COMIC 1, GUARDIANS OF THE GALAXY VOL. 2 PRELUDE 1-2, SPIDERMAN: HOMECOMING PRELUDE 1-2, THOR: RAGNAROK PRELUDE 1-4, BLACK PANTHER PRELUDE 1-2, AVENGERS: INFINITY WAR PRELUDE 1-2, ANT-MAN AND THE WASP PRELUDE 1-2
Amazing Spider-Man by Eric Michelinie & Todd MacFarlane Omnibus Hardcover – October 16, 2018
Whether clad in blue and red or black, or possessing spider-powers or cosmic ones, Spider-Man stands ready to face any threat! And the threats have never been greater! From his own foes – Venom, Mysterio, the Scorpion and more – to newcomers to his friendly neighborhood like Sabretooth, the Taskmaster, Magneto and the Sentinels, Spidey sure has his hands full! Good thing he's got Mary Jane, Captain America, the Black Cat and the Hulk around to lend a hand! Featuring the pulse-pounding prose of longtime IRON MAN scribe David Michelinie and the groundbreaking artistry of the legendary Todd McFarlane!
COLLECTING AMAZING SPIDER-MAN (1963) 296-329 and material from SPECTACULAR SPIDER-MAN ANNUAL 10.
X-Men: Mutant Massacre Omnibus Hardcover – November 20, 2018
The first X-Men crossover event – and still the most brutal! When Sabretooth and the lethal Marauders attack the underground mutant outcasts known as the Morlocks, the X-Men, X-Factor and New Mutants join forces to stop them – with help from Thor, Daredevil and Power Pack! But the cost of victory is very high, and many X-Men come away badly injured. While Shadowcat might be saved with the Fantastic Four's help, the Angel contemplates a much bleaker fate! Psylocke, Longshot and Dazzler join the undermanned X-Men – just in time to clash with the Avengers – as Marvel's mutants struggle to recover and rebuild!
COLLECTING: UNCANNY X-MEN (1981) 210-219; X-MEN ANNUAL (1970) 11; X-FACTOR (1986) 9-17, ANNUAL 2; NEW MUTANTS (1983) 46; THOR (1966) 373-374, 377-378; POWER PACK (1984) 27; DAREDEVIL (1964) 238; FANTASTIC FOUR VS. THE X-MEN 1-4; X-MEN VS. THE AVENGERS 1-4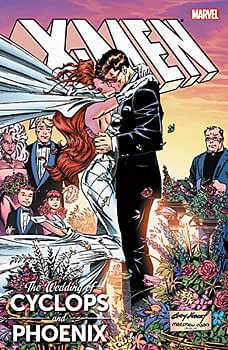 X-Men: The Wedding of Cyclops & Phoenix (X-Men: The Wedding of Cyclops & Phoenix Omnibus) Hardcover – September 18, 2018
Wedding bells are ringing for the most star-crossed super hero couple of all…Scott Summers and Jean Grey! But there's a ton of action to go with the romance – as the X-Men and Avengers must keep Magneto's Acolytes from destroying Genosha, the mutant-killing Legacy Virus hits close to home, and Professor X decides to rehabilitate the monster known as Sabretooth! But love conquers all as Jean and Scott tie the knot at last – before a mind-bending honeymoon to the far future, where they must raise Cyclops' long-lost son and overthrow the planet-conquering Apocalypse!
COLLECTING: X-MEN (1991) 26-35, AVENGERS (1963) 368-369, AVENGERS WEST COAST 101, UNCANNY X-MEN (1981) 307-310, CABLE (1993) 6-8, X-MEN UNLIMITED (1993) 3, UNCANNY X-MEN ANNUAL (1992) 18, X-MEN: THE WEDDING ALBUM, WHAT IF? (1989) 60, ADVENTURES OF CYCLOPS AND PHOENIX 1-4, MATERIAL FROM MARVEL VALENTINE SPECIAL
Oh and it looks as if there's a JEPH LOEB & TIM SALE: YELLOW, BLUE, GRAY & WHITE OMNIBUS HC too…
COLLECTING: Daredevil: Yellow 1-6, Spider-Man: Blue 1-6, Hulk: Gray 1-6, Captain America: White 0-5