Marvel Rising #1 Fails to Rise to the Occasion (Review)
Tomorrow (or tonight for midnight opening stores) sees the release of Marvel Rising #1. the new all-ages superhero series based on the cartoon and merchandise line. And Bleeding Cool has been given a first look.
[rwp-review-recap id="0"]
Written by Nilah Magruder, who is well known for her extraordinarily good web comic MFK, as well as work for Marvel with A Year of Marvels, this feels like a step down.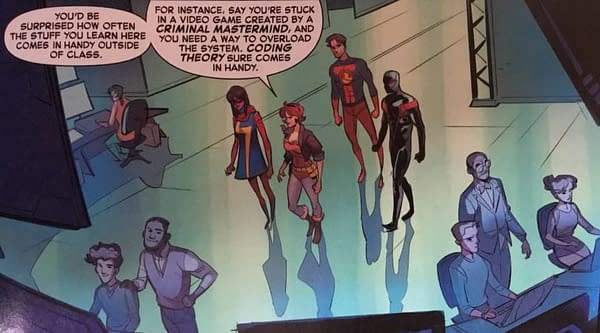 It could be that too many interests were present in this creation, but a college trip for young superheroes struggling with the potential demands of higher education and superheroism should have come straight from the Spider-Man playbook, but here feels really clunky.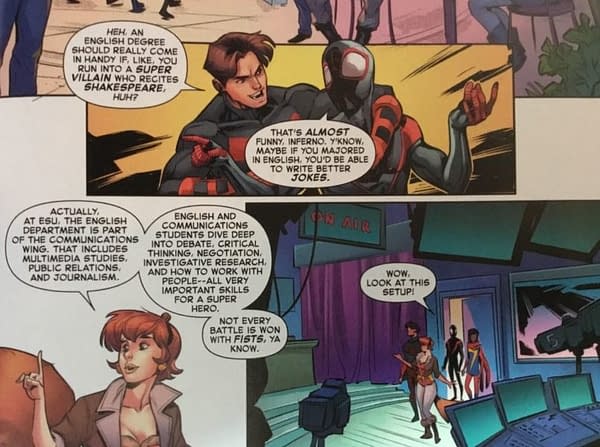 Add a menace from possessed jousting cars feels like something ripped from Inferno, but with far less charm and appeal. The highlight of such a scene really shouldn't be when Ms Marvel is called a wench and bites back…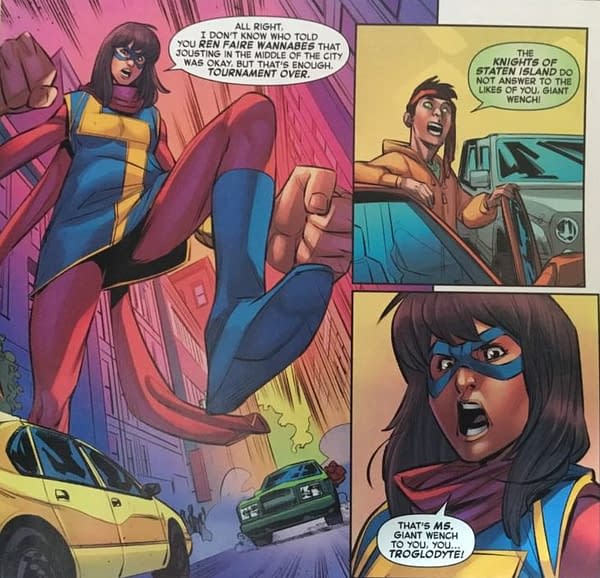 …but it is.
Only at the end, when Morgan Le Fey arrives, do things start to perk up and she shares no panel time with the rest of the cast. Robert Di Salvo seems to get behind her coolness and separated nature from everyone else really well, but that's the only time the comic manages to look interesting.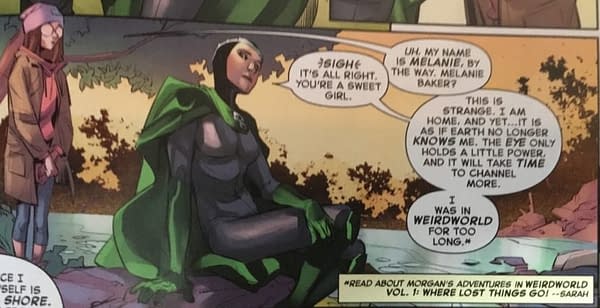 This feels like a play-by-play kids Saturday morning cartoon before they started actually getting any good. It may be fine for an undemanding younger audience, and it's fairly readable as these things go, but anyone with the kind of smarts in them that it seems this comic values and wants to encourage their educational aspirations, may find this comic book lacking.
My eleven-year-old was bored by it and went back to her Phoenix Weekly. Sorry people, this seems to fall between every stool set up for it. It's not a bad comic, per se, but there's very little that might draw an audience back. I will send her in MFK's direction, however,
Oh, also? America and Spider-Gwen and Captain Marvel are on the cover, alongside Ms Marvel and Squirrel Girl. Only the latter two are inside the comic, alongside Miles Morales and Inferno. That bait-and-switch for America, Captain Marvel and Spider-Gwen fans may be the cruellest betrayal of all.
Marvel Rising #1 is published tonight or tomorrow.
MARVEL RISING #1 (OF 5)
(W) Nilah Magruder (A) Roberto Di Salvo (CA) Audrey Mok
HEROES OF THE ROUNDTABLE!
With the powers of GIRL and the powers of SQUIRREL on their side, Kamala Khan and Doreen Green are an unbeatable team! But that title is about to be seriously challenged – because New Jersey has been invaded by a swarm of knights in shining…suits?! Driving cars armed with javelins?! Uh-oh. Kamala and Doreen are gonna need allies to help protect their home turf – and they know just who to call. Don't miss the return of the team-up that's got everyone talking!
Rated T In Shops: Mar 27, 2019 SRP: $3.99
[rwp-review-ratings id="0"]
[rwp-review-form id="0"]