Alexander Finbow writes;
Take your opportunities. As Ashton 'Chris' Kutcher said recently at the teen awards.
Now, after a day spent on production and promotion for Dept. of Monsterology, learning how to adapt, and then publishing our first prose ebook (Alan Grant's novelisation of the Loxley's and the War of 1812 in case you were curious), a quick and dirty ride on the bike trails behind the studio, and a large tequila…
Bleeding Cool sends an opportunity my way. 'Send us a call to action article.'
I'm taking that opportunity you offered Rich.
I grew up on 2000ad, the Beano and Commando comics. I loved Batman, quite liked a bit of Spidey too. I still love comics as a medium today, the power they have to combine words and images to be the best of both is such a compelling combination. I still buy 2000ad every week and my pull list gets longer every time I step into a comic store here in Canada.
To be now working in comics was an opportunity I couldn't resist. To be a part of the team bringing stories like the Shame trilogy, and Dept. of Monsterology, from a conversation to a fully formed comic book with the power to move a reader, it is a wonderful feeling.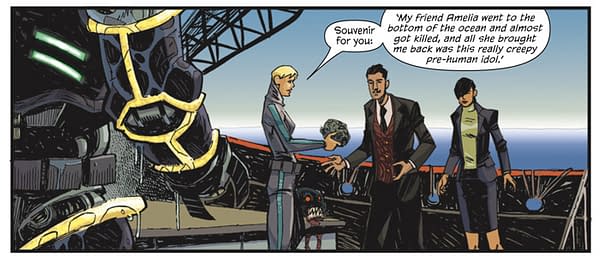 Gordon Rennie and PJ Holden presented the opportunity to me for Renegade to publish their new comic, Dept. of Monsterology. Two years and a lot of work later it is about to become our first monthly comic book release. Advance reviews are really positive and there is a growing feeling of good will towards the series, from it's strong female characters to the sense of fun to be found amongst the action. This is wonderful, and we are still striving to spread the word and convince enough readers to give it a chance, so it has the opportunity to succeed.
So my call to action is this, please add Dept. of Monsterology to your pull list, pre-order it from a comic book store. Ask a friend to add it to their pull-list too.
This works a little like Kickstarter with your pledge level being $3.99 (or less if you can find an offer) and your reward being a copy of a fine comic book. There are 4 issues in this run and I have seen Gordon's outline for more Monsterology, and it is really exciting. If the comic can gain enough support, there will definitely be more Dept. of Monsterology.
Help prove that monthly comics can work for smaller publishers. It'll be in stores on October 16th. PJ is finishing issue 4 right now so the issues will be in stores the middle week of November, December and January, guaranteed.
And to our web page for the comic, with links to reviews and more info:
Thank you for taking the opportunity to discover a new comic.