Nerd Food: Moon Sailer Tea From Nerdfelt Tea
No, that is not a typo. I drink a good amount of tea. While at PotterVerse earlier in the month, I came across a booth called Nerdfelt Tea. The owner, Katie Hambor, makes her own tea blends. She also makes pins, jewelry, mugs, and much more. I picked up some gifts for my mom, who loved the tea I bought her. My mom is also the type to not share anything, so alas, I didn't get to try her Ravenclaw inspired tea.
Luckily for me, Nerdfelt was set up at Baltimore Comic Con, so I picked up some tea there. This past weekend I tried the Moon Sailor Tea, inspired by the greatest anime of all time (you will not convince me otherwise), Sailor Moon. The ingredients in the tea are as follows;
Black tea, orange peel, coconut, blue cornflower, natural vanilla flavor, natural bergamot flavor, natural creme flavor, pink sprinkles.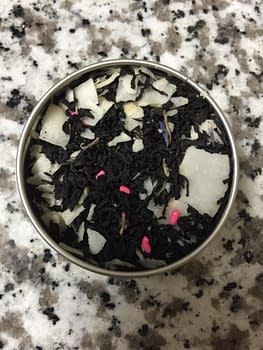 The tea smells amazing. Vanilla, coconut, and orange all blend well together, and I like black tea in general. Taste wise, it's amazing. Very smooth, floral, and just a great tea to sip during the day. Katie sells her teas in adorable tins that makes 10-12 cups of tea. The tea comes loose, so you will need an infuser or tea bags.
Overall I love this tea. I will absolutely buy from her again, and I urge you to do the same!