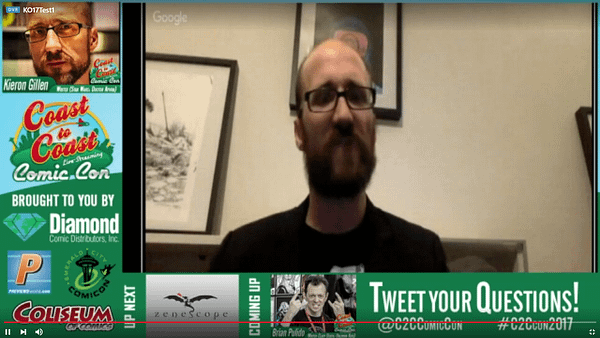 Kieron Gillen is currently in Milan, launching the Italian edition of The Wicked + The Divine. But he had time to do a pre-record interview for Coast-To-Coast Comic-Con. Where, asked about what LucasFilm say no to, he said that he and Jason Aaron pitched lots of things to see what LucasFilm would say yes and no to, when first writing Star Wars and Darth Vader, in order to understand the landscape. But he sees writing Darth Vader and Doctor Aphra as like writing historical fiction, you know what happens and you write around established events. But that what they said yes to is more interesting – and the LucasFilm story group have been a resource. So if he needs a crime boss, he asks who they have and they've find someone mentioned five years ago once. And he was able to tie in the Empire's Inspector Thanoth's life with planets that would be mentioned in the then-upcoming Rogue One.
He also named a few tracks from his Doctor Aphra playlist. Röyksopp's The Girl And The Robot, Debaser by The Pixies, Rehab by Amy Winehouse, Kool Thing by Sonic Youth and especially Space Carnival by The Comet Is Coming.
Go on then…
And you can keep up to date with Bleeding Cool's other Coast To Coast Comic Con coverage right here.
Enjoyed this article? Share it!