So… Did I Get It Wrong About Promethea? Is Detective Comics #973 Doing Miracleman #15? (Spoilers)
Earlier this week, Bleeding Cool ran a story looking at today's Justice League Of America #23, published today. It was based on the reading of a retailer of a black and white copy of the comic, passed to me in a number of e-mails. In the old days, this would be called telephone. In the even older days, Chinese whispers.
Following up on Justice League Of America #22, which saw Vixen destroyed as the Queen Of Fables tried to enter Immateria, we learnt that Vixen channelled the power of planarian worms, as is her want, and survived. Just., Rebuilding herself, using the regenerative property of planarian worms. We noticed the reference to the classic Alan Moore Swamp Thing story, Anatomy Lesson, which revealed that the Swamap Thing's body was an attempt to rebuild a human body by a plant lifeform that thought it was Alec Holland. The rebuilding of Vixen's body takes place, just as Swamp Thing's body was full of plant-like approximations of human organs, though Vixen was coming from the Red rather than the Green.
But in Anatomy Lesson, the example of the planarian worms was used to illustrate the idea that knowledge, memories, ideas, a sense of self is chemical. And Planarian worms can gain knowledge through eating each other. Just as the plants had eaten Alec Holland and formed Swamp Thing with his memories. Planarian worms can transfer identity, memory, from one to another.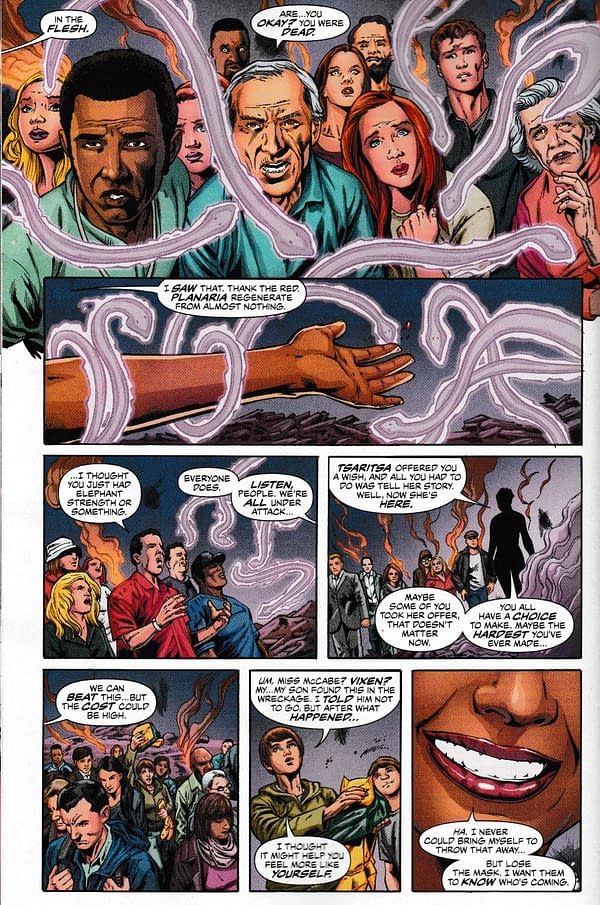 And that's what I thought was going on here. The idea of Promethea entering the DC Universe from the Immateria, through Vixen's channelling of the abilities of the Planarian worms. That the worm forms here mirrored Promethea's snakes, Mick and Mack. And that was why we didn't get a good look at Vixen's face now, and why others questioned that it was her.
And that the final page big reveal, as the Queen Of Fables tried to enter the Immateria…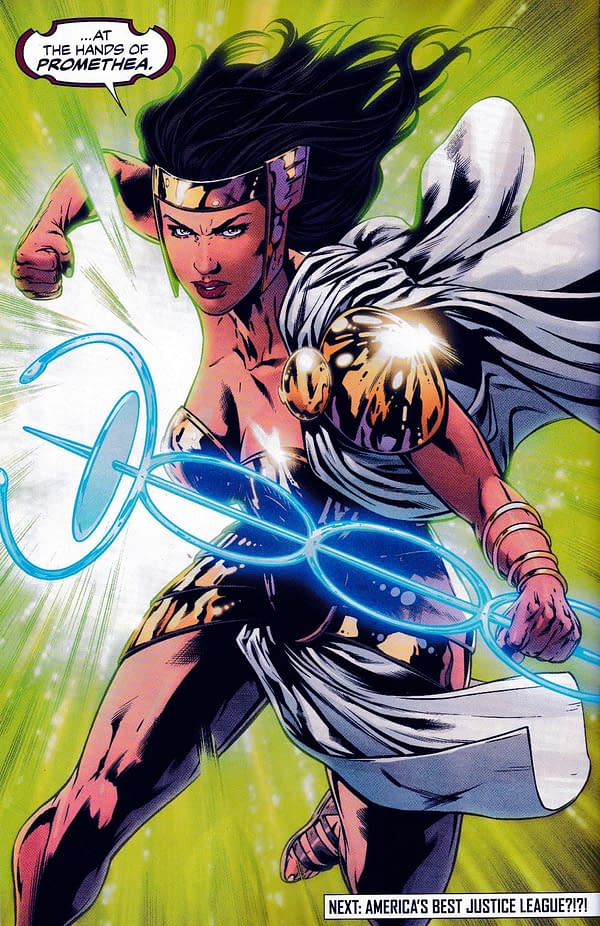 Was a reborn Vixen. Suggesting that this wasn't Promethea, but the idea, the memory of her, just as Swamp Thing wasn't Alec Holland, but the idea and memory of him.
That's where I went. But I ended up talking with someone who had read the comic. In colour. And that alone, skin tone, was demonstrative that Promethea was not Vixen, that no, this was Promethea and I should stop trying to over analyse every single bloody panel. Which, you know, is what I do.
Mot least reading today's Detective Comics #973, as Clayface lays waste to Gotham, before being temporarily defeated and returned to a human form.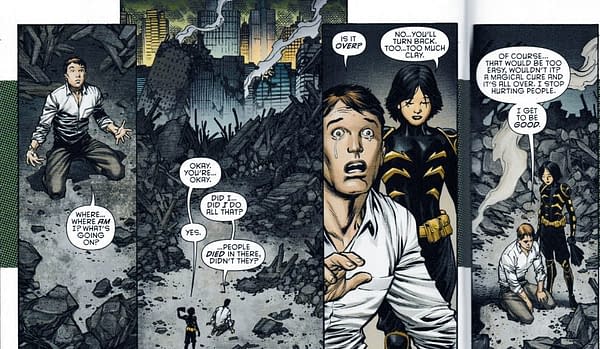 And coupled with what happens next, all I can read into that, is the end of Miracleman #15 by Alan Moore and John Totleben.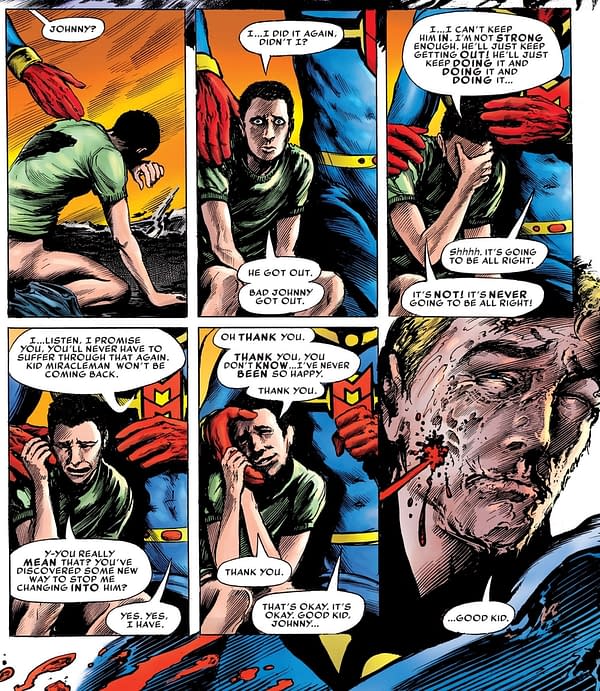 Coupled with DC bringing in a close friend and colleague of Alan Moore into Doomsday Clock #3…
…it does seem that DC Comics are doing this all on purpose. But then again, I may be just over analysing things. Again.
America's Best Justice League… will it have Jack B Quick in it?
JUSTICE LEAGUE OF AMERICA #23
(W) Steve Orlando (A) Neil Edwards, Daniel Henriques (CA) Terry Dodson
"QUEEN OF FABLES" part two! The Queen of Fables has begun granting the wishes of everyone across the globe, and with each wish granted, her powers grow greater. The Justice League has to police people's dangerous wishes while one of their own, Killer Frost, has her greatest wish granted by the Queen…
RATED T In Shops: Jan 24, 2018
SRP: $2.99

DETECTIVE COMICS #973
(W) James TynionIV (A) Joe Bennett (CA) Guillem March
"Fall Of The Batmen" finale! With the team in disarray and facing their most powerful adversary yet, Batwoman must make a critical battlefield choice-one with the power to shatter everything Batman has built! You'll be talking about this issue for years to come!
RATED T In Shops: Jan 24, 2018
SRP: $2.99

DOOMSDAY CLOCK #3
(W) Geoff Johns (A/CA) Gary Frank
The story takes a turn in the third chapter of this 12-issue series you never thought you'd see, from writer Geoff Johns and artist Gary Frank.
RATED T+In Shops: Jan 24, 2018
SRP: $4.99