Putting Politics Back Into Superhero Comics Before Justice League #50
Obviously it never went away. Check Empyre #1 today. But Si Spurrier has been writing a very political comic book with his current run on John Constantine: Hellblazer. It began with a naked Boris Johnson running around the bowels of the Houses of Parliament, saw an entire issue looking at the legacy of the NHS, as well as looking at sexual abuse, slavery, and manipulation with mermaids on the last issue. But I confess I didn't expect to find his Justice League to be an even more political comic book.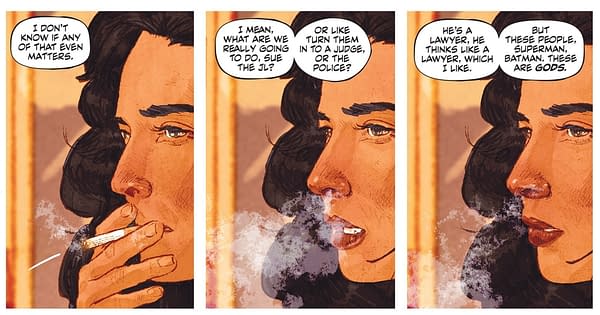 Sorry, that's not from Justice League or from Si Spurrier but from Tom King and Mitch Gerads in Strange Adventures #3, also out this week. But it sets the tone nicely. The previous issue, Justice League #48 by Si Spurrier saw the Justice League rescuing a lost ship of alien children to their parents, to find a despotic tyranny that had sent the kids to their doom, and as a result of their intervention, now had a rebellious mob about to kill her. The issue was clear cut for everyone aside from Wonder Woman. They had to prevent the loss of life.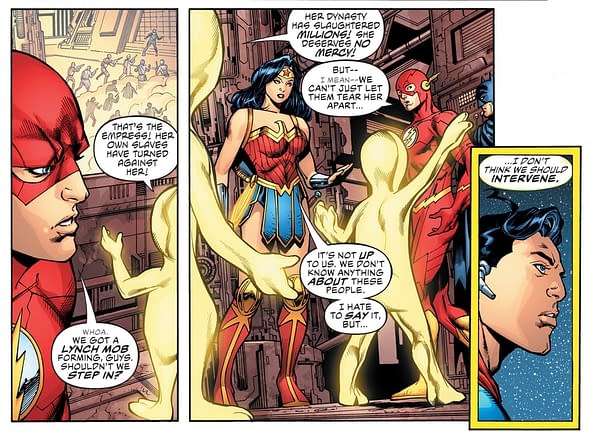 Superman ignored Wonder Woman and did what Superman always does on Earth, saves lives. But we get to see the impact of that even sooner.

And a population looking for a replacement to the one who has just been deposed, by those who ended up deposing her.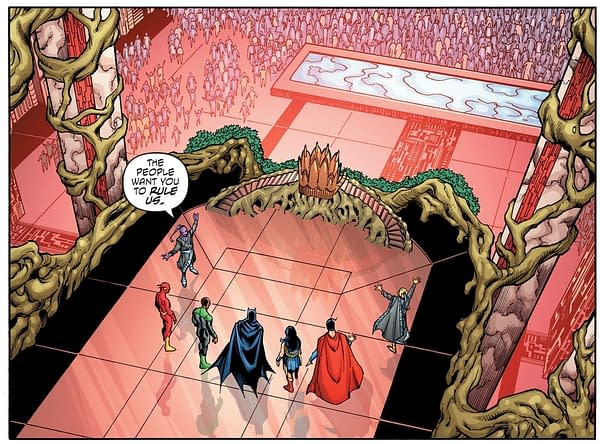 To rule them. Not a position that Wonder Woman is down for. She's been there, seen this done, that.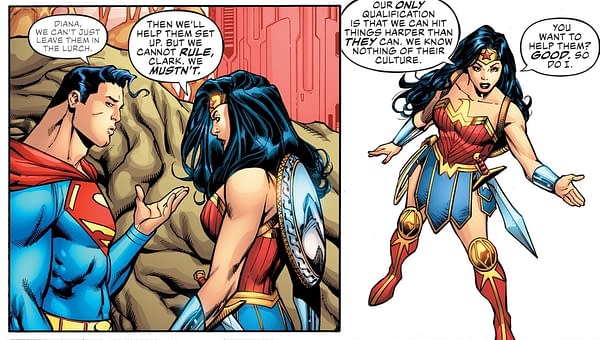 Wonder Woman defining the superhero as might makes right, and getting to the very heart of the myth, the legend, the archetype, but these are actions that never have to deal with their consequences. And as an alien empire attack seeking weakness is imminent…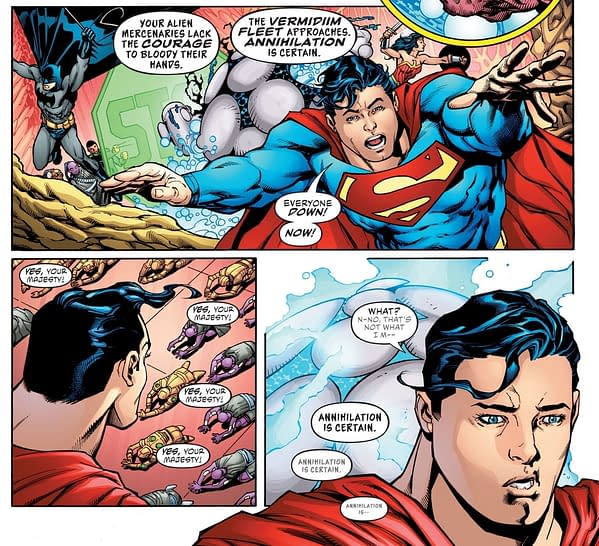 Superman gets a new title. It is also reminiscent of what is happening over in Brian Bendis' Superman comic books, as part of the United Planets.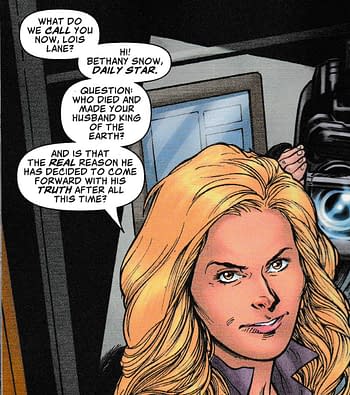 And now King Of The Trotha, both the Way Of The Cell and the Way Of The Spark races. And some A-class shade thrown by Wonder Woman.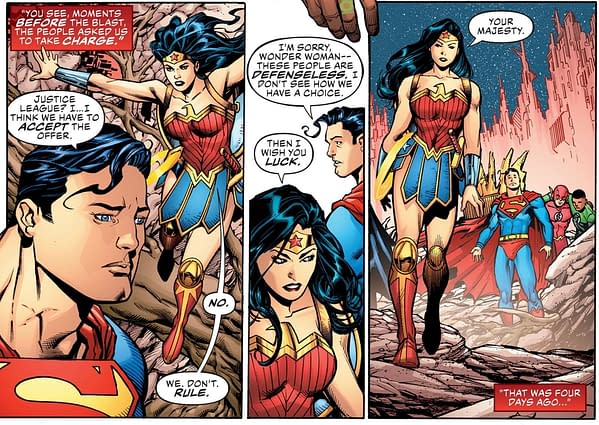 So how does four days of the Justice League ruling a world look? Well, in preparation for an incoming armada of ar, there are the insults the Flash gives to the population…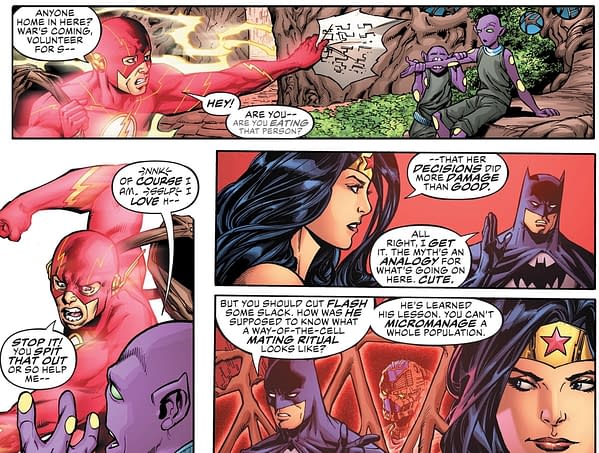 …by interrupting their consensual cannibalistic courtship. While their interim leadership keeps tripping over itself.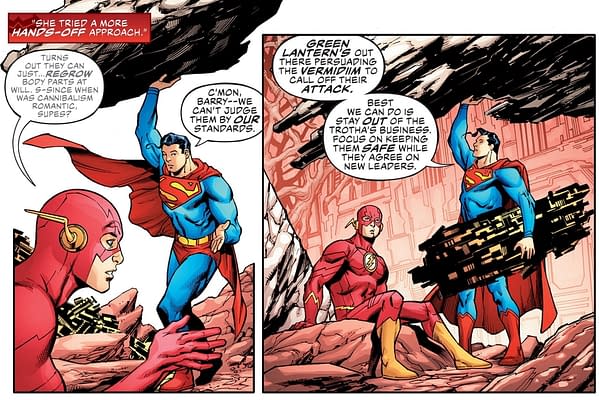 Even the choice of communication methods becomes problematic to half the population of the world.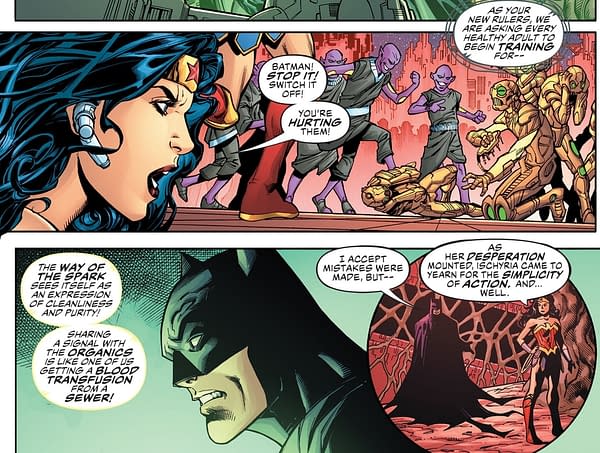 With Wonder Woman calling everyone out, including Superman for his own ignorant interventions.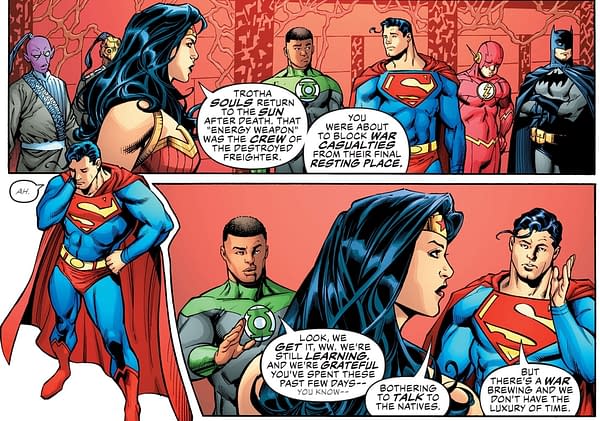 And how that combined, the had created a civil war, even as the population were at threat from above.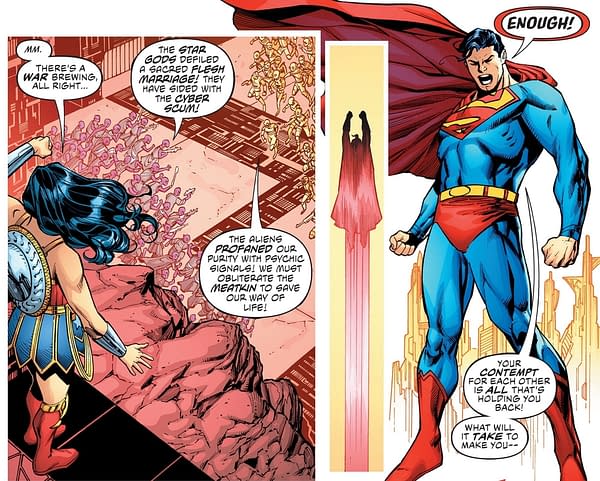 Bad shouty dictatorial Superman. Looks like someone wants to put the whole world in a bottle… double-sided conclusion to come in Justice League #50.
JUSTICE LEAGUE #48
DC COMICS
APR200579
Si Spurrier, Aaron Lopresti, Matt Ryan and David Baron
As writer Simon Spurrier jumps on board for the start of the three-part tale "The Rule of War," it's close encounters…of a Justice League kind! After answering a distress signal from distant space, Batman, Superman, Wonder Woman, the Flash, and Green Lantern discover an abandoned cargo ship full of young aliens! When the League attempts to return the children to their home planet, they are met with awe, terror, and war! Thus begins a three-part storyline that will take the League to a previously unknown planet, with an all-new species, a dangerous mystery, and a new, otherworldly villain.In Shops: Jul 08, 2020 SRP: $3.99
JUSTICE LEAGUE #49
DC COMICS
APR200582
Si Spurrier, Aaron Lopresti, Matt Ryan and David Baron
"The Rule of War" part two! After the devastating events of last issue, the League is separated and labeled as alien visitors on a war-torn planet. With events spiraling out of control, and no leader to guide planet Trotha's citizens, how can the League save this world without interfering? As the team battles rogue factions, Batman makes a startling discovery that will threaten any hope the team has of returning home! In Shops: Jun 17, 2020 SRP: $3.99
JUSTICE LEAGUE #50
DC COMICS
JUN200504
Si Spurrier, Aaron Lopresti, Matt Ryan and David Baron
Special extra-size anniversary issue! It's the final chapter of "The Rule of War"-and all the rules are broken! On the alien planet Trotha, Empress Siddinx's plan is revealed, and it's nothing short of world domination-with the Justice League entangled in her puppet strings. But how can the team save a population that now hates and fears them?
ON SALE 07.01.20In Shops: Aug 05, 2020 SRP: $5.99