R.I.P. ResurrXion? Weapon X Missing from Marvel's January Solicits
It looks like another series is a victim of Marvel's patented stealth cancellation. Like X-Men Red, which is missing from Marvel's January solicits, there is no listing for Weapon X that month. And with an X-Force series relaunching in December, perhaps there's no place in the Marvel Mutantverse for Sabretooth's band of rogues and misfits anymore.
Here's what the solicitation for December's Weapon X tells us.
WEAPON X #27
GREG PAK & FRED VAN LENTE (w)
LUCA PIZZARI (A)
Cover by RAHZZAH
WEAPONS OF SELF-DESTRUCTION!
• Two roads diverged in a blood-soaked wood. For a time, Sabretooth took the one less traveled. In this issue, he pays for it.
• Everything changes here.
32 PGS./Rated T+ …$3.99
Well, being canceled would definitely be a change.
So is this really the end for Weapon X? If so, it would be the end of an era, with Weapon X joining X-Men Blue, X-Men Gold, Astonishing X-Men, Cable, Generation X, Old Man Logan, Jean Grey, All-New Wolverine, and Iceman (though revived as a mini) as the last known canceled title from Marvel's ResurrXion relaunch era. Oh, and then there's the long-dead Inhumans titles: Royals, Black Bolt, and Secret Warriors. But nobody cares about the Inhumans.
So how will it happen? Is the team splitting up? If so, who gets the pet tiger? Or is someone getting killed off? Sabretooth?
The only logical thing to do here is post your speculation in the comments, so get to it. For now, we'll remember Weapon X through our Improbable Previews tribute…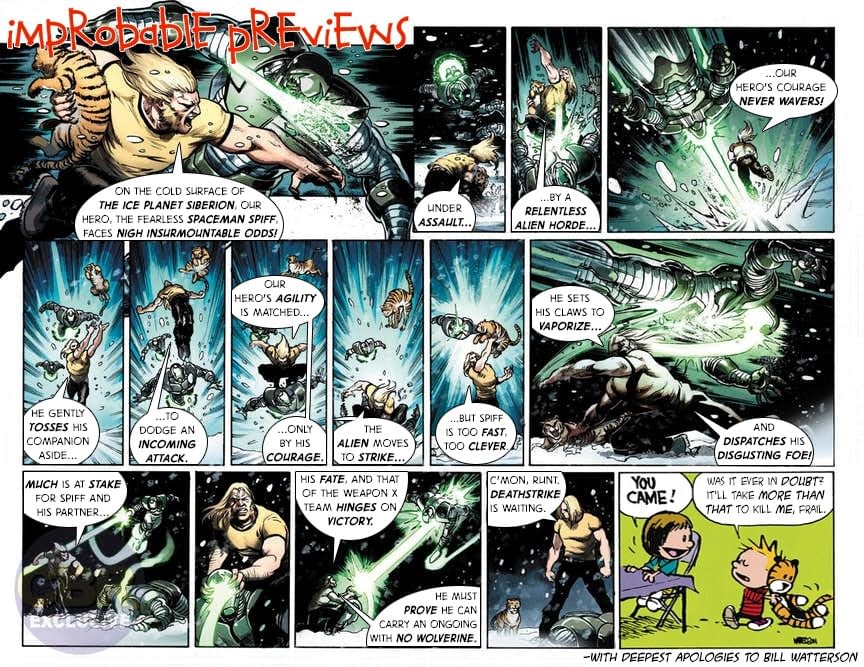 RIP, Weapon X, the last survivor of the ResurrXion era.