Avatar Plug Of The Week: Gravel And Fevre Dream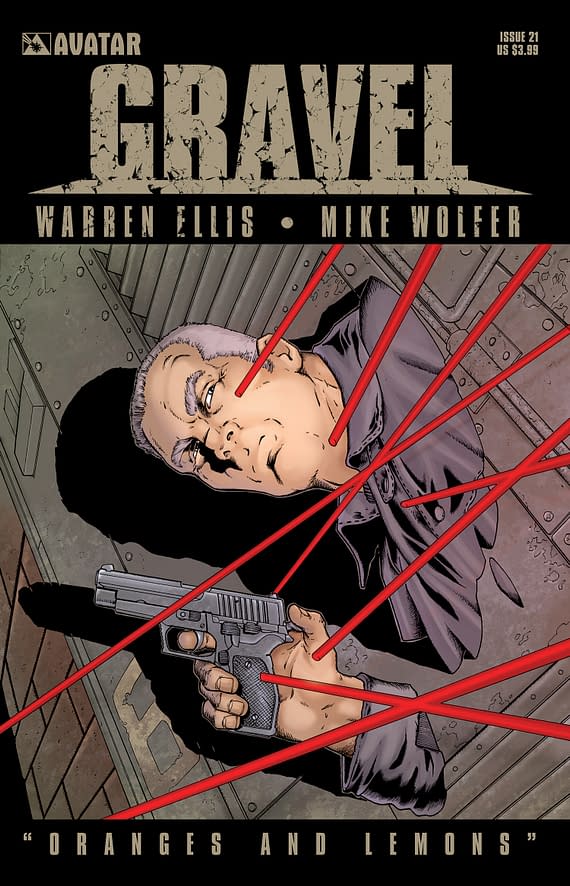 It's our Avatar plug of the week with previews of the final issue (for now) of Ellis and Wolfer's movie-optioned Gravel, and the eighth issue of George RR Martin's adapted vampire novel Fevre Dream. Both out today in the US, out tomorrow in the UK.
Gravel #21
story: Warren Ellis and Mike Wolfer
art: Mike Wolfer
Everything you know about Gravel changes in this stunning final issue of ""The Last King of England."" Warren Ellis and Mike Wolfer bring Hell on Earth to come for William Gravel and his new Minor Seven, and as the body count starts to rise, Gravel begins to doubt not only his course of action, but if he should have recruited kids into the deadly game of magic. He's facing the first battle he never trained for…and he's going to loose. It's never a dull day being Combat Magician William Gravel, but it might be his last day.
Fevre Dream #8
story: George R.R. Martin, adapted by Daniel Abraham
art: Rafa Lopez
cover: Felipe Massafera
The ten-issue vampire epic on the bayou from the writer of the A Song of Ice and Fire novels continues! From the New York Times Best-selling author, George R. R. Martin, comes a tale of vampire clans, death and debauchery, legendary blood masters, and even a few epic steamboat races on the muddy Mississippi. This is Martin's FEVRE DREAM, an antebellum story of power, loss, and the fever of bloodlust The Fevre Dream is the fastest boat on the river, but Abner Marsh is sick and tired of being hunted, chased, and prey. Giving the Eli Reynolds a full head of steam, he sets off down the Mississippi, and he's going to hunt down his boat, and his friend. Damon Julian may be the new bloodmaster, but Marsh is out for more than just blood, he's going to reclaim his pride.